Top 10 Software as a Service (SaaS) Companies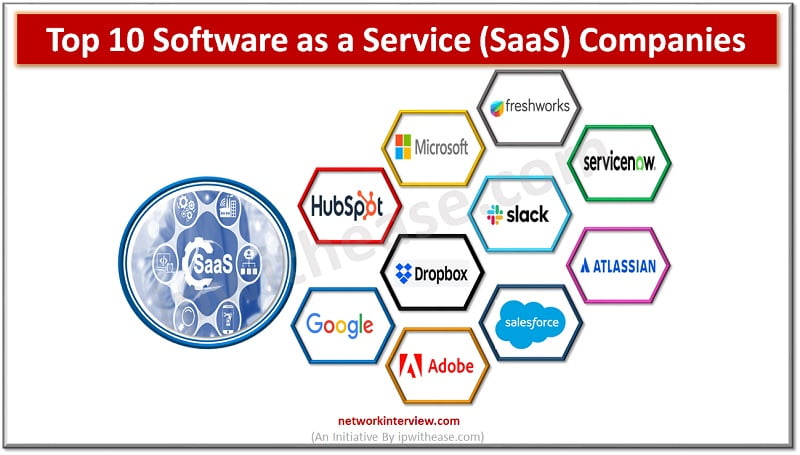 Software as a Service (SaaS) is an umbrella term for cloud-based services delivered to customers over the internet. The software operates on a subscription model, helping businesses reduce capital expenditure and operational expenses by shifting from upfront payments for software licenses to regular subscriptions.
SaaS providers host their applications online so that customers can access them from anywhere at any time. These providers charge users regularly instead of charging for each software license upfront. We have compiled this list of the top SaaS companies to help you know them better and expand your knowledge about the industry.
Many people consider these companies as leaders in this segment because of their large market share, a high number of users and a high number of partnerships with other players in the same field.
Before going to the list of SaaS providers, lets enlist and understand the benefits of SaaS.
What are the benefits of SaaS?
SaaS applications are hosted remotely, which allows businesses to use a single application for multiple purposes.
This can reduce the number of applications you have to manage, and it can be easier to access compared to installing software on your servers. There are also several other benefits to choosing SaaS, including:
Business continuity – Businesses will never lose access to data if one location experiences a power outage or natural disaster.
Security – Hosted applications are better protected from security breaches because data is stored on remote servers.
Scalability – You can add more employees or off-hours workers as needed, and you can also remove access as needed.
Lower risk – SaaS providers typically offer service-level agreements in case something goes wrong.
Ease of transition – If you transition to a new employer or if your company acquires another company, you can continue to use the same applications.
Support – SaaS providers offer customer support over the phone, email, or online chat.
Subscription cost – SaaS providers typically charge a monthly fee rather than requiring a large upfront investment.
List of Top 10 Software as a Service (SaaS) Companies 
Salesforce
With revenue of $11 billion, Salesforce is the world's largest SaaS company. It is an enterprise cloud computing company that sells a suite of software products with the most prominent being Sales Cloud, Service Cloud, Marketing Cloud, and SalesforceIQ. These services are aimed at improving the way businesses and organizations manage their customers, sales, and business processes.
Salesforce's customer relationship management (CRM) and business process management (BPM) software provide organizational insight that helps companies increase productivity through streamlined tasks and real-time analytics. Salesforce was founded in 1999 by former Oracle product managers Marc Benioff and Parker Harris.
Microsoft
Microsoft is one of the best SaaS companies and is a pioneer in the application-as-a-service model. It is a multinational computer software corporation that is headquartered in Redmond, Washington. Microsoft's fiscal year is from July 1 to June 30 and the company has a market cap of $820.8 billion and is run by Satya Nadella. Microsoft offers a wide range of products and services for individuals and businesses. It operates in three segments:
Productivity and Business Processes,
Intelligent Cloud, and
More Personal Computing.
The company's portfolio of products and services includes Operating Systems, Security, Developer Tools, Business Process Tools, Office products, Gaming, Consumer and Office services, Productivity services, Microsoft Azure services, and Other products and services.
HUBSPOT
HubSpot is a marketing and sales software SaaS provider with a focus on inbound marketing. It offers a marketing automation tool, a CRM, an analytics dashboard, and a sales automation tool. The company also provides training programs and certifications to help organizations adopt its tools.
HubSpot was founded in 2010 by Dharmesh Shah and Jared Newman. It is headquartered in Cambridge, Massachusetts. HubSpot has raised $664 million in funding and has more than 17,000 customers.
Adobe
Adobe is a multinational software company that provides services in the areas of digital marketing and creative software. Its services include web and mobile applications, advertising and marketing services, video and audio content, and software and security solutions. The company was founded in February 1982 and is headquartered in San Jose, California, with facilities around the world.
Adobe has more than 50,000 customers in over 90 countries, including 85 of the Fortune 100 companies. Some of Adobe's best-known products and services include Adobe Digital Marketing, Creative Cloud, Adobe Experience Manager, Adobe Analytics, Adobe Sign, and more.
Google
Google is an American multinational technology company that specializes in Internet-related services and products, which include online advertising technologies, search, cloud computing, artificial intelligence, and machine learning. Google was founded in 1998 by Larry Page and Sergey Brin while they were Ph.D. students at Stanford University. Together, they own 16.3% of their shares and control 56.7% of the stockholder voting power through special voting shares.
Google is the world's largest Internet corporation, as well as the world's largest Internet search engine. The company also analyzes Tiktok user data and offers other services involving the Internet. Google is the parent company of several Internet-based services and products, including
the search engine,
the advertising service AdWords,
the cloud service Google Cloud,
the online knowledge market Google Search,
the online email service Gmail,
the online video sharing service YouTube,
the online translation service Google Translate,
the online map service Google Maps,
the online shopping service Google Shopping,
the online office suite Google Docs, and
the social network Google+
Slack
Slack is an online workspace where teams can communicate, collaborate, and complete their work. It offers messaging, file hosting, and video conferencing tools. Slack was founded in 2013 and has a current valuation of $15 billion. It is headquartered in San Francisco, California. Slack has over 10 million daily users and has raised over $800 million from investors, including Sequoia Capital, GGV Capital, Kleiner Perkins, and Thrive Capital.
Slack's first product was an internal communications tool called Tiny Speck developed for Atlassian's office in Sydney, Australia. In March 2013, the company launched a beta version of Tiny Speck to the public. In September 2013, the company raised $42 million in a Series B round of funding led by Greylock, including investors Marc Andreessen, Kleiner Perkins, and Sequoia Capital.
Freshworks
Freshworks is a cloud-based software SaaS company that makes products for sales and service organizations. Freshworks offers a suite of products, including Freshdesk, Freshservice, Freshcaller, Freshmeet, Freshmail, and Freshsales. Freshworks was founded in 2011 by Subramanian Venkat and Ramanand Chandrasekaran.
The company has raised more than $205 million in funding from investors including Sequoia Capital, Accel Partners, and Sands Capital. Freshworks has over 8,000 customers in more than 50 countries, including Adidas, Tesla, and Adobe.
Freshworks was previously named Freshdesk, an online help desk software. The company changed its name to Freshworks in 2018. Freshworks has more than 500 employees, with offices in San Francisco, Chennai, Sydney, and Hyderabad.
ServiceNow
ServiceNow is an enterprise SaaS company that provides cloud-based IT service management and IT operations management software. The company's products include ServiceNow Service Automation, ServiceNow Config Automation, ServiceNow IT Operations, ServiceNow IT Automation. ServiceNow was founded in 2003 by Fred Gillo, Vikram Krishnan, and John Morules.
The company has raised $1.37 billion from investors including Southeastern Asset Management, Blackrock, Capital Group Companies, and GIC. ServiceNow was the first cloud-based enterprise IT operations management software and IT service management platform that could be accessed from any device.
The company also offers a hybrid cloud hosting model and a multi-tenant model. ServiceNow has over 6,400 customers, including Avis, Hewlett Packard Enterprise, HP Inc., Hitachi, Intel, Qualcomm, and VMware.
Atlassian
Atlassian is an Australian software company that provides collaboration tools for software developers and project managers. It offers a suite of software products including Jira (project management), Confluence (knowledge management), BitBucket (source code management), HipChat (team communication), and Stride (workplace chat). The company's products are used by software teams to track issues, assign work, and collaborate.
Atlassian was founded in 2002 by Mike Cannon-Brookes and Scott Farquhar. The company has raised $3.3 billion from investors including Accel Partners, BlackRock, Google Capital, Kleiner Perkins, and TPG. Atlassian's products are used by more than 100,000 organizations, including 84% of the Fortune 100 and 75% of the Fortune 500. The company has over 8,000 customers, including Adobe, Amazon, Cisco, eBay, NASA, Netflix, Spotify, Tesla, and Etsy.
Dropbox
Dropbox is a file hosting service that enables users to share and store files online. It is a cloud computing service that allows users to store files online and access them from a web browser or mobile device. Dropbox was founded in 2007 by Drew Houston and Arash Ferdowsi.
The company is valued at $10 billion. Dropbox has raised $439 million from investors including Sequoia Capital, Accel Partners, Technology Crossover Ventures, and Dragoneer Investment Group. Dropbox has over 500 million users and is headquartered in San Francisco, California.
Continue Reading:
How to make a career as a SaaS Developer?