What is SEO (Search Engine Optimization)?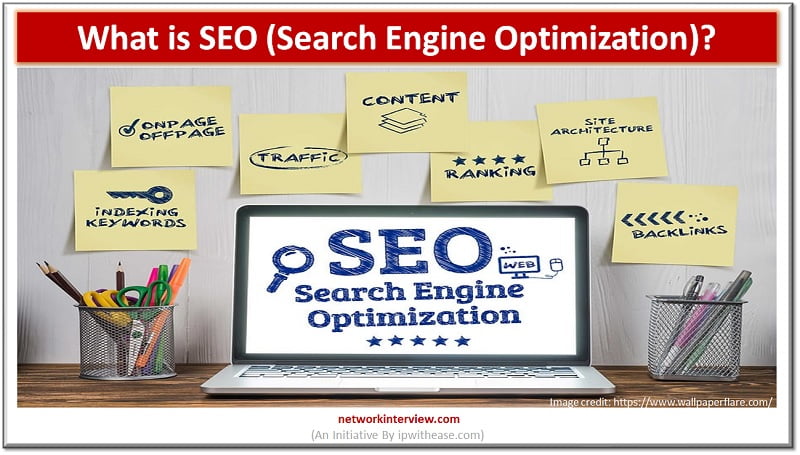 SEO, or Search Engine Optimization, is the process of optimizing online content and websites to enhance their visibility in search engine results. The main objective of SEO is to attract relevant organic traffic to websites, increasing the likelihood of converting visitors into customers.
In the world of digital marketing, SEO plays a crucial role. With billions of searches conducted daily on search engines, they have become key gatekeepers for information, products, and services. Employing effective Search Engine Optimization techniques ensures that businesses and organizations are discovered by their target audience when they actively search for related solutions.
The visibility achieved through SEO has a direct impact on brand exposure, lead generation, and overall success in the digital landscape.
Types of Search Engine Optimization
Search engine optimization (SEO) is an extensive field with two primary techniques: on-page and off-page methods. These methods play a crucial role in optimizing search engine results.
On-Page Optimization
On-page optimization is crucial for the overall user experience and SEO. It focuses on improving the performance of your webpages, which are essential for your online business. Some key elements of on-page optimization include:
Keyword Search: One method to explore is the undertaking of keyword research in order to identify the terms that connect with your desired audience. Organizing these keywords in a manner that aligns with your objectives, such as utilizing meta tags, headers, and URLs, assists search engines in comprehending the significance of your content in relation to particular search queries.
Optimized Content: Creating valuable, informative, and captivating content that meets the requirements of your desired audience. Optimized content that is well-crafted attracts natural traffic, promotes user interaction, and improves the overall credibility of your website.
Meta Titles & Headers: Creating captivating meta titles and descriptions that effectively showcase your content and attract users to click. Structuring content with appropriate header tags (H1, H2, etc.) enhances readability and boosts search engine comprehension. Furthermore, generating SEO-friendly URLs assists in conveying the context of the content to search engines.
User Friendliness: In order to improve the user experience, it is important to enhance ease of navigation, quick page loading times, and mobile responsiveness. By creating a well-organized website that prioritizes user-friendliness, satisfaction levels can be increased and search engine rankings can be improved.
For SEO, the initial step you should take is on-page optimization. It's recommended to begin with these tools as they allow direct interaction with various elements, giving you a clear view of the outcome of your efforts.
Off-Page Optimization
Off-page SEO serves as a complement to on-page efforts by focusing on activities conducted outside of the website. Its purpose is to enhance the online reputation and authority of the site. Notable techniques used in off-page SEO include:
Backlinks: Getting high-quality backlinks from reputable websites that are relevant to your content is a strong indication to search engines that your website is trustworthy and credible.
Social Media Platforms: Harnessing the power of social media platforms to advertise content, interact with the target audience, and enhance your visibility on the internet. Social cues like approvals and shares also have an indirect impact on search engine rankings.
Review & Feedback: It is crucial to monitor and oversee your online reputation by examining reviews, testimonials, and customer feedback. Having a favorable digital sentiment and being mentioned positively can significantly enhance brand credibility and improve visibility in search engine results.
Once you have completed the optimization of your pages, it is time to focus on the off-page tools. While these may not be any less important, it simply makes sense to address them in this order.
Search Engine Optimization: Technical Terms
Website Speed & Performance Optimization
Improving website speed is crucial for both SEO and user experience. By optimizing loading times, you can enhance your website's efficiency, decrease bounce rates, and improve its search engine rankings. There are various techniques available to increase the speed of your website:
1. Decrease page size by compressing images and files.
2. Utilize browser caching to locally store frequently accessed resources.
3. Select reliable hosting services to minimize server response times.
Implementing these methods will contribute to a faster and more efficient website overall.
Mobile-Friendliness 
Creating a website without considering its mobile version is no longer viable. Nowadays, the majority of people who land on your webpage are likely to do so using a mobile device. Therefore, it is imperative to ensure that your website is user-friendly for these individuals. The advantages of doing so include:
Improved search rankings on mobile devices by popular search engines like Google.
Enhanced user experience, resulting in higher levels of engagement and conversions.
Expanded audience reach, as mobile users can conveniently access and navigate through your content.
Indexing & Crawlability
Search engines utilize crawlers to discover and index web pages. This greatly aids in the visibility of your pages, so it is important to accommodate them in order to improve indexing and crawlability.
There are various essential measures you can take to enhance this aspect of SEO:
Create a robots.txt file that will guide crawlers and exclude irrelevant pages.
Generate an XML sitemap that will assist search engines in efficiently finding and indexing your website's pages.
Fix any broken links and ensure a clear website structure for seamless navigation.
By optimizing technical SEO, you strengthen the foundation of your website, making it more accessible and user-friendly. This not only enhances search engine rankings but also contributes to a positive user experience, ultimately resulting in increased traffic and conversions.
Final Words
SEO plays a vital role in enhancing online visibility and facilitating growth, highlighting its significance in the field of digital marketing. In the present era, one cannot function effectively without utilizing this mechanism. It has become intricately woven into the very fabric of web pages, making it impossible to overlook.
Implementing appropriate SEO practices can significantly convert an obscure webpage into a highly visible destination with a continuous influx of visitors. However, it is essential to approach this topic with caution as successfully applying SEO methods can be challenging. Extensive research, experimentation, and testing are required for optimal implementation.
Continue Reading:
Career in Search Engine Optimization: The Definitive Guide