Rivet Networks and Intel Killer Wireless Technology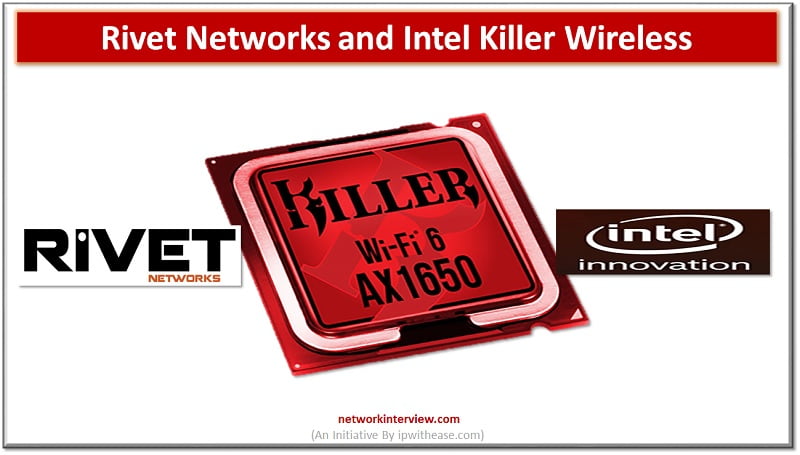 Introduction to Rivet Networks
In the IT community, Bigfoot Networks was a startup company that devoted their main services to provide lower packet latency with a prototype "network gaming accelerator" device, before delivering their technology solution under the well-known Killer wireless brand name. 
The company's aftermarket Network Interface Controller (NIC) features, outperformed the common onboard Ethernet Controller Ports and increased expectations for upcoming wireless hardware design, as gamers dissociated themselves from using the typical router technology.
Later on, Qualcomm enterprises has bought the Bigfoot Networks company in 2011, then they changed the name as Rivet Networks and continued to deliver Killer networking hardware that was initially installed in many Dell-Alienware gaming laptops, promising configuration tweaks that designed to improve wireless connectivity, bandwidth speed and ping responsiveness. The main strategy of the company is to focus on bandwidth utilization, as well as giving priority to services like gaming and high bandwidth tasks such as video streaming.
Unfortunately, from user's experience, it is reported that the device's driver optimizations could cause malfunctions too, according to the pre-installed SmartByte software, the most common problem is that the user's internet connection is severely limited. 
Nowadays, Intel corporation has acquired Rivet Networks, with an expectation to develop new customer solutions for a broader computer connectivity experience.
Finally, during a call with Anandtech company, Intel expressed their interest in the Killer name brand project to keep on going, which has been already relying on Intel silicon for devices such as AX1650 WiFi 6 cards. The deal also includes that the team from Rivet Networks company, will have to contribute to Intel's Wireless Solutions Group to use their custom software solution for networking hardware, because computers tend to adapt to the new WiFi standard specifications.
Intel Killer Wireless Series Features
Now according to the official website of Intel, the Intel Killer Wireless Series is able to maintain supercharged wireless network performance and enables seamless, immersive online gameplay connectivity. These kinds of solutions deliver increased levels of control, alongside with the relevant power that are required to get the most from today's demanding online gaming applications. The most crucial features of the series are the following:
Speed Performance

: The main advantage is that the Killer Prioritization Engine detects and gives priority to the most important packet transmission for a faster, smoother user gaming experience.
Intel Killer Wireless Intelligence

: Products intelligently optimize online gaming, entertainment and communication experiences by ensuring that the user is connected to the best access point and provides recommendations to keep their network running smoothly.
Adaptive Control:

Users can set their own network access priorities, such as, adjusting bandwidth limits and optimize network performance, all through the intuitive interface of the Killer Intelligence Center software.
Benefits in Numbers:

Up to 75% less latency while gaming when multitasking and almost 3x faster than 2×2 80 MHz wireless AC device.
Intel Killer Wireless Software Specifications
Although we addressed above all the hardware related advantages and features of Killer Wireless technology, we have to admit that many advanced features are provided through Intel's Killer Performance Suite.
It is an extremely power software free of charge that nowadays supports the products below:
| | |
| --- | --- |
| Intel® Wireless Adapter | Driver version |
| Intel® Killer Wireless-AC 1550 | 22.60.0.6 |
| Intel® Killer Wi-Fi 6 AX1650 | 22.60.0.6 |
| Intel® Killer Wi-Fi 6e AX1675 | 22.60.0.6 |
| Intel® Killer E3100 2.5Gb Ethernet | 1.0.2.13 |
| Intel® Killer E3100x 2.5 Gb Ethernet | 1.0.2.13 |
| Killer E3000 2.5Gb Ethernet | 10.047.0121.2021 |
| Killer E3100G 2.5Gb Ethernet | 10.047.0121.2021 |
| Killer E2500v2 1Gb Ethernet | 10.047.0121.2021 |
| Killer E2600 1Gb Ethernet | 10.047.0121.2021 |
| Killer Networking Software | 3.1021.524.1 |
Conclusion 
In this article, we addressed the historical evolution of Rivet Networks and how they developed their products in time. Many companies are going full throttle and rapidly improving their hardware specifications.
Then we addressed the main benefits and advantages of the latest Killer line products created by Intel, who is the main supplier nowadays all over the world. A short notation of the software is described, although there is not any specific graphical interface.
Finally, we would like to see a future improvement of Killer technology, not only in wireless products, but for wired connectivity desktops as well. Adjusting bandwidth and the intelligence of Killer products may improve desktop applications and OS performance in general for every simple user.
Continue Reading:
Top 10 wireless technology trends for 2021