Exploring the Essentials of a PCI Compliance Checklist for Your E-commerce Business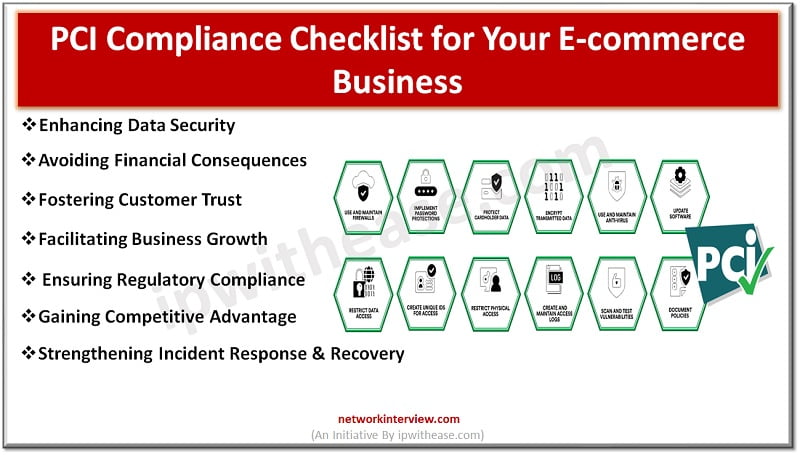 The digital marketplace is growing at an unprecedented rate, with e-commerce businesses serving as the cornerstone of this rapid expansion. As these businesses evolve and flourish, they face a pivotal challenge: securing their customers' financial information. One of the most critical aspects of this task involves complying with the Payment Card Industry Data Security Standard (PCI DSS).
To the uninitiated, PCI DSS is a set of security standards established to protect cardholder data. The standards apply to all entities involved in payment card processing—including merchants, processors, acquirers, issuers, and service providers. For e-commerce businesses, adherence to these standards isn't merely an industry best practice; it's a mandate.
Now, let's delve deeper into how a PCI compliance checklist can help your e-commerce business bolster its data security measures and foster trust among customers.
Enhancing Data Security
The foremost benefit of adhering to a PCI compliance checklist is the enhancement of your data security measures. The checklist provides a comprehensive set of standards to protect cardholder data, from encryption requirements to firewall configurations. By implementing these measures, your e-commerce business can mitigate the risk of data breaches, protecting both your customers and your reputation.
Fostering Customer Trust
In today's data-driven world, customers value their privacy and security. E-commerce businesses that comply with PCI DSS send a strong message to their customers about their commitment to data security. This not only fosters trust but can also provide a competitive edge, as consumers are more likely to transact with businesses they trust.
Avoiding Financial Consequences
Failure to comply with PCI DSS can result in substantial financial penalties, which can range from fines imposed by the payment card industry to the costs associated with a data breach. By following a PCI compliance checklist, your e-commerce business can avoid these potential financial ramifications.
Facilitating Business Growth
Adherence to PCI DSS isn't just about security and compliance; it can also facilitate business growth. By demonstrating your commitment to data security, you can attract more customers and potentially expand your business partnerships. This could open up new opportunities for growth in markets where data security compliance is a prerequisite.
Ensuring Regulatory Compliance
In addition to the standards set by the payment card industry, many jurisdictions have laws in place to protect consumers' financial data. By adhering to a PCI compliance checklist, your e-commerce business can ensure it meets these regulatory requirements, reducing the risk of legal issues or fines.
Implementing a PCI compliance checklist is not a one-time event but an ongoing process. The checklist should be updated and reviewed regularly to account for evolving threats and changes in business processes or technology. This ongoing commitment to compliance is necessary to maintain the trust of customers and partners and to ensure the continued growth and success of your e-commerce business.
Strengthening Incident Response and Recovery
A PCI compliance checklist not only helps your e-commerce business prevent data breaches but also prepares your organization to effectively respond in the unfortunate event of an incident. The checklist includes requirements for incident response planning, ensuring you have a well-defined and tested procedure in place. This involves establishing clear roles and responsibilities, maintaining contact information for key personnel and vendors, and having a plan for recovering operations. Furthermore, the checklist includes guidance for post-incident reviews to help you learn from any breaches, continually enhancing your security measures. In this way, adherence to PCI DSS can also strengthen your business resilience, enabling a swift and effective response to any incidents, minimizing the potential impact on your customers and operations.
Gaining Competitive Advantage
Another pivotal advantage of implementing a PCI compliance checklist in your e-commerce business is the competitive edge it offers. In an increasingly crowded digital marketplace, where consumers have a myriad of choices, businesses need to differentiate themselves. One powerful way to do so is through demonstrating a robust commitment to data security.
Prospective customers comparing shopping options will invariably gravitate towards a platform that offers reassurances of data safety. By proudly displaying your compliance with PCI DSS on your website, you signal to customers that their financial information will be handled with the utmost security. 
Final words
In conclusion, a PCI compliance checklist serves as a valuable tool in safeguarding your e-commerce business and its customers. From enhancing data security and customer trust to avoiding financial penalties and ensuring regulatory compliance, the benefits are multifold. As cyber threats continue to evolve, compliance with PCI DSS will remain a critical aspect of any e-commerce business's security strategy. By integrating these compliance measures into your business processes, you can build a resilient business that not only survives but thrives in the digital marketplace.
Continue Reading:
6 Types of Firewall: Network Security
PCI Compliance: Checklist, Benefits & Challenges