PCI Compliance: Checklist, Benefits & Challenges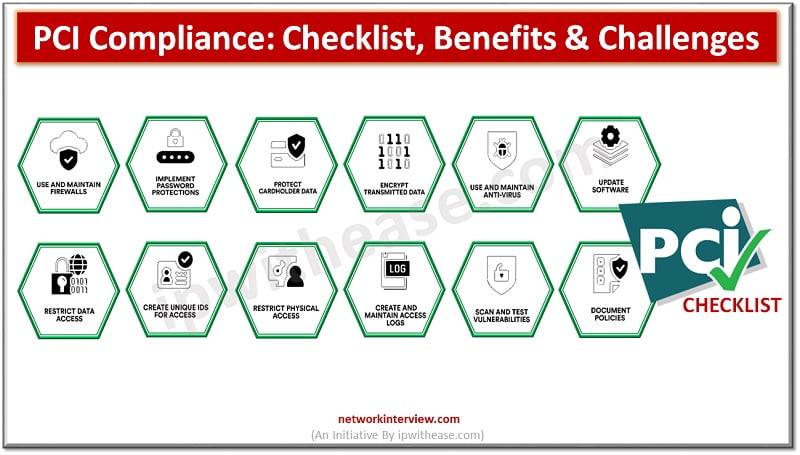 Whether you own a small business or manage a large enterprise, ensuring customer data security is a top priority. To that end, businesses must adhere to the Payment Card Industry Data Security Standard (PCI DSS), a set of security requirements designed to protect cardholder data. In this blog, we will explore what is PCI compliance, the 12 PCI compliance requirements or checklist, benefits, tools required, and the difficulties posed by PCI non-compliance.
What is PCI Compliance?
PCI compliance is an industry-standard security protocol that requires businesses to protect customer payment data. It is designed to ensure that payment card data is kept safe and secure. The Payment Card Industry Data Security Standard (PCI DSS) is a set of 12 requirements that businesses must adhere to in order to meet this standard.
PCI Compliance Checklist
The 12 PCI compliance requirements include:
Install and maintain a firewall configuration to protect cardholder data;

Do not use vendor-supplied defaults for system passwords and other security parameters;

Protect stored cardholder data;

Encrypt transmission of cardholder data across open, public networks;

Use and regularly update anti-virus software;

Develop and maintain secure systems and applications;

Restrict access to cardholder data by business need-to-know;

Assign a unique ID to each person with computer access;

Restrict physical access to cardholder data;

Track and monitor all access to network resources and cardholder data;

Regularly test security systems and processes; and

Maintain a policy that addresses information security.
The PCI DSS is managed by the Payment Card Industry Security Standards Council (PCI SSC), an organization that was established in 2006 to promote the adoption of the PCI DSS. The PCI SSC works with banks, merchants, and other payment card industry players to ensure that all participants adhere to the PCI DSS.
The Benefits of PCI Compliance
Adhering to the PCI DSS provides a number of benefits for businesses. 
It is a

cost-effective

solution for businesses to protect customer data. PCI compliance helps businesses to avoid expensive fines and lawsuits that could arise from data breaches.

It also helps businesses to build

customer trust

. Customers are more likely to do business with a company that has taken the necessary steps to protect their data. PCI compliance helps businesses to strengthen their reputation, as customers will know that the company takes security seriously.

PCI-compliant businesses benefit from

lower transaction fees

, as banks and payment processors tend to offer lower rates to compliant businesses.
PCI Compliance Tools
In order to be PCI compliant, businesses must have the right tools in place. The tools required for PCI compliance will depend on the size and scope of the business, but there are some common tools that all businesses should consider.
Firewall:

The first tool is a firewall, which is used to protect the business's network from malicious activity. Firewalls can be either hardware- or software-based, and businesses should choose a solution that best fits their needs.

IDS:

The next tool is an intrusion detection system (IDS). An IDS monitors the network for suspicious activity and can alert the business to possible security threats.

Encryption: Businesses should also consider implementing an encryption solution. Encryption is used to protect sensitive data, such as customer payment information. Encryption is typically used in conjunction with a firewall and IDS to protect the network from attackers.
Vulnerability Scanner: Finally, businesses should consider using a vulnerability scanner to identify security flaws in their systems. Vulnerability scanners can help businesses to identify and address any potential security issues before they become a problem.
Difficulties Posed by PCI Non-Compliance
Not adhering to the PCI DSS can have serious consequences for businesses. 
Businesses that are not PCI compliant are at a higher risk of data breaches, as they have not taken the necessary steps to protect customer data. This can result in expensive fines and lawsuits for the business, as well as damage to its reputation.

Non-compliant businesses will not be able to take advantage of lower transaction fees, as banks and payment processors will not offer discounted rates. 

Businesses that are not PCI compliant will not be able to build customer trust, as customers will not be confident that their data is secure.
Conclusion
PCI compliance is an important element of data security for businesses. It is designed to ensure that customer payment data is kept safe and secure.
If you want to ensure that your business is secure and compliant, it is important to understand what PCI compliance is and the steps you need to take to become compliant. We hope that this guide has provided you with a better understanding of PCI compliance and the tools required to achieve it.
Continue Reading:
HIPAA Compliance & The Importance of Risk Assessments
6 Types of Firewall: Network Security