FortiClient vs Global Protect: Detailed Comparison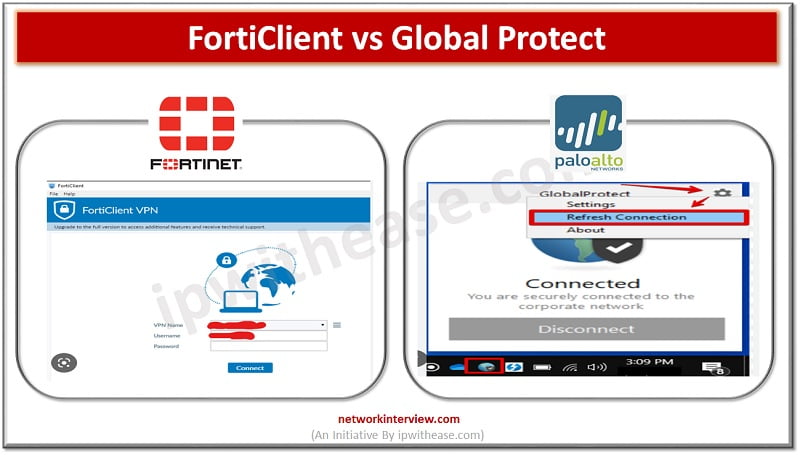 What is FortiClient?
FortiClient is an app to provides UTM features like web filtering, giving web security and content-based filtering. FortiClient app is installed in the user's system and tracks the traffic based on policy. The web application firewall offers malware protection and control web application-based traffic of users. It's a software product which is used as an endpoint solution.
Advantages of Security Fabric feature along with FortiClient
Threat Protection

–

It is a feature that protects network and users from exploitations, attacks, malware, and suspicious access.

ZTNA

–

ZTNA provides secure access to applications for remote and local users of any network. An encrypted tunnel is created during the session through ZTNA which authenticates the user by using multifactor authentication to provide an extra layer of security.
Endpoint Security –

FortiClient performs Vulnerability scanning to reduce attack surface in the network.

Malware and Exploitation Prevention –

FortiClient also applicable to FortiClient Sandbox Cloud to protect from malware which are attached to files.

VPN

–

FortiClient provides multiple options in VPN technology which includes SSL and IPsec VPN. Similarly, the Split-tunnel feature enables users to utilise Internet links without moving through the main VPN link. Split tunnelling simply bifurcates the Internet users' traffic to different links.

Ransomware Protection

–

FortiClient has a feature to protect users from random

Ransomware attack

s. This feature of FortiClient reverts the changes which are done by malicious code.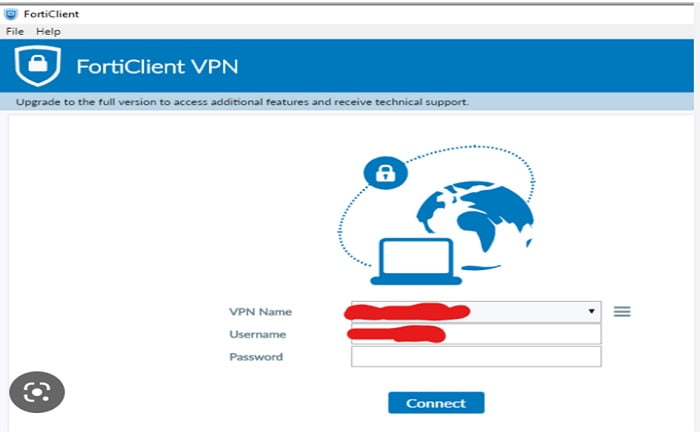 Services Provided by FortiClient
FortiClient Managed services is used to simplify the device configurations, implementation, and monitoring of agents.

FortiClient services involve ZTNA, VPN, Endpoint Security, Vulnerability, Security policy configuration and profile creation.

Security Fabric implementation and configuration

Vulnerability analysis and monitoring 
Features of FortiClient 
Licence and Software application management

FortiClient provides visibility in software applications and licence management inventory which includes removal of unused, outdated applications and provides more security.
Compatibility with Active Directory

FortiClient is compatible with the organisation's AD unit so that users get authenticated by a trusted AD server which is deployed within the organisation. 
Dashboard

FortiClient provides a customized dashboard which helps you to identify the vulnerability of the network. 

Centralised deployment and management

FortiClient can be applied to remote systems with any physical access to the user's machine.

Traffic management by using Split-tunnel

Traffic can be divided based on application and destination gateways in FortiClient.
What is Palo Alto Global Protect? 
Palo Alto Global Protect is a VPN application which acts as an endpoint solution and installed in the user's machine. It provides secure communication between remote user and in-premises server by using firewall end-to-end tunnel.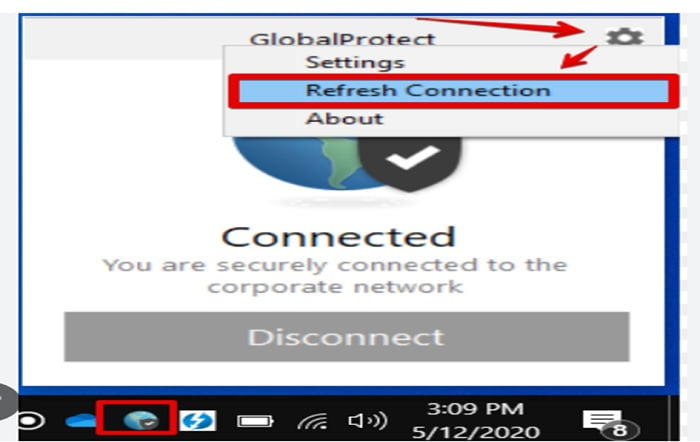 Services Provided by Global Protect
Security Policies and threat protection

–

These policies protect system and network from outside attack. Policies which are used in Global protect to safeguard the network are here.
App-ID Technology

–

identifies packets and applications based on Layer 7 inspection and removes or blocks malicious sessions immediately. 

User-ID

–

User ID is used to map the user email with IP address by using Palo Alto synchronisation with AD server.

SSL Decryption Policy

–

which controls SSL/TLS and SSH encrypted traffic.

Threat Policies, IPS and Anti-virus

–

These policies prevent the network from DOS and malware attacks and protects users from any kind of suspicious traffic.

URL Filtering, File Blocking and Data Filtering

 

–

URL filtering is used to classify the internet traffic into multiple categories, and we can apply action (block, allow, deny) for the internet traffic. In a similar way we can block/remove unwanted or malicious files by using file blocking policies.

SAC- Secure Access Control for authentication

–

Palo Alto supports Kerberos, RADIUS, TACACS, SAML authentications along with MFA (Multi-Factor Authentication)
Comparison: FortiClient vs Global Protect
Below table summarizes the differences between the two: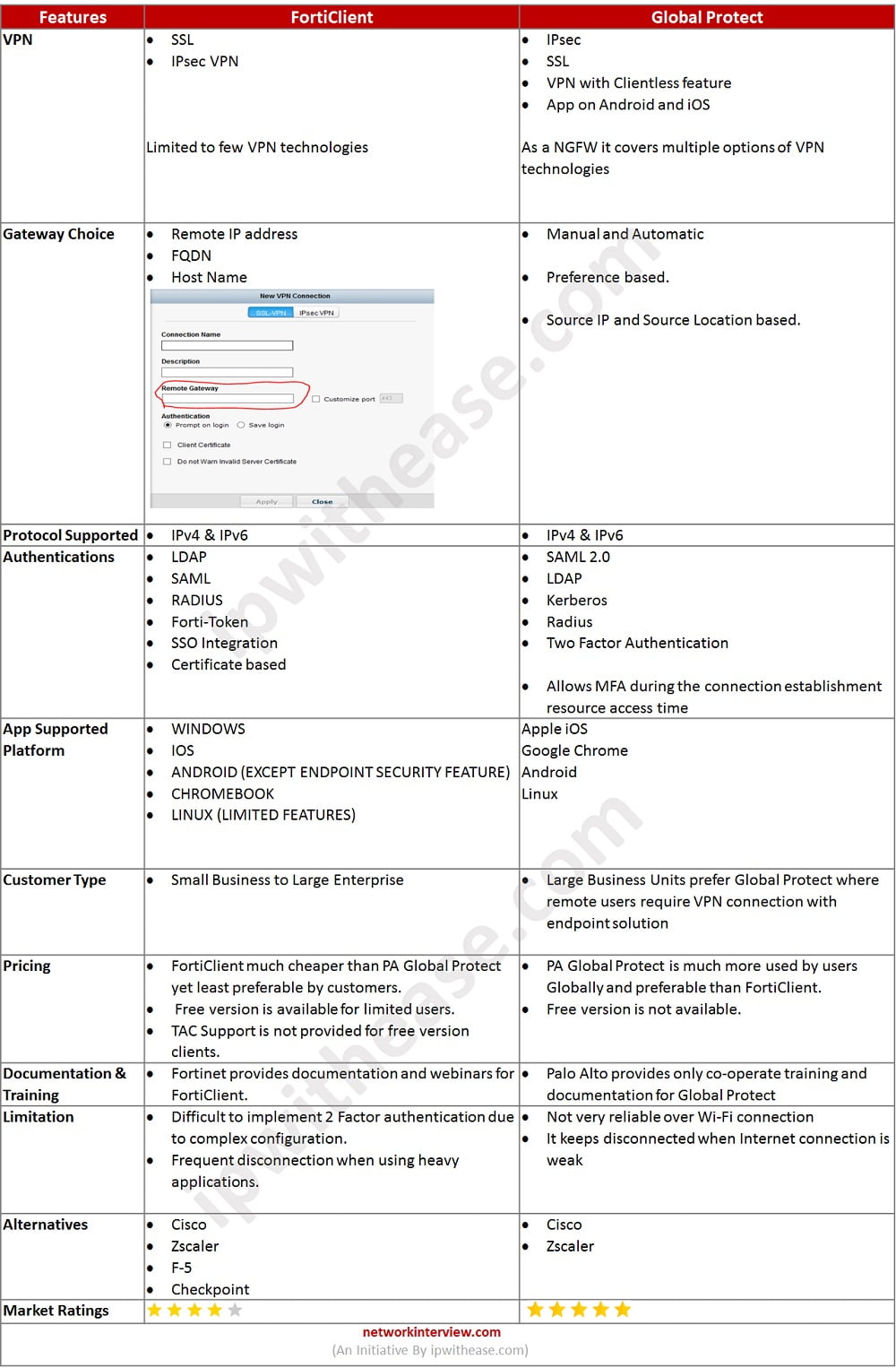 Download the Comparison Table: FortiClient vs Global Protect
Continue Reading:
Fundamentals of FortiGate Firewall: Essential Guide