Microcomputer vs Supercomputer: Detailed Comparison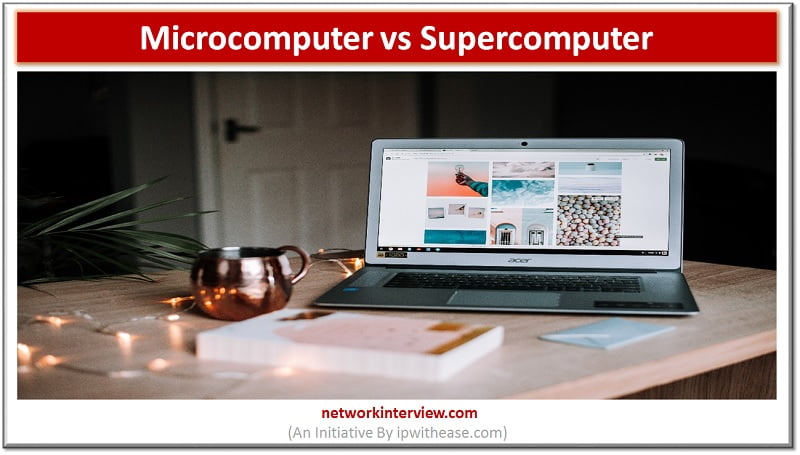 Introduction
In this article, we will learn about some terminologies associated with computers. There categorization and classification are based on their size and data handling capabilities.
Let's understand the difference between Microcomputer and Supercomputer.
What is a Microcomputer?
Another name of 'Microcomputer', which is commonly used is 'Personal Computer (PC)'.  Advent of Microcomputers happened in 1970s and 1980s. The first microcomputer was the Micral based on Intel 8008 chip. The Altair 8800 is considered first successful commercial microcomputer. The microcomputer was invented by Mers Kutt when he and his team at Micro computer Machines, Toronto introduced a desktop computer having intel 8008 chip.
Microcomputer or Personal computers (PC) as the name suggest were small and inexpensive and usually contained a single Central processing unit (CPU) and a self-contained unit comprising Memory, storage, input, and output unit. They were designed for individual users to perform general functions or tasks. Majority of Laptops and Desktops are examples of Microcomputers. These systems are ideal for personal work such as watching movies, listening to music, or office work like working on spreadsheets, typing a letter etc.
Microcomputer Characteristics
Smallest in size among all other type of computers or systems.
Processing speed ranges from 70 to 100 MIPS.
Only limited number / type of software can be installed on personnel computers.
It is primarily designed for personnel work and single user interface.
Low cost and easy to operate.
No special skill or training is required to use it.
Having a single semiconductor microchip.
Multitasking can be performed such as printing, scanning, Net browsing, videos etc.
What is a Supercomputer?
History of Supercomputers
The first 'Supercomputer' was developed by Seymour Cray at Control Data Corporation (CDC) Cray research center. CDC 6600, it had a single processor with 10 peripheral processors, and it was released in 1964. It was about the size of four filling cabinets and operating speed of 40 MHZ.
It has cooling functionality built with Freon which circulated in pipes around four cabinets and generated heat was exchanged with a chilled external water supply unit.
In 1976 , the Cray 1 was released and was used for Nuclear weapon modelling.
In 1982, the Cray X-MP supported four CPUs and in 1985 the Cray 2 was released, and it has 8 CPUs.
In 90s Japanese took over Supercomputer market and NEC SX-3, Fujitsu Numerical Wind Tunnel, and Hitachi SR2201 models of Supercomputers were launched.
The Supercomputer built in 1990 by Intel with name 'Touchstone Delta' had 512 microprocessors.
About Supercomputer
Extremely powerful and very expensive computers used in applications that require very high-speed computations. Supercomputers are designed to process trillions of instructions per second.
Computing power of Supercomputer is measured in FLOPS (floating-point operations per second). The Supercomputer comprises of tens of thousands of microprocessors which can perform billion and trillion of calculations (in split seconds). There evolution happened from Grid to cluster computing and performs true parallel processing.
Snippet: Fastest supercomputer in world was Sunway TaihuLight China's National Research center of Parallel Computer Engineering & Technology (NRCPC)
Supercomputer Characteristics
Supports hundreds of users at one point of time.
Capable of handling massive data calculations which are beyond the capacity of humans.
Very large in size can take up space sized up to two tennis courts.
Very expensive and highly priced.
Processing speed ranges from 100 to 900 MIPS.
Designed to perform complex problems such as Modelling and Simulations of physical spectacles such as Climate changes, study molecular behaviour, data analytics related to astronomical observations, genetics sequencing ,virtual testing of nuclear weapons , high quality animations etc.
Comparison Table: Microcomputers vs Supercomputer
Below table summarizes the difference between microcomputers and supercomputers:
FUNCTION

MICROCOMPUTER SYSTEMS

SUPERCOMPUTER SYSTEMS

Definition
A microcomputer or personal computer comprises of a CPU as a microprocessor, meant for individual/single user usage.  Introduced in 1970s as personal computer for general use.
A specific class of very powerful computers designed to replicate or simulate nature phenomena's.
Features
Less expensive, no specific skill or training required for its usage, having single semiconductor chip, single user interface, supports multitasking such as scanning , printing etc.
Very expensive, very high processing speed ranging from 100 to 900 MIPS.
Architecture
Comprising a single integrated semiconductor chip for its CPU, memory, Input / output unit and storage.
Had multiple microprocessors, very large storage capacity, special cooling using cryogenic fluid, Operate on pair of lists of numbers.
Applications
Education , entertainment, data processing, making spreadsheets, presentations, and graphics etc.
Complex mathematical calculations, weather forecasting, astronomy, scientific research such as gene sequencing , data mining etc.
Drawbacks/ Limitations
Low computational power, single user interface, Limited applications support etc.
Very expensive, takes up lots of space, very high-power consumption, maintenance require a skilled staff, heating issues.
Examples
Laptop, desktop systems, IBM-PC, Pocket calculator, industrial embedded systems.
Cray Supercomputer, Sunway TaihuLight, IBM Sequoia, Fujitsu K computer.
Download the comparison table here.
Continue Reading: