Importance of Master's in Data Science: A Simple Guide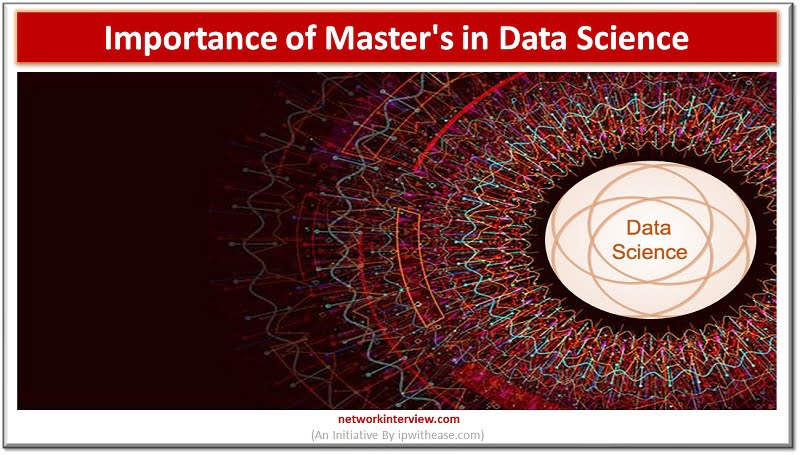 Data science is a new buzzword in the contemporary business landscape. Organizations leverage data science tools and techniques to find data patterns and make insightful data-driven conclusions and predictions. As a result, the demand for data science graduates is on the rise and consistently increasing due to the growth of data-driven industries and the requirement for professionals skilled in analyzing and interpreting large amounts of data.
Data scientists are in high demand across various industries, including technology, gaming, banking, finance, healthcare, manufacturing, and retail. Companies are willing to pay hefty salaries for top talent in this field, making data science a lucrative career choice for those with the right skills and training. According to AmbitionBox, the salary for Data Scientist in India ranges between INR 4,40,000 and INR 24,30,000 per annum. The Data Scientist's salary in India is dramatically affected by various factors, such as skills, experiences, job roles, location, and the company you work for.
To land a rewarding role in the field of data science, you typically need a Master's in Data Science. Although you can start your journey with a bachelor's degree in Mathematics, Statistics, Computer Science, or a relatable field, pursuing a Master's in Data Science degree program can give you an edge over other competitors in the global labor market. Many potential employers require or consider applicants with a Masters in business analytics in India.
1. Data fuels the future
Data Science is an exciting field that significantly impacts shaping the future. As we move towards a data-driven society, businesses and industries generate massive amounts of data that must be analyzed and turned into meaningful insights. This is where data scientists come in. Using statistical models, machine learning algorithms, and data visualization techniques, they extract valuable insights and make data-driven decisions that drive innovation and shape the future. Data Science is an interdisciplinary field requiring a unique combination of technical and creative skills. It is an extremely challenging and fulfilling career for those passionate about data and problem-solving.
2. Develop in-demand data science skills
Data science skills are highly in demand in today's job market. With the increasing amount of data generated daily, businesses and organizations need professionals who can extract insights and make data-driven decisions. Furthermore, technological advances have made data science more accessible, leading to a higher demand for individuals with the skills to analyze and interpret data. Developing data science skills is therefore recommended because they are not only in high demand but also have the potential to bring significant benefits to organizations and individuals alike. With the right combination of technical and business skills, a data scientist can help drive innovation, improve decision-making, and support organizational growth.
3. Become more hirable
Having a data science master's degree can make you more appealing to potential employers. This is because the field of data science is growing exponentially, and employers are looking for candidates with a strong foundation in the concepts and skills necessary to work with large datasets and develop insightful business solutions. A Master's in Data Science program can help you gain in-depth knowledge in machine learning, statistics, programming, and data visualization, making you a more well-rounded and valuable candidate in the job market. Additionally, possessing a Master's in Data Science in India may indicate to employers a higher level of commitment and dedication to the field of data science.
4. Access to higher pay packages
A Master's in Data Science degree can often lead to higher pay packages, as demand for professionals in the field with advanced knowledge and skills is high. Companies are willing to pay premium salaries to attract and retain talented individuals who can analyze and interpret complex data and provide valuable insights to inform business decisions. A data science master's degree can also increase job opportunities and provide access to senior-level roles in the field. However, it's important to note that the specific salary and job prospects can vary based on location, industry, and experience.
5. A promising route to lucrative career options
Earning a data science master's degree can lead to lucrative career opportunities. Data science is a high-demand field, and having a master's degree can give you an upper hand in the job market, as employers often prefer candidates with advanced education and specialized skills. Graduates with a Master's in Data Science can pursue careers in big data analytics, machine learning, and business intelligence.
6. Incredible job prospects
Graduates with a Master's in Data Science in India have a promising job outlook. With the proliferating demand for data-driven insights and decision-making, a spectrum of industries is looking to hire professionals with strong analytical and technical skills in data science. Roles such as data analyst, data engineer, business intelligence analyst, machine learning engineer, and data scientist are in high demand and offer competitive salaries. Some of India's leading industries for data science jobs include IT, finance, retail, healthcare, and e-commerce. With the right acumen, Master's in Data Science graduates can have a rewarding career in this field.
7. Gain real business experience
Pursuing a Master's in Data Science provides hands-on experience gathering, analyzing, and interpreting large data sets, critical skills required in today's data-driven business environment. Additionally, many master's programs offer internships and capstone projects that allow students to apply their knowledge in real-world settings, work on data-centric business challenges, and gain practical experience while making professional connections in the field. This experience can help data science students develop a valuable skill set and understand how data science can impact and drive business decisions.
Moreover, a data science master's degree program can equip you with advanced skills in data analysis, machine learning, and statistics. Developing these in-demand skills and knowledge can help you stay ahead in the fast-changing field of data science while increasing your job opportunities. You will also gain hands-on experience working with real-world data and develop your ability to extract insights and make data-driven decisions. Pursue a Data Science Degree today to enhance your career and contribute to the data-driven future.
Continue Reading:
Business Intelligence vs Data Science
Data Science vs Artificial Intelligence