Impact of EdTech Software Development on Learning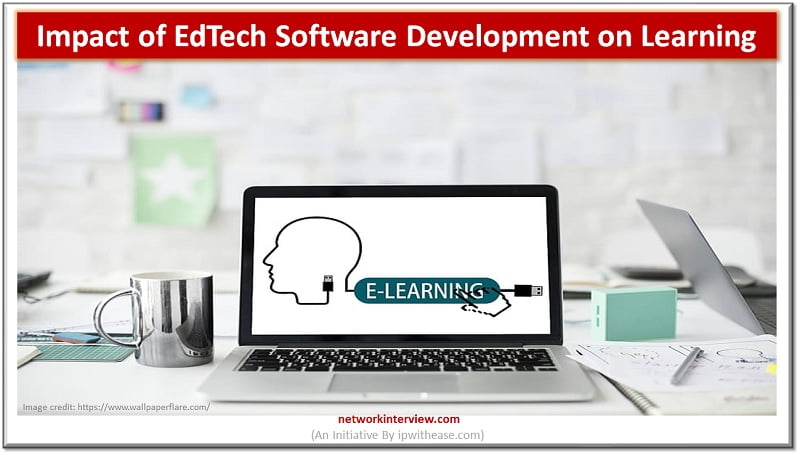 Due to the rapid deployment of technology in the educational sector, the way we interact, learn, or teach knowledge is transforming. The EdTech revolution in software development offers a plethora of applications that are shaping today's educational landscape. 
The term EdTech refers to the educational technology that holds a core value in the world of knowledge and learning. With the help of EdTech software development, it is possible to fulfill several digital learning needs efficiently. 
This blog focuses on how EdTech software can create a better class environment and improve engagement in learning. From personalized learning to virtual classrooms, and  to engaging learning apps, there is a lot the EdTech apps have to offer. Virtual classrooms and online education apps are examples of self-paced and flexible learning through EdTech software.
Here are the 5 Advantages of EdTech Software Development
The impact of EdTech software development on learning in today's technology-driven world is vast. It offers amazing benefits to both the teachers and students while accelerating the overall education environment. The top advantages  of EdTech software development include-
Personalized Learning Opportunities:
The deployment of artificial intelligence and data analytics in the education industry helps students to assess their performance. It also helps to understand learning preferences. As per the result, the EdTech applications suggest personalized content, feedback, adaptive assessment tests, etc. This way, it is easier to ensure personalized learning to meet every individual needs.
Better Learning Experience:
EdTech software development brings plenty of exciting learning opportunities that differ from typical classroom learning. The virtual simulations, gamification, multimedia information as well and personalized learning offer an enriching education environment to both teachers and students. Learning is now more self-paced and flexible with the accessibility of instructional content.
Quality Education:
EdTech applications allow students from different regions of the world to access quality education by eliminating geographic constraints. It ensures that students who belong to diverse backgrounds can access the same educational content as well as tools. It can be said that EdTech software development can democratize education.
More Flexibility: 
Software product engineering services have resulted in the development of EdTech apps. These apps can be accessed by any individual at any time and from any location. This flexibility and adaptability make EdTech apps highly popular. Students can access the instructional materials and learn outside of the physical educational tools and classroom.
Consistent Professional Growth:
EdTech software allows teachers to boost growth in their careers by utilizing opportunities from consistent learning. They can join many professional training programs to update their knowledge of the latest trends and approaches on specific subjects. EdTech apps also help them to learn technology integration methodologies that enhance their expertise.
Concluding this, the future of the tech sector seems quite promising and limitless with EdTech software development. The learning experience will continue to transform through cutting-edge technologies such as data analytics, AR/VR, gamification, microlearning, and a lot more.
All these technologies will improve the student's performance while promoting a culture of flexibility and continuous growth. Furthermore, focusing on micro-credentials and soft skills will prepare students to perform their best in the competitive job market.  Also, blockchain technology in the tech sector will guarantee the unmatched security and transparency of academic data. 
With such undeniable perks, many companies that offer software product engineering services are building EdTech apps to fulfill the ever-changing demands and expectations of educators as well as students. Lastly, EdTech apps have the potential to create a knowledge-driven and inclusive future for the generations to come.
However, building EdTech software requires a profound expertise in web & mobile app development strategies. You can choose the best software product engineering services that meet your specific project idea and related needs.
Continue Reading:
What are Progressive Web Apps (PWAs)?
Top 10 Application Monitoring Tools (APM)