Hyper Converged Infrastructure (HCI) vs Converged Infrastructure (CI) : Detailed Comparison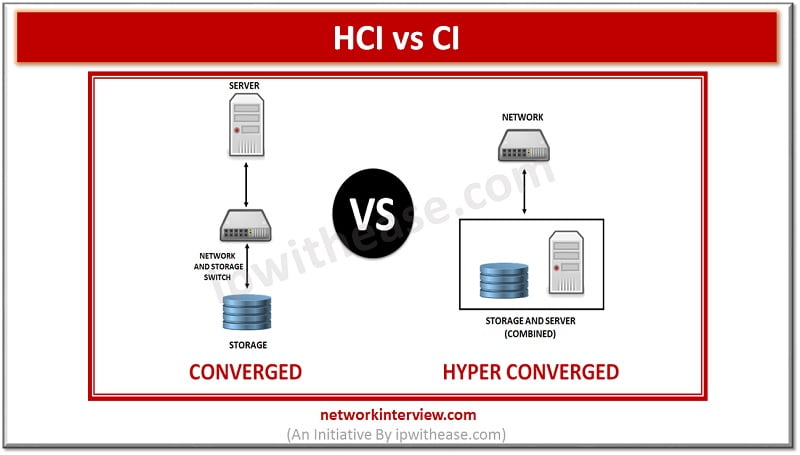 Hyper Converged Infrastructure (HCI) Vs Converged Infrastructure (CI)
Hyperconvergence has been at the forefront of customer demand nowadays. Underpinned by virtualization technology, Hyperconvergence is gradually making strong hold in the IT world. In this article, we will talk through 2 virtualization concepts which are
Hyper Converged Infrastructure
Converged Infrastrucrture
So, let's begin our journey on both –
What is Hyper Converged Infrastructure?
Hyper Converged infrastructure combines storage, computing and networking together into a single system to reduce complexity and render increased scalability. HCI platforms use a hypervisor for virtualized computing, software-defined storage and network virtualization. Multiple nodes are combined together to form a pool of shared compute and storage resources.
Benefits of Hyper Converged Infrastructure
Hyper Converged infrastructure delivers simplicity and flexibility, scalability, data security as compared to legacy infrastructure (thanks to virtualization). Integrated storage, servers and networking devices are designed to be managed as a single entity across all instances of an HCI. HCI environment saves cost in below capacities including data center power and space.
Management Efficiency
Data Efficiency
High Availability
Scalability
Data Protection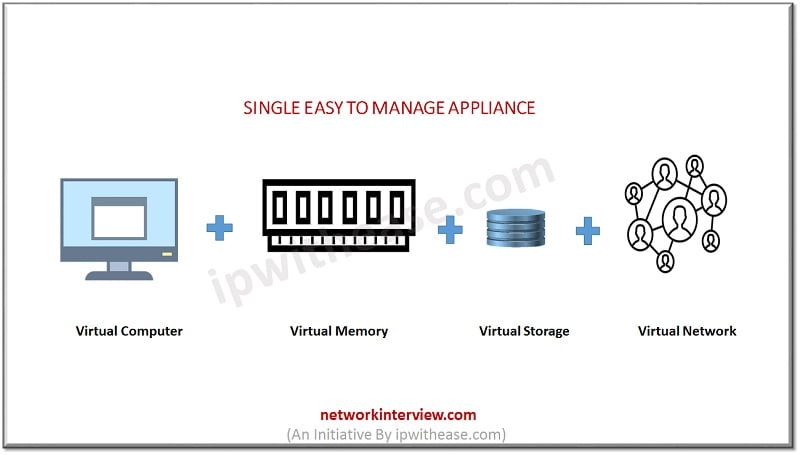 What is Converged Infrastructure?
CI (converged infrastructure) is designed for integrating many IT equipment such as servers, data storage devices, network equipment and IT infrastructure management, automation and business process software to form a single optimized computing solution. Converged infrastructure combines storage and computing into a single physical appliance that is small, dynamic and powerful to minimize compatibility issues between storage systems, servers and network devices.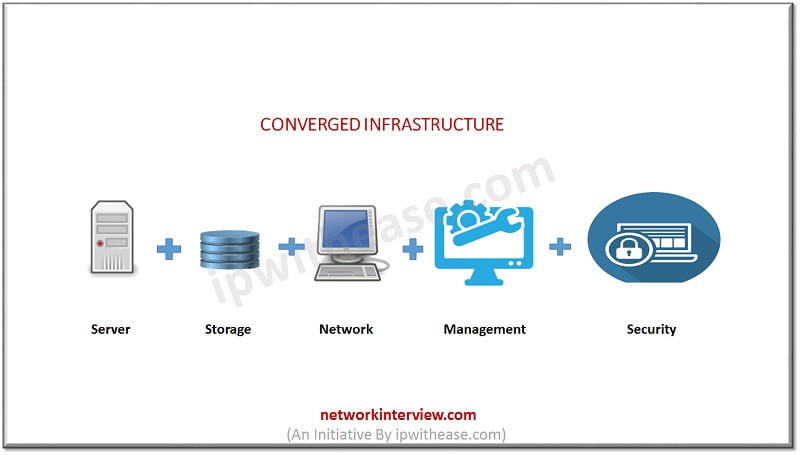 Benefits of Converged infrastructure
The primary benefit of converged infrastructure is that it scales and brings new services by simplifying deployments, validating configurations and providing lower costs.
Simplifying deployments with defined modular configurations gives speed and agility for new service.
Validating configurations provides templates for new application instances.
Costs can be lowered by reducing time for repetitive installation tasks and system testing.
Difference between Converged and Hyper Converged Infrastructure
Converged infrastructure is developed to simplify the deployment of physical resources like compute, network and storage resources. Hyper Converged infrastructure solutions share the same goal, but with a different approach. Although exact implementations and definitions may vary, Hyper Converged infrastructure is built with software defined compute, storage and networking. Hyper Converged infrastructure is more flexible, maneuverable and scalable than converged infrastructure.
Another main distinction between converged infrastructure and HCI involves the rack system. A large rack space platform that merges compute, storage and networking into a product is converged infrastructure. On the other hand, HCI contains 1U or 2U (rack-unit) systems with a local storage
Converged infrastructure depends on physical hardware resources and Hyper Converged infrastructure is all about virtual resources that combines together to form an array.
The architecture varies between the two approaches – For CI, architecture storage is attached directly to the physical server, and in contrast the HCI architecture has a storage controller function that runs as an app service on each node in cluster.
HCI shares storage to all compute and virtual machines, whereas converged infrastructure does not.
Note that Hyper Converged infrastructure does not replace converged infrastructure. Both these virtualization technologies contain unique benefits.


Key benefits of CI and HCI are enlisted below –
BENEFIT

CONVERGED INFRASTRUCTURE

HYPER CONVERGED INFRASTRUCTURE

Reduces operational expenses

Yes

Yes

Streamlines acquisition, deployment, support, and management

No

Yes

Reduces "moving" parts, i.e., hardware

Yes

Yes

Enables cloud-level economics

Yes

Yes

Provides a highly scalable environment

Yes

Yes

Enables centralized management of virtual environments

Yes

Yes

Optimizes resource consumption

Yes

Yes

Improves mobility by shifting management over to applications and VMs

No

Yes

Includes built-in data protection and disaster recovery

No

Yes

Reduces the total cost of ownership

Yes

Yes

Enables rapid application deployment

No

Yes

Reduces the risk of over-provisioning and over-purchasing

Yes

Yes

Cuts down on labor-intensive activities

Yes

Yes

Prepares datacenters for DevOps

No

Yes
Download the comparison table here.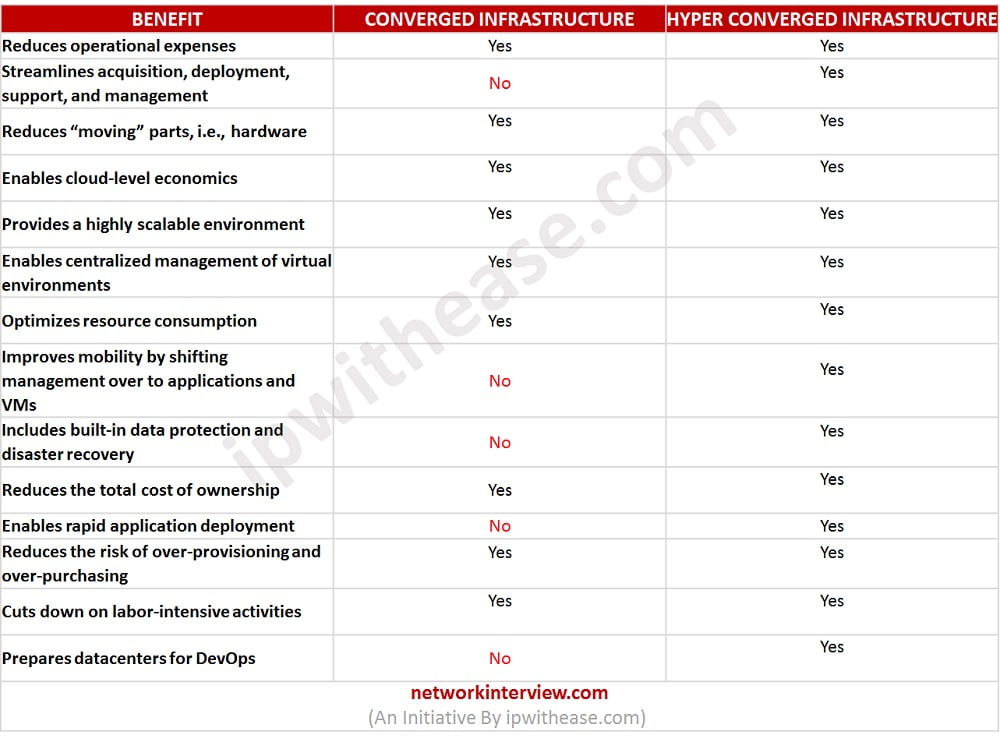 Conclusion
HCI is a software defined unified system that combines all the components of a traditional data center storage, compute, networking and management into single appliance. HCI and CI are the two basic solutions to optimize the networks in scalability and management in the enterprise. Compared to the converged infrastructure, the Hyper Converged infrastructure is a fast-growing and more valuable technology segment in the IT industry today.
Continue Reading:
What is Hyper Converged Infrastructure (HCI)?
Top 20 Hyper Converged Infrastructure Vendors