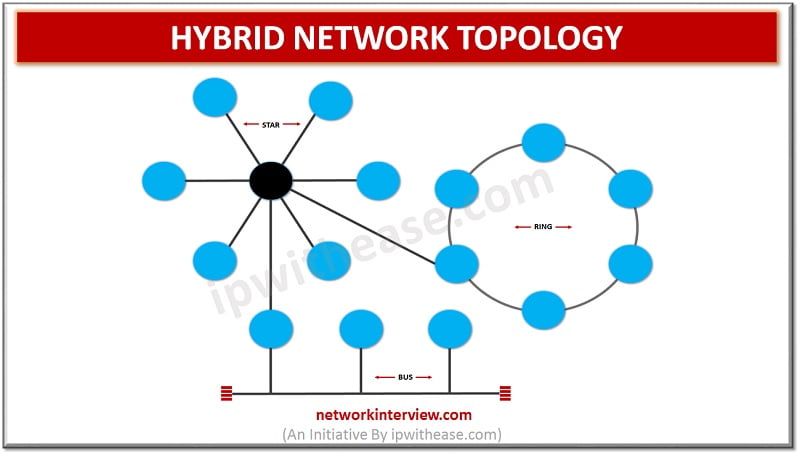 Networks are the backbone of any IT infrastructure. Networks can be set up in different topologies; its choice depends on performance requirements, number of systems, location, cost factors etc. sometimes a mix of topologies is deployed to attain flexibility, fault tolerance and ease of adding or removing topologies as required. Hybrid network topology aid in effective cost management and it has a unique kind of configuration. 
Today we look more in detail about Hybrid network topologies, its types , pros and cons and use cases etc.  
Hybrid Network Topology
Different applications use hybrid network topology as it is more efficient compared to fundamental mechanisms. It can be deployed in different environments. It provides users the benefit to create, run and manage applications. There are various sectors in which hybrid topology is widely used such as educational institutions, banking sector, automated industries, financial sector, research organizations and multinational companies. The hybrid topology is created by mixing two topologies such as full mesh topology, extended star, partial star, point to point network and so on. It is good for use on multi-floor buildings and departments in offices and also at homes. 
Types of Hybrid Network Topologies
There are several types of hybrid network topologies which integrate many basic topologies to create a new form of topology as per the requirements. These topologies are hieratical in nature and constitution. Hybrid topology has the capability to integrate both physical and logical topologies. We will learn more in detail about these topologies in this section.
Star-Ring Hybrid topology 
The Star and Ring topology is used to create this topology. Using ring topology, two or more-star topologies are linked with the help of a physical (wire) connection. The data flows in both ways unidirectional or bidirectional. Whereas in original ring topology the bidirectional method of data flow provides the functionality that there is no impact on whole network data flow when one node of the original ring topology fails and data reaches a connecting node in this type of star topology.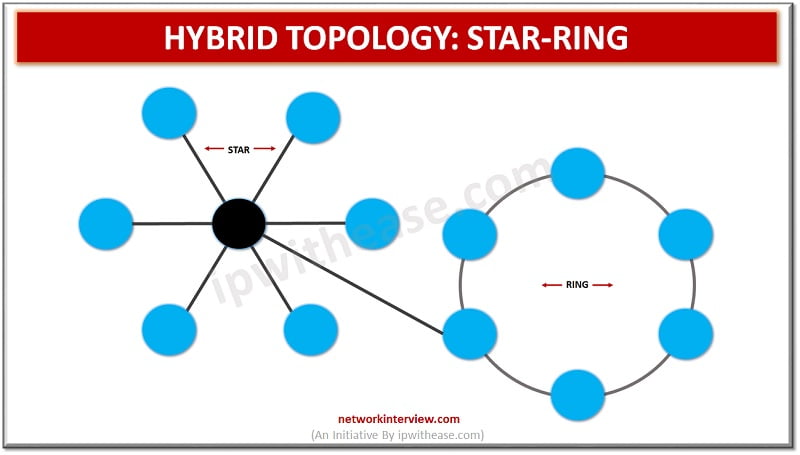 Star-Bus Hybrid topology 
This is achieved by combination of bus and star topology. The bus topology allows two or more-star topologies to be linked via a wire connection. The original bus topology interrelates the distinct star topologies and provides a backbone structure.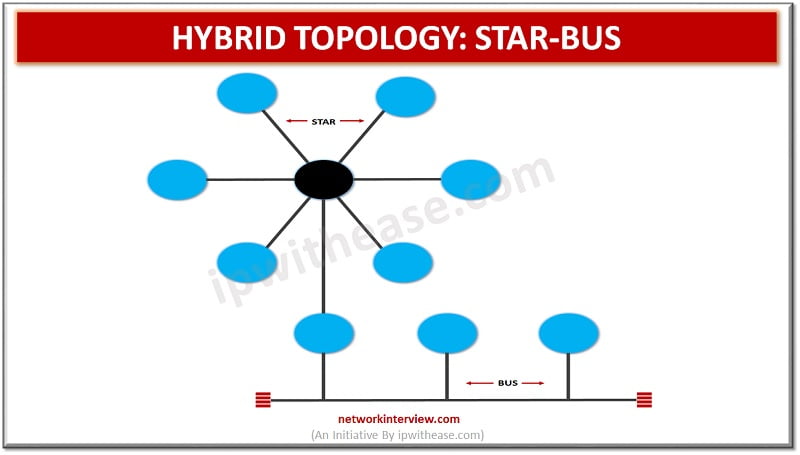 Hierarchical Hybrid Network topology 
This topology is also called network tree topology. It is a minimum level like two to a maximum level, and maximum is known as root or parent node. The next level in hieratical structure includes a child node which is level three. Except the top-level nodes each node provides a maximum parent node and the nodes at minimum level, peripheral nodes function like parent nodes and referred as leaf nodes.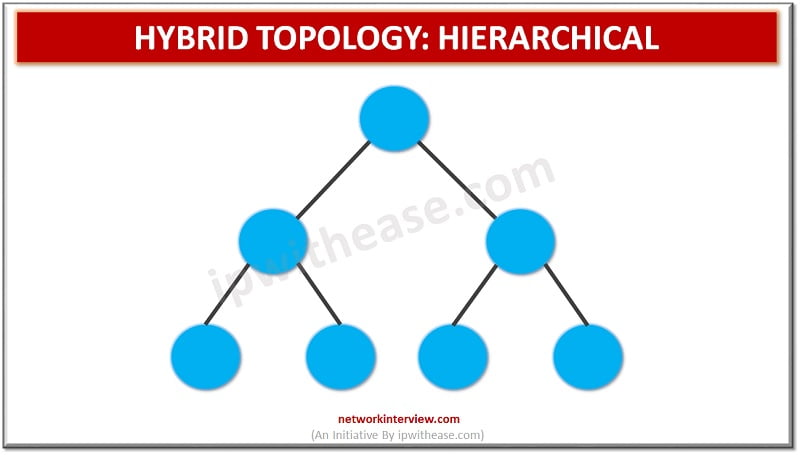 Pros and Cons of Hybrid topology
PROS
Reliability is higher in hybrid topology due to better fault tolerance. If a node gets damaged between network, it is possible to single out the damaged node from rest of the network without impacting the processing of network

Effective as mixing of two topologies brings benefits of both such as high tolerance is provided by star topology and good data reliability is provided by ring topology

Scalability is another benefit of hybrid topologies. As it involves easy integration of additional concentration points or new hardware components. Without disturbing the existing architecture, it is easy to extend network size.

Flexibility is great virtue of this topology as it can be implemented for different network environments 

They offers benefits like data communication, signal strength, throughput and high-end equipment integration 

It has ability to transfer data easily between different types of networks
CONS
Complexity is one of the drawbacks of this topology. It is challenging as different topologies are linked in hybrid structure. It is tough for designers to create such structure and requires efficient installation and configuration process 

Purchase and management of hybrid topology is comparatively expensive then basic topologies. The hubs are also required in this technology to connect two different networks which are quite expensive. The hybrid topology may require advanced network devices , loads of cables and much more as architecture is usually quite larger in scale. 

For quick fault identification it requires a multi-access unit to bypass faulty devices so that there is no or limited impact on network availability. 
Continue Reading:
Hub and Spoke/Star Network Topology