How to Pass the CSPO Certification Exam?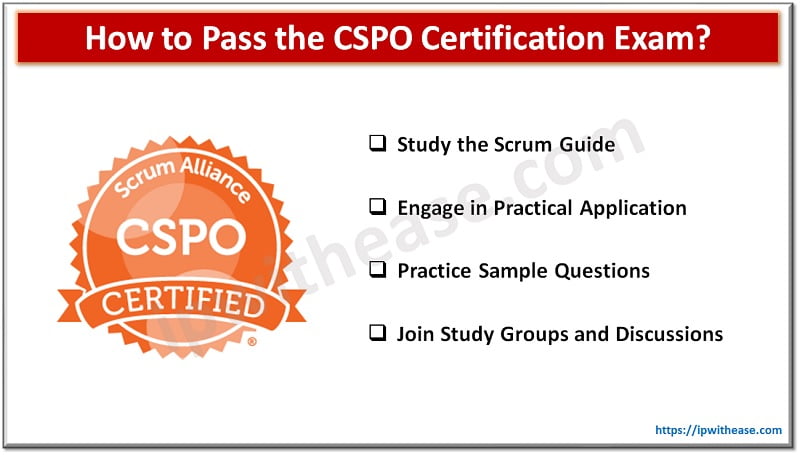 The CSPO (Certified Scrum Product Owner) certification is considered prestigious for individuals aiming to succeed in Agile product management. With the increasing popularity of Agile methodologies in various industries, obtaining a CSPO certification can unlock various career prospects and showcase your expertise in Scrum principles, product ownership, and collaboration.
Tips & Strategies to Pass the CSPO Certification Exam
Study the Scrum Guide
The Scrum Guide is the definitive source for understanding Scrum. It is essential to thoroughly read and understand the Scrum Guide as it provides the foundation for the CSPO certification exam. Pay close attention to the roles and responsibilities of the product owner, the Scrum events, and the artefacts.
Take notes while reading the Scrum Guide and create a summary of the key concepts and their interdependencies. Regularly review your notes to reinforce your understanding and ensure that you can recall the information during the exam.
Engage in Practical Application
Scrum is a highly practical framework, and to succeed in the CSPO certification exam, it is essential to have hands-on experience. To gain this practical experience, apply Scrum principles and practices in your professional projects. Make sure to actively participate in Scrum ceremonies, collaborate closely with the development team, and engage with stakeholders. This hands-on experience will not only strengthen your understanding of Scrum but also provide you with real-world examples that can be referenced during the exam.
In addition, it would be beneficial to seek opportunities to shadow or assist an experienced product owner. This will give you valuable insights into their day-to-day activities and further enhance your understanding of the role.
Practice Sample Questions
In order to evaluate your understanding and preparedness for the CSPO certification exam, it is recommended to practice sample questions that are tailored for this exam. Various online platforms provide such sample questions and practice exams that closely resemble the actual format of the exam. Engaging in timed practice sessions can help recreate the exam atmosphere and enhance your ability to manage time effectively.
It is important to analyze the answers you got wrong and review the relevant Scrum concepts to reinforce your comprehension. By practicing sample questions, you can identify any areas where your knowledge may be lacking and gain confidence for the real exam.
Join Study Groups and Discussions
Working together with other individuals who are also aspiring to become Certified Scrum Product Owners (CSPO) can be incredibly advantageous as you prepare for your exam. Consider joining study groups or participating in online forums where you have the opportunity to engage in meaningful discussions and exchange knowledge and experiences. By discussing various Scrum concepts with your peers, you can gain a deeper understanding and gain insights from different viewpoints.
Promote group discussions, encourage the asking of questions, and challenge each other's comprehension to create a lively and dynamic learning environment. Engaging in study groups not only enhances your understanding, but it also provides valuable support and motivation throughout the entire preparation process.
Conclusion
To successfully pass the CSPO certification exam, you need a combination of knowledge, practical experience, and effective preparation strategies. Taking the product owner certification offers various benefits, such as improving your Agile product management skills, expanding your career opportunities, and gaining recognition for your expertise in Scrum principles.
To increase your chances of success, it's important to familiarize yourself with the exam format, attend training courses, study the Scrum Guide, apply your knowledge in practical situations, practice sample questions, join study groups, take mock exams, and effectively manage your exam day.
Always remember that becoming a Certified Scrum Product Owner is more than just passing the exam. It involves embracing the Agile mindset and continuously enhancing your skills as a proficient product owner. Best of luck on your CSPO certification journey!
Continue Reading:
How To Get Started with a Cloud Computing Certification?
Why Cisco certification is important?