Why Cisco certification is important?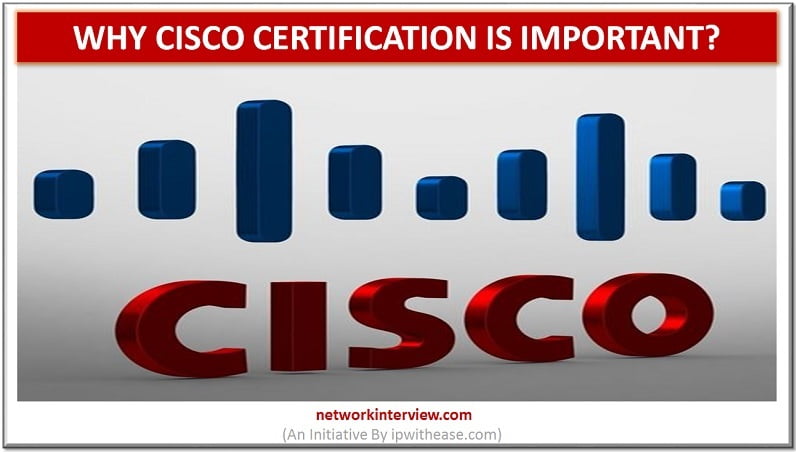 Why Cisco certification?
The present day job market is highly competitive and in this scenario, it is not simple to enter the tech industry. There is no doubt that career in this industry offer high rewards but for getting the identity different from crowd, the stakes are also equally high. This is the reason that makes industry certification stand as one of the best ways to begin and get into the tech industry whether you are a beginner in job market or the one who is looking to make alternate and better career choices.
Influence on perception of employers when you have Cisco certification:
There are chances that you can enter the job market without getting certified but it is not enough in the present scenario. You have to add something to the resume that makes you stand out from others and more noticeable to the recruiters.
Career benefits:
Getting Cisco certification is not just beneficial in the process of hiring but go way beyond this. If you are looking forward to enter in networking field and make a wonderful career then following are the benefits that you can get from Cisco certification:
Firm technical authority:
You get exposed to several technologies with the help of Cisco certification including CCNA, CCENT, CCIE or CCNP. Cisco certification also allows you to develop the skills that serves useful all through the networking career, regardless of the job role. In the course of certification, you will go through the steps for configuring, installing, troubleshooting and operating the switched and routed networks. This real world experience and knowledge will help you in your work.
Significant non-technical skills:
Just technical skills are not the limitation of Cisco certification. Candidates are also exposed to innovative thinking and problem solving. You need to go for something innovative if the topologies do not offer tested and tried results. It also includes team work communication with members of team. These all are the skills that always remain higher on the wish list of employers.
Related – CCNP SECURITY Interview Q&A
Bigger technology picture:
When you enter in a job, there are chances that just 1 or 2 technologies will be there on which you focus will slender. However, this is not the case when you get certification since variety of technologies and topics are there for which you get exposure. This is helpful in giving more expertise and wider perspective that will help athwart your career.  You will also be able to get hands on experience with the latest trends in development and innovation that makes your career shine.
Accelerate fast on growth track:
The process of promotion in your job is accelerated when you have Cisco certification and this allows you to enjoy much higher hikes in salary.
Persevere with learning:
You can go as far as your expectation with the help of Cisco certification. This certification is industry's most prestigious one, with CCIE and CCENT essentials, that help you in pursuing and developing on professional front, keep alive you learning and stay on track with the constant technology and innovations updates.
Related – CCNP R&S Interview Q&A
Be prominent from crowd:
There is intensifying competition in market for jobs and the task of recruiters is to have the talent pool narrowed. When the applicants are filtered by hiring managers, there are chances of them getting attracted to the candidates who have reflected staying power, initiative and determination for certification completion. Your passion is also demonstrated with this regarding the subject along with the sticking capability athwart the project.
Official stamp:
From the perspective of recruiter, a candidate might make claims on resume of possessing core knowledge and skills but guarantee for the same is given by this certificate of industry standard. The trusted leaders of industry offer this official stamp about your knowledge claims: at the level of intermediate, entry or expert.
Preference to certified candidates by employers:
It is found in hiring manager's survey that performance of certified employees is better than those who do not posses any certification. As per several hiring managers and recruiters as well, Cisco certification serves to be a remarkable method to enter in the industry and reflect your passion for the subject matter.
All these reasons clearly state why Cisco certification is important for getting prepared for successful networking career.
Related – New Cisco Certifications