Expert Tips to Create & Edit Videos Like a Pro: Video Editing as a Career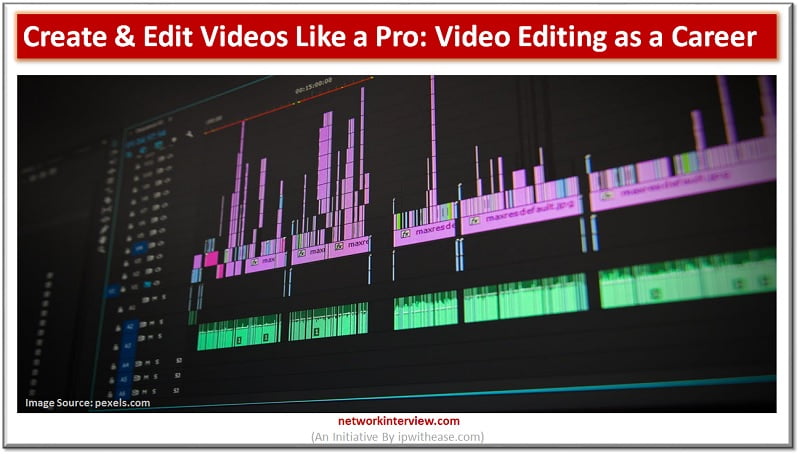 In the past few years, video making and editing have gained immense popularity. It's now easier than ever to shoot impressive videos with your smartphone or a DSLR camera and share them on social media. It has given a platform even for amateurs to make a career in video editing. Yet considering the landscape of modern technology, many people face difficulties while creating and editing videos. If you have been struggling to create professional-looking videos despite your efforts, you may have missed a few crucial steps in your workflow process. To help you get things right from the beginning, we have collated a list of expert tips to create and edit videos like a professional.
Pick a high-quality camera
Getting an excellent camera first is essential before creating a video or editing one. Great cameras give outstanding results, leading to high-quality videos when edited professionally.  Choosing a good camera allows you to focus more on the creative element of your project. It is recommended to invest in cameras that shoot video in high definition for the best results.
Choose a good computer
A good computer is one of the most important things required for video editing. Since various editing tools are used to edit videos, you must select a computer that can handle the app and provide high-performance speeds. While inexpensive computers may do the job, they are not recommended because they have little to no power and can get bogged down easily. A good computer will help you get better images with less hassle. If possible, it is recommended that you invest in powerful gaming or laptop PC to help speed up your workflow while creating videos.
Choose the correct editing tool
Before you begin any editing process, you need to choose the appropriate editing tool. While there are many online video editor tools available in the market, it is not easy to get a perfect video maker for your project. Choosing the correct app is crucial as a wrong choice can hamper the quality of your video. Thus, it is important to know whether you are aiming for professional or amateur videos. Amateur videos take less time; however, professional videos require more time. If you want your videos to look professional, you need to pick the right tool for your needs.
Learn the basics of video editing
If you want to create an excellent video, you first must learn the correct workflow for editing a video. As a beginner, it's advisable to work on simple projects before moving on to more complicated ones. Some online video editor tools use different methods, such as cut and paste or drag-and-drop, while others require you to have a good grounding in the editing process. It is up to you which one you think is easier but getting accustomed to the workflow process will help when creating videos in the long run.
Add suitable music
Music can make or break a video. If your video is weak in its audio, it will not get approved by viewers. Hence, you must choose the right music for your project. You do not have to carry out research when selecting the right music. Many websites offer free music downloads, and you can even get them legally with a quick search on the Internet. You recommend adding music to your videos through a video editor, which is easier and faster than doing it with music from the Internet.
Add suitable effects
You can add some video effects, which will make your videos look great. There are many effects available in video editing, but some may not be suitable for your videos. The usual ones include the sepia effect, blur effect, blur filter, and more. Since these are known as primary effects and are used often, you should pick the right ones for your videos rather than spending time on which ones to use. It is also good to include some sound effects during shooting to make your videos sound more professional and appealing. You should check out various apps before picking a suitable one for your project.
Color correction
Color correction is another crucial aspect of video editing. Your videos will not be complete if they are not color corrected before uploading them. This process usually involves changing the tint and contrast of your videos with the help of a video editing tool, but you can also do it manually to get desired results. Color correction should not be overlooked if you want to create professional videos, as they will make a massive difference in the final product.
Motion graphics
Motion graphics are complicated to use in comparison to other video editing tools. Still, some of them can be very helpful while creating unique, appealing videos of top-notch quality. You need to work on different tools, and software and see whether they are suitable for your videos. It is also good to read tutorials on motion graphics as they make it easy.
Add catchy titles
To make an awesome video, you must ensure that your video has a catchy title. Put some time and effort into thinking of creative titles as they can be the first thing people see when they visit your videos. You do not have to use every bit of creativity in naming your video as simple words like "How to create videos" or "Video Making tips" are considered good enough. You may add a few emojis or memes to get creative.
Export for the web
Once you finish editing all the necessary shots, it is recommended that you export them to your computer. Export only the pictures you want to be uploaded and do not include footage that will not be seen. You can also use online tools, to help you export all the necessary shots.
By following the above tips, you can create awe-inspiring videos. While many advanced tools & software are available, it is good to stick to the basics before moving on to more complicated ones. By using simple editing methods, you can create professional and appealing videos without shelling out a lot of money.
Continue Reading:
5 Online Tools Every Techie Needs to Know
Why choose Digital Marketing as a Career?