Essential Software For Businesses In 2023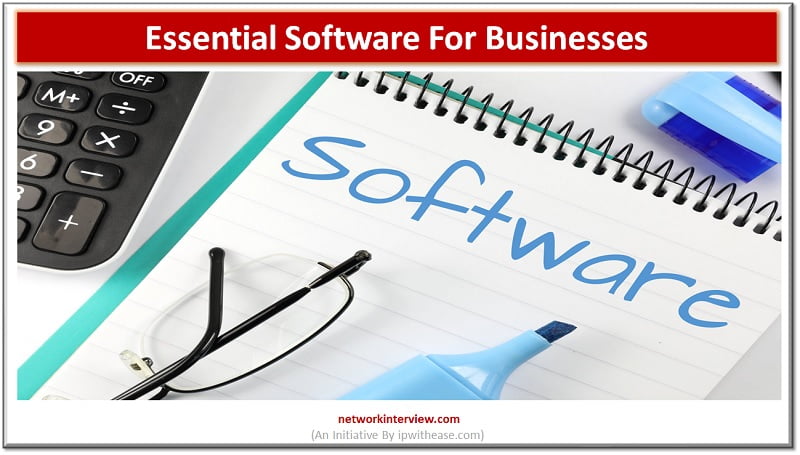 These days, most businesses rely heavily on software for their daily operation. This is likely to include industry-specific software as well as a range of general business software programs. It is not hard to imagine how difficult it would be to try to run a business without a few of these software programs, especially as many can automate tasks, improve productivity and help with the decision-making process.
This article will look at a few of the essential software programs that every business should be taking advantage of in 2023. Obviously, businesses will need to assess their needs, but if you do not have any of the following, you could be missing out.
List of Essential Software For Businesses
Accounting Software
It is vital that every business maintains completely accurate and up-to-date books at all times. This is made much easier with the use of accounting software, which can automate and simplify many accounting tasks. This includes bookkeeping, payroll, invoicing, tracking expenses, and financial reporting as a few examples. Accounting software makes it a lot easier for businesses to monitor cash flow, make smarter decisions, and file taxes each year. Additionally, accounting software could help a business to save money as you do not have to outsource to an accountant. 
Customer Relationship Management Software
There is nothing more important than customer satisfaction when it comes to success. If you want to keep your customers satisfied, you need to ensure that they have a positive experience with your business. Customer relationship management software (CRM) allows businesses to capture and manage all customer interactions, which can bring a few benefits. With this customer data, you can then provide personalized communication and marketing, improve the sales process and discover the best ways to improve the customer experience. Additionally, improving your relationship with customers will help you to develop a positive reputation, and this could help you to both attract and retain customers.
Project Management Software
Projects can be challenging to manage when you have different employees, teams, resources, and timelines to manage. Project management software can simplify the planning and execution of projects and should improve the success rate of your projects. Project management software can provide you and your team with all of the tools and information needed to work together, track progress, allocate resources, and more.
Videoconferencing Software
These days, businesses need to have high-quality videoconferencing software in place. With the rise of remote work, it is important to have videoconferencing software that enables meetings to take place virtually, whether one-to-one meetings with staff, team meetings or meetings with clients. This can help to overcome some of the communication challenges that remote work can bring and can be important for increasing employee engagement and preventing isolation, which can be an issue with remote work. 
GRC Software
Governance, risk and compliance (GRC) is hugely important for any business, especially as most industries are going through change. GRC software can help a business to stay abreast of all changes related to governance, risk and compliance. GRC software will help a business to learn about any legal and regulatory changes and discover if they are currently in violation with real-time monitoring. The software can also help to identify and manage risks, which can help organizations to prioritize and take positive action. The software can also automate many tasks to increase efficiency and create a single source of all GRC information.
HR Software
The HR department has many important responsibilities, and it is a department that can have a huge impact on the success of the business. There are many key tasks involved in HR, including onboarding, payroll management, conflict resolution, and performance reviews. HR software can simplify and automate many of these tasks, which should help the department to thrive. This is helpful for employees that will get the best possible experience and help the business by keeping staff happy and engaged at work.
Cybersecurity Software
Cybercrime has been steadily on the rise in the last few years and will only become a more prevalent issue. Therefore, businesses must make sure that they have high-quality cybersecurity software in place that can protect them from the latest threats. It is important to have antivirus software as well as a firewall, VPN, encryption tools, and password manager. 
Final Words
These are a few of the software programs that every business should be using in 2023. Every business will have different needs, and there is likely to be industry-specific software, but the above can help any business to run smoothly in 2023. 
Continue Reading:
8 Key Software Testing Methods
Low-Code Platform: The New Way to Build Software Applications