Navigating the Digital Mailroom: How AI is Reshaping Email Communication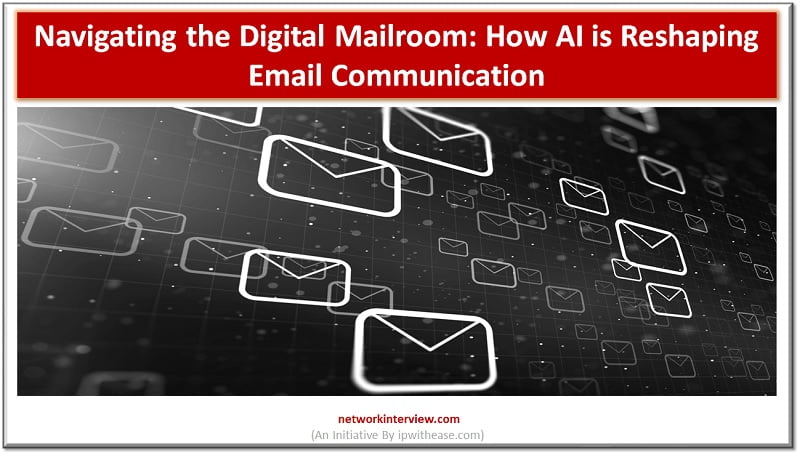 In the digital age, email remains a cornerstone of communication. However, the traditional email experience is undergoing a metamorphosis, thanks to the infusion of Artificial Intelligence (AI). Let's explore this transformative journey.
The Email of Yesteryears
Historically, email platforms were static, serving as mere digital postboxes. While functional, they lacked the dynamism and personalization that today's users crave.
AI: The Catalyst of Change
The introduction of AI into email systems has been nothing short of revolutionary. By learning and adapting to user behaviors, AI offers a tailored and efficient email experience, addressing many of the limitations of older platforms.
Unpacking AI's Toolbox in Email Communication
Learning Algorithms

: These algorithms adapt to user habits, ensuring that email platforms evolve with their users.

Language Interpretation

: Modern platforms can now comprehend human language nuances, thanks to Natural Language Processing (NLP).

Data Insights

: Continuous data evaluation refines user experiences, making them more intuitive and relevant.
AI's Offerings: More Than Just Features
Intelligent Organization

: Emails are now sorted with precision, ensuring users see what's most relevant.

Swift Composition

: Predictive text and suggestions expedite the email drafting process.

Timely Reminders

: Automated prompts ensure important emails don't slip through the cracks.
Advanced Capabilities: AI's Extended Arm
Mood Analysis

: Modern platforms can gauge the sentiment behind emails, aiding in response prioritization.

Robust Filtering

: Unwanted emails are efficiently sidelined, thanks to advanced pattern recognition.

Tailored Suggestions

: Actionable insights are provided based on email content, streamlining tasks.
User-Centric AI Innovations
In the realm of email communication, the user remains paramount. Recognizing this, modern email platforms are leveraging AI to craft experiences that are not just efficient but also deeply personalized. SuperHuman Mail has been a trailblazer in this domain, setting a high standard with its speed and AI-driven features.
However, for those exploring alternatives, platforms like CanaryMail have emerged as strong contenders, offering a suite of innovative features that rival, and in some cases, surpass those of SuperHuman. For a deeper dive into how these platforms measure up, check out this comprehensive guide on Superhuman alternatives.
Adaptive Learning

: Platforms are designed to learn from user interactions over time. Whether it's the type of emails a user frequently reads or the times they're most active, AI algorithms adapt to these patterns, ensuring that the email experience is tailored to individual preferences.
Contextual Responses

: Gone are the days of generic auto-responses. Modern email platforms can now craft responses based on the context of the email received. For instance, if a user receives an email asking for a meeting, the AI might suggest potential time slots based on the user's calendar.

Visual Preferences

: Recognizing that aesthetics play a crucial role in user experience, some AI-driven email platforms now adjust visual elements based on user preferences. This could range from changing themes to suit the time of day to adjusting font sizes based on user reading habits.

Behavioral Predictions

: By analyzing user behavior, AI can predict future actions. For instance, if a user frequently moves promotional emails to a specific folder, the AI will start doing this automatically, saving the user time and effort.

Integrated Task Management

: Understanding that emails often come with tasks, modern platforms are integrating AI-driven task managers. If an email mentions a deadline or a to-do, the AI can automatically create a reminder or a task, ensuring that the user stays on top of their responsibilities.

Feedback Loops

: User feedback is invaluable. Some platforms now use AI to solicit and analyze user feedback in real-time. This continuous feedback loop ensures that the platform is always evolving in line with user needs and preferences.
The focus on the user is evident in these innovations. By placing the user at the heart of every AI-driven feature, email platforms are ensuring that the digital communication experience is as intuitive, efficient, and personalized as possible.
The Expanding Horizons of AI in Email
Adaptive Interfaces

: Future email platforms might offer real-time interface adaptations based on user mood or tasks.

Holistic Assistance

: Beyond management, AI could anticipate user needs, automating tasks like flight check-ins from email notifications.

Security Reinforcements: As cyber threats evolve, AI will play a crucial role in fortifying email security.
The Road Ahead: AI's Expanding Influence
Immersive Experiences

: Integrations with AR and VR could redefine how we interact with emails.

Voice Activations

: Voice commands might become the norm, offering hands-free email management.

Emotion Sensing

: Enhanced sentiment detection could provide deeper insights into email communications.
Conclusion
The fusion of AI and email is ushering in a new era of digital communication. As we look to the future, it's clear that the boundaries of what's possible are expanding, promising an even more intuitive and personalized email experience.
Continue Reading
Automation vs Artificial Intelligence: Understand the difference
Artificial Intelligence vs Machine Learning