Here's How You Could Be Causing Damage to Your Computer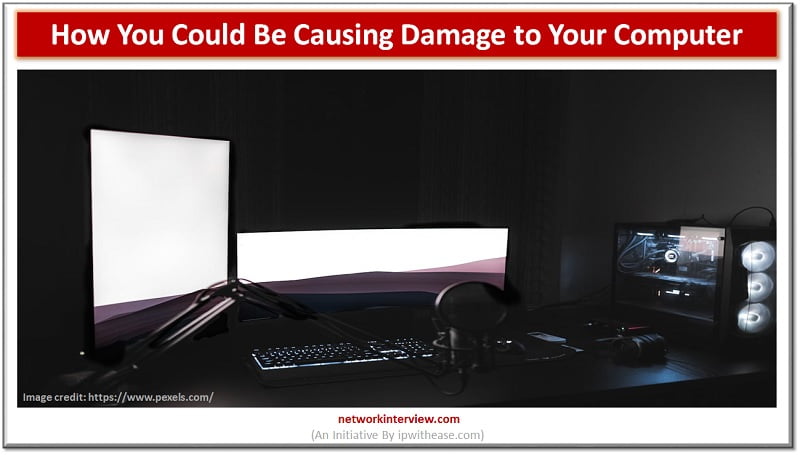 Nothing lasts forever, especially high-tech products like a laptop or computer. However, if you know how to care for it, your computer can survive for a very long time.
This applies to both PCs and laptops. If your equipment malfunctions more frequently than it should, there is a tiny probability that you are to blame owing to some seriously poor habits.
You might have the fastest internet connection, such as WOW Internet packages, but it's of no use if your computer itself is damaged. Here are some of the most dangerous things you can do to a computer without even realizing it.
Neglecting Overheating Issues
Your computer's worst enemy is heating. Your computer's processor may slow down, throttle itself to maintain normal temperatures, or even shut down entirely if it becomes too hot.
Aside from making your computer noisy and hot to the touch, operating at high temperatures for extended periods can also shorten the lifespan of your processor, fans, and batteries.
The fix is quite straightforward for desktop computers: Make sure your casing has enough vents and fans to maintain cool airflow across the components. Keep it away from confined cabinets and other hot areas. You should probably use an electric duster sometimes to remove the dust.
When you can, place your laptop on a flat surface, or at the very least, ensure that nothing can obstruct airflow on your lap, such as a blanket.
Allowing Dust and Debris to Gather
Over time, a computer's components can become overheated and its fans may need to run more quickly. While routine computer cleaning can be beneficial, it is preferable to take preventative measures and shield the computer from filth.
Your PCs should be kept on a desk or elevated platform. Placing laptops on the ground or a low surface will allow debris, such as hair, to enter the air intake, obstructing airflow and causing computers to overheat.
Careless Handling of Your Laptop
Desktop computers have the benefit of being able to sit comfortably in your office, whereas laptops are frequently mistreated. And the more you misuse it, the more probable it is that you will do damage.
Many individuals pick up laptops by the screen, forcefully open the hinge on one side, and throw the computer across the room to the couch! We've even seen individuals use their closed laptops as a drink coaster! You can end up with a cracked shell or a worn-out laptop hinge as a result of this type of treatment.
However, if your laptop contains a standard spinning hard drive rather than an SSD, shaking or tossing the device might result in the head of the drive becoming dislodged or touching the disc surface, especially if the drive is in use at the time. Even though it is rare, if it does occur, you will have a miserable day, particularly if you failed to back up your data.
You should treat your laptop like the pricey piece of equipment that it is.
Improper Battery Maintenance
After years of use, laptop batteries lose their capacity. After a few years, a new laptop's battery life will drop to three or four hours even if it has a six-hour usage guarantee. While inevitable, some unhealthy practices might hasten the battery's degeneration.
Even after being fully charged, if you keep your battery plugged in, the heat from the laptop causes it to deteriorate more quickly. If newer batteries are frequently fully depleted, their lifespan will also be shortened.
Shallow discharges might help the battery in your laptop last longer. The battery must be recharged after being partially discharged.
If your laptop's battery is swollen, stop using it and replace it immediately.
Putting a Strain on the Cables and Ports
Damage to a USB port or cable might still harm your computer even though it's not as risky as misusing the power adapter. Although it may seem simple, if cables aren't slipping in properly into ports, don't force them in.
Similar to this, be careful not to bend anything you leave plugged in. There's a high probability of a flash drive in the USB port bending if you are using a laptop cross-legged. And since modern laptops have so few USB ports, you definitely don't want to damage one of them.
Your cables work in a similar manner. You are more prone to break the connection inside the cable if you frequently make severe bends back and forth. This can make the cable fussy or worthless.
All in All
Nothing survives forever, not even when technology is involved. On the other hand, computers and laptops do a decent job of lasting for several years. Naturally, this is based on the assumption that you are a careful and responsible user who takes excellent care of your PC or laptop. 
Computers are similar to coworkers. Developing excellent computing habits will increase your productivity and promote a better way of living. What other poor computer practices do you believe we ought to eliminate? Share your ideas in the comments section below.
Continue Reading:
How to Prevent Your Gaming Laptop From Overheating?
Which Is Better? A Router or Wi-Fi