Top 5 Cloud Computing Job Profiles: Career Options in Cloud Computing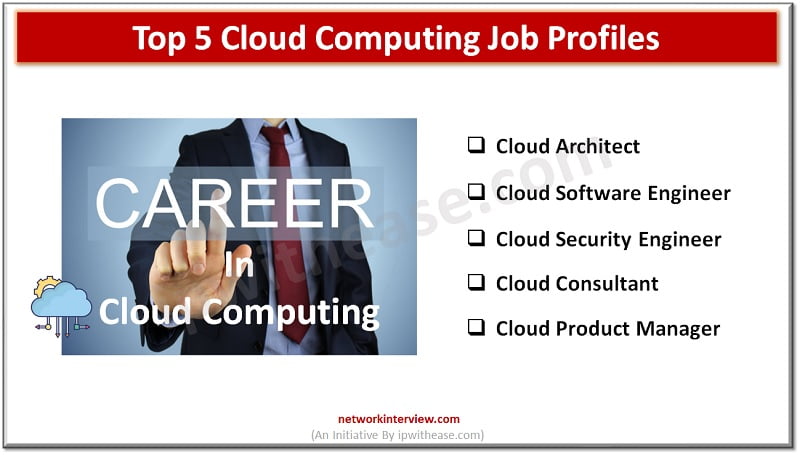 In today's rapidly evolving digital landscape, the importance of cloud computing is inescapable. As a cornerstone of modern technology, cloud computing has transformed how businesses operate by offering flexible, cost-effective, and scalable solutions to data storage and management. But what exactly is cloud computing, and why is it creating such a buzz in the IT industry?
In essence, cloud computing delivers computing services—including servers, storage, databases, networking, software, analytics, artificial intelligence, and more—over the internet, or "the cloud". It not only makes these services more accessible and reliable but also allows for greater efficiency and collaboration in business processes.
But beyond the technological marvel it represents, cloud computing has opened up a new horizon of career opportunities for IT professionals. Amid the persistent demand for cloud computing services, there's a growing need for skilled professionals who can design, develop, manage, and secure these cloud infrastructures. From startups to global corporations, organizations across all sectors are looking for experts in this field, making a career in cloud computing one of the most promising paths in the tech industry today.
So whether you're a new graduate or an experienced IT professional looking to progress in your career, the field of cloud computing offers a wide array of job profiles, each with its own set of roles, responsibilities, and requisite skills.
This blog aims to navigate you through the top 5 cloud computing job profiles, providing insights into your career options in this exciting field. So, let's dive into the expansive universe of cloud computing careers!
Why Choose a Career in Cloud Computing?
In the present digital age, the demand for cloud computing professionals is skyrocketing, creating a plethora of job opportunities. But why should you choose a career in cloud computing? Let's delve into the compelling reasons:
High Demand for Cloud Professionals:

According to Gartner, by 2025, over 85% of enterprises will migrate to the cloud. This shift leads to a massive demand for professionals adept at cloud technologies. LinkedIn reported that cloud computing-related jobs are witnessing a growth rate of 30% yearly, making it one of the fastest-growing jobs.

A Broad Range of Job Profiles:

Cloud computing isn't a one-size-fits-all field. From Cloud Architects and Cloud Security Engineers to Cloud Consultants, the career paths are diverse, and so are the job roles and responsibilities. Each job profile requires a unique set of skills, providing ample opportunities for individuals to specialize based on their interests and strengths.

Impressive Salary Potential: Cloud computing professionals are among the highest earners in the IT industry. According to Payscale, as of 2023, the average salary of a Cloud Architect in the United States is around $128,000 per year, with top earners making well over $160,000 annually. 
Continuous Learning and Development:

The field of cloud computing is dynamic and ever-evolving. Amid advancements in cloud technologies and the introduction of new cloud services, professionals are required to stay updated and upskill regularly. This makes a career in cloud computing challenging yet rewarding for those passionate about learning.

Advancements through Cloud Computing Courses:

In a competitive job market, having a solid foundation and understanding of cloud principles and services sets you apart. Pursuing

cloud computing courses

can equip you with the necessary skills, give you an edge over others, and prepare you for the various roles in cloud computing.
Top 5 Cloud Computing Job Profiles
Cloud computing has become an integral part of business infrastructure. As a result, many different job roles have emerged that require cloud computing skills. Here are the top five job profiles that are in high demand:
A Cloud Architect is primarily responsible for managing the cloud computing architecture in an organization. They are crucial in designing, planning, managing, and monitoring cloud systems, ensuring the application architecture works efficiently. The skills required for this job include a solid understanding of cloud application architecture, expertise in Amazon Web Services (AWS), Azure, or Google Cloud, and knowledge of programming languages like Python or Java.
Cloud Software Engineers are responsible for designing, developing, and implementing software on cloud platforms. They work closely with development teams to identify software requirements, ensure efficient cloud solutions, and troubleshoot issues.
Critical skills required include the following:
Cloud Security Engineers are tasked with the critical responsibility of ensuring the security of cloud systems. They design and implement security protocols and systems to protect sensitive data and monitor potential threats or breaches. These professionals must have strong knowledge of cybersecurity principles, cloud platform experience, and various security protocols and measures.
Cloud Consultants help organizations understand and implement cloud-based solutions. They advise companies on the best cloud practices, analyze existing systems, and provide strategic guidance for migrating to the cloud. Skills needed for this role include strong communication skills, a deep understanding of cloud technologies, and experience in project management.
Cloud Product Managers oversee the lifecycle of a cloud product, from conception to launch. They work with various engineering and marketing teams to ensure the product meets market needs and to understand both the technical aspects of cloud computing and business strategy. Essential skills include technical proficiency, excellent problem-solving abilities, and strong business acumen.
How Can a Postgraduate (PG) Course in Cloud Computing Boost Your Career?
In the ever-evolving field of cloud computing, it's not just about having the requisite skills – it's also about staying ahead of the curve. One way to accomplish this is by enrolling in a postgraduate (PG) course in cloud computing. Let's delve into how a PG course can boost your career:
In-Depth Knowledge:

A PG course in cloud computing offers a comprehensive curriculum covering the field's breadth and depth. It goes beyond the basics, providing advanced knowledge of cloud architectures, tools, and technologies. It imparts a thorough understanding of cloud models like SaaS, PaaS, and IaaS and emerging trends such as serverless computing, AI integration in cloud services, and more.

Structured Learning:

While much information is available online, a PG course offers a structured learning pathway. This systematic approach to learning ensures that you cover all critical areas of cloud computing and take advantage of all key concepts.

Hands-on Experience:

Most PG courses include practical labs and projects. This hands-on experience enables you to apply theoretical knowledge to real-world scenarios. You can work on cloud platforms, design architectures, and solve complex problems.

Networking Opportunities:

It provides opportunities to connect with like-minded peers, industry experts, and experienced faculty. This network can be invaluable when you're looking for job opportunities or need professional guidance.

Career Services:

Many institutions offering PG courses in cloud computing also provide career services. These services can include resume building, interview preparation, and job placement assistance, providing an edge in the competitive job market.

Certifications:

They offer certificates upon completion, which are recognized by the industry and can enhance your professional credibility. They demonstrate your commitment to learning and your expertise in the field.
By pursuing a PG in cloud computing, you gain the technical skills required for the job and a broader perspective on the field. Stay updated with the latest trends, learn to solve complex problems, and significantly increase your chances of landing your dream job in cloud computing.
Conclusion
As we continue to navigate through the digital era, the significance of cloud computing only grows stronger. With its vast range of applications across sectors, from healthcare and retail to finance and entertainment, it's no surprise that a career in cloud computing is highly sought after. The field offers a multitude of job roles, each unique in its responsibilities and required skills.
Yet, all share a common goal – leveraging the power of the cloud to transform businesses and innovate solutions. A career in cloud computing is an exciting journey of continuous learning, growth, and innovation. As the cloud continues to reshape our world, there's no better time than now to embark on this career path.
Continue Reading:
Cloud Architect vs DevOps Engineer: Emerging Job Roles
Cloud Architect: Roles & Responsibilities