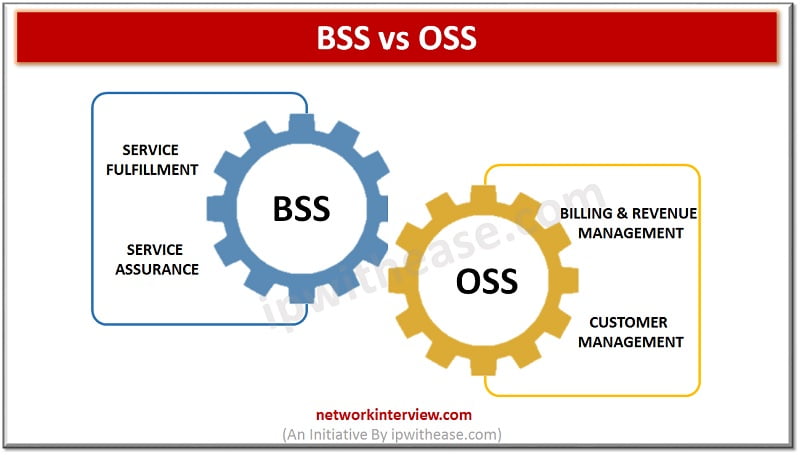 BSS vs OSS
Two terms which in limelight especially in Telecom Operation world are BSS and OSS. BSS stands for Business Support Systems while OSS refers to Operations Support Systems. By their names, both the terms may seem complementary, however they both are significantly diametric to each other and deal with different aspects of the telecom business. They work together to run any system smoothly and there is the requirement that they should fully operational.
BSS (Business Support System):
Now first understand the fundamentals of BSS. BSS deals with the needs of the customer. It is also referred to as a business interface that allows the customer to conduct transactions fluidly and smoothly. BSS deals with issues like billing & customer relations. Both are crucial in the telecom industry as these services impact customer experience. These days the biggest issues faced by new companies are of scaling & billing.
As BSS deals with end relations with the customer, it becomes important that BSS should be properly managed. BSS deals with payment issues, taking orders and revenues. It supports only four types of management and they are product management, customer management, revenue management and order management. If a company does not bother about BSS it can be catastrophic. If the surefire sign of the telecom industry does not know how to deal with billing issues like missing bills, inaccurate itemization or any other problem then the telecom company may mark as the unreliable company and may lose faith from its customers.
A solid BSS plan will help you to resolve the billing issues and ensures that your customers are getting correctly billed each & every time. Most of the telecom companies these days have cloud-based BSS which offers a layer of protection to its customers. The information is stored in the cloud which makes it is easy to access and chances of hacking are improbable. Cloud setup is the best for BSS systems and helps companies in path to progression.
OSS (Operation Support System):
OSS's function is defined by its name – It is used to run the operation smoothly and with minimal hurdles. OSS plays a crucial role in the working of any industry. If you want that interface should be flexible so that it can support any type of business, then OSS should be scalable and robust enough to serve multitude of user requests. The computer systems which are used by telecommunication service providers use OSS and its main job is to manage the network inventory, network configuration, and fault management.
 BSS vs OSS: Key Differences
PARAMETER

BSS

OSS

PHILOSOPHY
BSS includes components used by the telecommunication service provider to run its business towards the customer.
OSS is a set of programs that helps telecommunication service provider to control, manage and analyze a telephone or computer network.
FOCUS AREA
Business interface with end-users
Status of the operation.
OBJECTIVE
Deals regarding payment issues, billing, etc.
It is used to manage the network issue.
Download the difference table here.

BSS and OSS work together for better services:
OSS and BSS should work together to address security concerns correctly or satisfactorily. The most notable fact is that Security is the major concern for any business and can be quite a headache for organizations and customers both. Customers are aware that it is easy to hack the information from any system, and this is where BSS and OSS come into picture. Most of the companies designed their platform in keeping security in mind. As the data is stored in the cloud, sensitive customers know well that their data is secured and is safer.
An amalgamation of BSS and OSS gives best of services to the customers. Customer oriented service and network related issues are solved swiftly which makes customers happy.  For companies aiming to be the best telecom industry, they understand both BSS and OSS are the key tools of happy customers. Excellent customer service would mean an increase in the number of clients and henceforth high revenue and growth.