What is the Difference Between Big Data and Cloud Computing?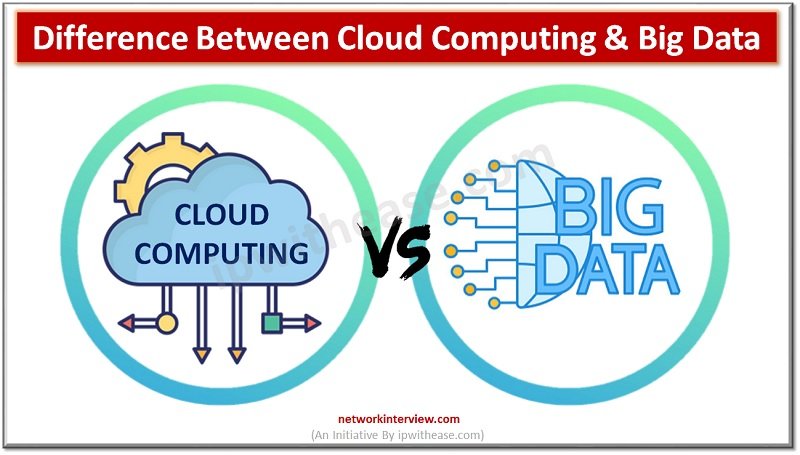 If you are a tech enthusiast or experienced with Cloud services, then you should have come across the word Big Data and Cloud Computing. Though they are often used together they have different meaning purposes.
Are you new to this IT revolution? Getting confused between Big Data and Cloud Computing? Then this article will help you to clear your doubts.
Here, you will get to know about the characteristics of Big Data and Cloud computing and the major difference and similarity between them. Okay without further intro, let's get started with Big Data.
What is a Big Data?
Big Data simply refers to the Data (in other words information) that are large in size and increases from time to time. It can be of various types like structured data, semi-structured data, or unstructured data. And it can be formed from the output of different programs. These data cannot be processed using traditional management tools.
Some examples of the Big-data is, Data generated by social media, e-commerce industries, weather station, or Internet of Things (IoT), etc…
Nature of Big Data
It can be of various variety – like structured, unstructured, etc…
It has a high volume that cannot be processed by normal computers
It has high value because of the useful information.
It is consistent and varies from time to time
What is Cloud Computing?
Cloud Computing refers to the processing of the above said Big Data or any other thing that requires large computational resources. Big-data cannot be analyzed or operated using the traditional method. It is done using the cloud which is high-powered servers from various providers over the Internet.
Cloud computing involves servers, databases, analytics, and network and artificial intelligence. It often follows three service models –
Infrastructure as a Service (IaaS),
Platform as a Service (PaaS), and
Software as a Service (SaaS).
Major cloud computing vendors who provide cloud computing services are Amazon Web Service (AWS), Microsoft Azure, Google Cloud Platform, IBM cloud services, etc…
Nature of Cloud Computing:
On-Demand Availability
Pay as you go, model
Elastic stability and flexibility
Multi-tenancy and resource pooling.
Comparison Table: Cloud Computing vs Big Data
By now, you should have got a basic idea about cloud computing and Big-Data. Now let's see how these two leading technical things differ from each other.
PARAMETER

CLOUD COMPUTING

BIG DATA

Meaning
It refers to the computing resources available over the internet on-demand.
It is a huge size data that increase in respect of time.
Types of Model
It has three models –

1.Infrastructure as a Service (IaaS)

2.Platform as a Service (PaaS)

3.Software as a Service (SaaS)

It can be of a different variety – as Structured Data, Unstructured Data, and semi-structured data

Cost
It is cost-effective and scalable.
It helps in centralizing the platforms, which makes the backup and recovery and cost-effective.
Challenges
Major challenges in cloud computing include – availability, security, and transformation.
The various variety of data, storage integration, resource management are the major challenges of Big Data
Medium used
Internet is used as a medium to access cloud computing services from cloud servers
Distributed computing is used to analyze and extract the Data or useful information from Big Data.
Nature
It is of a processing or operational nature.
It is storage or Managerial nature.
Purpose
To access the cloud or large IT resources without physically installing them.
To organize a large volume of data for improvement of the business or application.
Examples
Amazon Web Services (AWS), Microsoft Azure, Google Cloud Services, etc…
Big data is generated in social media data, e-commerce data, weather station data, IoT, or other sensors.
Download the comparison table: Cloud Computing vs Big Data
Conclusion
In simple words, big data is just a huge quantity of data that has valuable information. Cloud computing provides computing resources and services for analyzing and operating big data.
Both of them are arguably leading technologies and are used simultaneously. And plays important role in our digital society so if you are a tech enthusiast then it is better two learn both of the fields as they come to hand to hand.
If you have any further doubts or thoughts please leave those in the comment section below.
Continue Reading:
How to make career in Cloud Computing?