Adobe Careers: Technical Hierarchy Adobe Inc.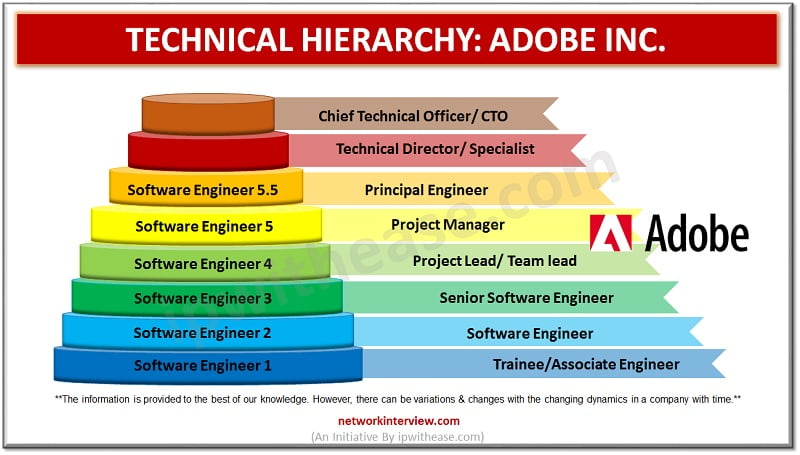 Nowadays, software engineers have multiple career opportunities after their graduation. This is because of the massive Digitalisation and development of Information Technologies. 
And these increased opportunities create more confusion in selecting a perfect company for your future. However, over time, Adobe has been one of the best choices for new graduates. 
Today in this article, you will get to know about the technical Hierarchy of software Engineers in Adobe. Okay without further ado let's start the article with the short intro to adobe. 
A Short Introduction to Adobe Inc. 
Adobe Inc. was originally called Adobe Systems Incorporated. It is an American multinational computer software company headquartered in San Jose, California. It has developed much popular software, however its specialty is in graphics, motion pictures, Video Editing, etc… Adobe Photoshop, Adobe Reader are used in everyone's day to day life.
As of 2022, Adobe has more than 26,000 employees worldwide and has 7 development branches in the US and two major development operations in Noida and Bangalore in India.
You can also watch this video for better understanding:
Technical Hierarchy in Adobe Inc.
Here is the technical and other positions hierarchy order in Adobe. 
Software Engineer 1 
It is an entry-level position. New graduates with no work experience are mostly hired under this category. It equals the Trainee or Associate Engineer position in other organizations. 
The Average Annual Salary of the Entry-level software Engineer at Adobe is $150,000 – $160,000 which includes a base salary, a stock grant  and a cash bonus. 
Software Engineer 2 
It is the level from which you become a part of the organization. It is a typical software development position that requires at least 1 year of work experience. 
The Average Annual Salary of software Engineer 2 at Adobe is $165,000 – $175,000
Software Engineer 3 
He is also known as the senior software engineer. You should have advanced skills and knowledge to become a senior software developer. The minimum work experience to become a Senior Software Developer is 3 – 4 years. 
The Average Annual Salary of the Entry-level software Engineer 3 at Adobe is $225,000 – $250,000.
Software Engineer 4 
This equals the Project Lead or Team lead position in other organizations. You will lead a team of Individual Software Developers and Programmers to create the new version or product for the company as per the Project Manager's needs. 
The Average Annual Salary of the Entry-level software Engineer 4 at Adobe is $260,000 – $ 280,000.
Software Engineer 5 
A Software Engineer band 5 equals to the Project manager. He/she decides the project and gives tasks to the different project leads and fixes the completion date etc… You should have a minimum of 8 – 10 years of experience to become a Project manager. 
The Average Annual Salary of the Entry-level software Engineer 5 at Adobe is $290,000 – $320,000.
Software Engineer 5.5 
This position cannot be seen in all the branches. It equals the Principal engineer position. As a Principal Engineer, you will be the person to give approval to the completion of the product or software and certify it. 
The Average Annual Salary of the software Engineer 5.5 at Adobe is $370,000 – $390,000. 
After these positions, you will be given a chance to switch to the managerial side. If you choose to, then you will follow the career path delivery manager, Senior Delivery Manager, QE Manager, to CEO. 
If you stick with the technical side then you will be promoted to Technical Director or any specialist and the final position in this way is the Chief Technical Officer. 
If you have any further questions related to this subject please leave them in the comment section below. 
***The salary packages are only indicative and may vary as per the rise and low of the demand.***
Continue Reading:
Alcatel Lucent Enterprise: Technical Hierarchy
Technical Hierarchy in Juniper Networks
Are you preparing for your next interview?
Please check our e-store for e-books on Interview Q&A on IT technologies. All the e-books are in easy to understand PDF Format, explained with relevant Diagrams (where required) for better ease of understanding.