Pre-sale vs Post-sale : Know the difference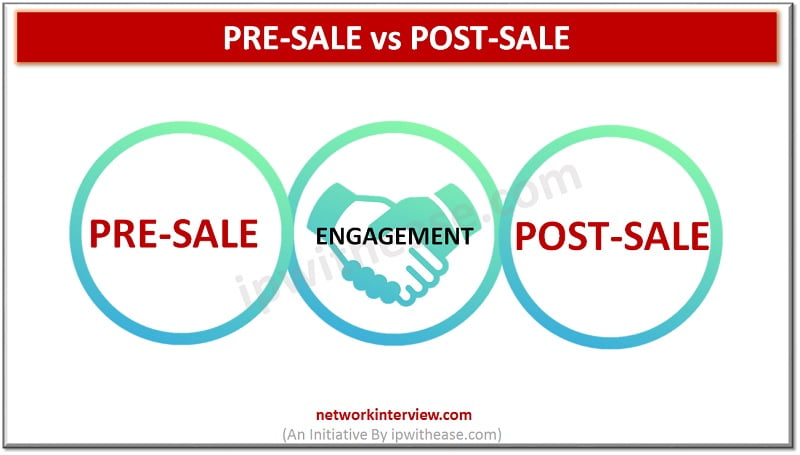 Introduction to Pre-sale & Post-sale
Specialization of sales engineers should be in technology and scientifically advanced products. With the help of technical skills, they explain the advantages of the products or services to the potential customers and also tell how their services or products are better than their competitor's one. The companies that design and build technical products hire the sales engineer.
We can say that the work of the sales engineers is like that of salespersons. They must have the ability to convince the clients for buying their service or products, negotiate a price, and complete the task by selling them. To fulfill this task, the sales engineer has to give the technical presentations in which they describe the technical aspects related to the product and how it is helpful to solve the technical issue of the customer.
Some sales engineers work with the team of the technically proficient resources who focus on the technical aspects as the marketing and selling portion is covered by the salesperson. These resources, may be part of sales workforce and are called pre-sale resources. Such role requires a combination of business sense along with understanding of product and solution technical viability.
Post- Sale is comparatively a different flavour to pre-sales. It basically means after-sales where the role involves all the activities and the experiences that follow after the sale of product or solution.
Comparison : Pre-sale vs Post-sale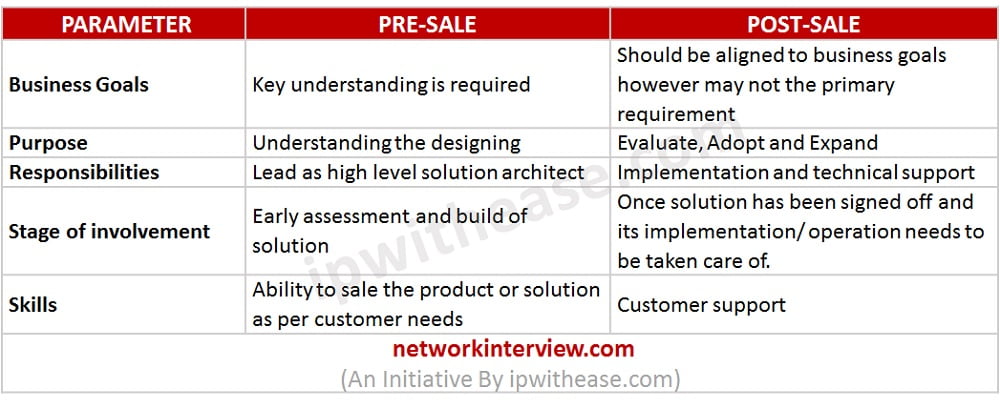 Purpose:
The purpose of the pre-sale engineer is designing the solution for both the existing and potential customers. To complete this task, they must have knowledge of current IT setup in place. It is imperative to share that discovery of customer incumbent solution components takes place during the pre-sales stage. Further, it also needs experience in supporting the sales function in a technical environment. The role also requires extensive knowledge of technologies and demands the ability to develop and maintain strong working relationships with internal and external stakeholders at all levels.
Whereas post-sale engineer's primary accountability is to represent the technical solution of the client network. They also have advancement in technology and representing a solid solution for the networking industry. They have to help customers and partners evaluate, adopt and expand the use of their networking product. Person working in the shoes of Post-sales role is required to gather all the technical and contract related documents from pre-sales person for smooth end to end provisions of the solution and maintenance of its lifecycle.
Responsibilities:
Pre-sale:
Lead as a senior connectivity design for all sales opportunities.
Influence, persuade and negotiate with senior stakeholders in member and customer organizations
Provide technical advice and recommendations to customers.
To ensure effective collaboration in responding to customer needs, develop working relationships with partner organizations
To support pre-sales activities, they engage directly with sales and account teams
Post-sale:
During product evaluations and post-sales, perform hands-on work with customers
If required, Pre-sales technical support is provided and also technical expertise to our customers and partners
Integrate into existing management, monitoring, and provisioning frameworks for a better product.
Perform tests to validate customer proof-of-concept setups, network deployments, and network designs.
Keep up-to-date on competitive solutions, services, and products.
Design guidelines and recommend improvements to customers for the networks they support
Provide feedback to engineering and product management.
 Skills:
Pre-sale
Strong influencing and negotiation skill
Self-motivated, and able to work under pressure and to tight deadlines
Strong analytical and problem-solving skills
Ability to work independently
Ability to adapt to new issues and situations.
Customer-focused, with a strong track record in placing customer needs at the heart of decision making
Good communication and interpersonal skills
Post-sale
Team working ability.
A solid technical background.
Resilience and tenacity.
Sound judgment and good business sense.
Increasingly, foreign language skills are in demand.
Ability to build relationships with clients.
Analytical and problem-solving skills.
Both pre-sale and post-sale are very important for any organization, especially for technical businesses. The task of both of them is are quite similar and they also rely on each other to fulfill their work. Presales people help in answering the queries or technical questions and also have the ability to demonstrate products. If they can show a prospect of how the product will help them, then this helps in making the sale with ease. Post-sales are also important especially for customer support, retention and good service.
Related – Network Administrator Vs System Administrator