5 Strategies for Hiring the Right Employees to Help Your Business Grow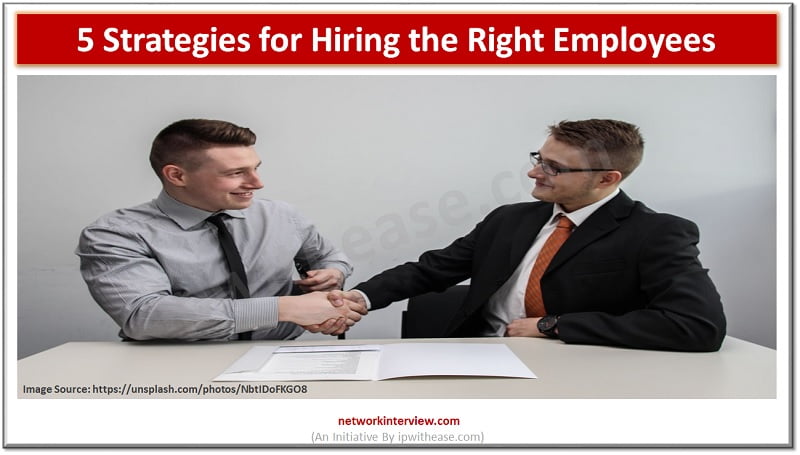 A human resource manager position is a crucial role in a company. They are the ones who lead and guide the Human Resources (HR) department's daily tasks, especially interviewing and recruiting employees.
Hiring trustworthy and reliable employees depends on the strategy used by the HR manager. Hiring the best employee will significantly help your company grow and succeed.
Therefore, if you are an HR manager and don't want to let your entire organization down, you should check out the following strategies for hiring the right employees for your company.
Strategies for Hiring the Right Employees:
Work Side-By-Side With an HR Consulting Firm 
An HR consulting firm is a good way to ensure that you will hire only the best people to do vital tasks for your company. In addition, these firms will help you assess applicants with the help of their in-house psychologists, who specialize in doing just that.
These firms can also assist you throughout the personality assessment of your applicants. They have the right tools and a unique perspective in performing the test. However, to ensure that you get the best deal, you must only work with trusted HR Consulting firms.
You can start looking for an HR consulting company near you. For example, if you live in Perth, Australia, you would want to work with an HR consulting Perth has to offer rather than with a firm outside your country. The same goes if you live in New York, USA, or Alberta, Canada.
You Should Use a Personality Test in Hiring Employees
Interviews are done to get to know the applicants on a personal level rather than by reading their CV alone. However, when it comes to an applicant's personality traits, interviews aren't enough. Using a personality test during the hiring process and interviewing the applicant is recommended.
It would be best if you considered that certain personality traits are difficult to identify through a simple interview. However, personality assessment gives standardized and valuable insights into how applicants behave in the workplace, predicting work performance and company compatibility.
Utilizing personality assessments to screen applicants early on improves your screening process significantly. Many aspects should be considered to determine whether applicants are qualified for a position, including but not limited to:
overall ambition
Empathy
communication skills
critical thinking skills
passion for learning
Honesty
Motivation
Curiosity
collaboration
Remember That Soft Skills Are More Important Than Hard Skills
Although both soft skills and hard skills are vital for someone to become effective in what they do, soft skills will help you build and apply your hard skills effectively. The best example is a neurosurgeon (hard skill) with a short temper (Soft skill).
When choosing a candidate, you should value the soft skills they possess as it will enable their hard skills, which help them achieve success in what they do.
Let's use the given example of the neurosurgeon to understand the idea better. If the neurosurgeon has a long temper as a soft skill, it will allow the neurosurgeon to continue terminating blood vessels accurately even though the operating room nurse continues to annoy him.
Assess How the Candidate's Goals Align With the Job
As you write the job description for the position you are hiring for, you need to consider how that specific position will evolve over the upcoming years. It will help you know how your ideal employee will fit into the upcoming growth of your company.
Figure out how candidates want to grow their careers in the next few years. You should also ask them if they think the position can help them achieve their aspirations and why. Knowing each candidate's career goals is a vital part of the interview process.
Therefore, you should not forget about this part. Unfortunately, some HR managers forget this part without knowing they are missing a piece of crucial information about the candidate.
Take Your Time in Hiring the Right Candidate
Having an unfilled position in a company can feel like a vulnerability. However, filling it immediately, even with the wrong person, will put your company in a more vulnerable position. No matter how eager you are to hire someone to fill that open position, you shouldn't rush it.
Hiring in a hurry will end up you firing the wrong person you hire for the job. Hence, you will be going through the hiring process again from the beginning. Imagine how time-consuming and inconvenient that must be.
So, take your time and open the position for as long as needed to ensure that you are choosing the right man for the job.
Final Words
Employees have a vital role in the success of a company. It is why hiring them should be thorough and done properly. You can use the strategies mentioned above to ensure that you will only hire the best of the applicants applying for a specific job in your company. Therefore, you could increase the chance of the company's growth and success.
Continue Reading:
Top 10 highest paying IT companies in the World