Top 10 Most Common Website Error Codes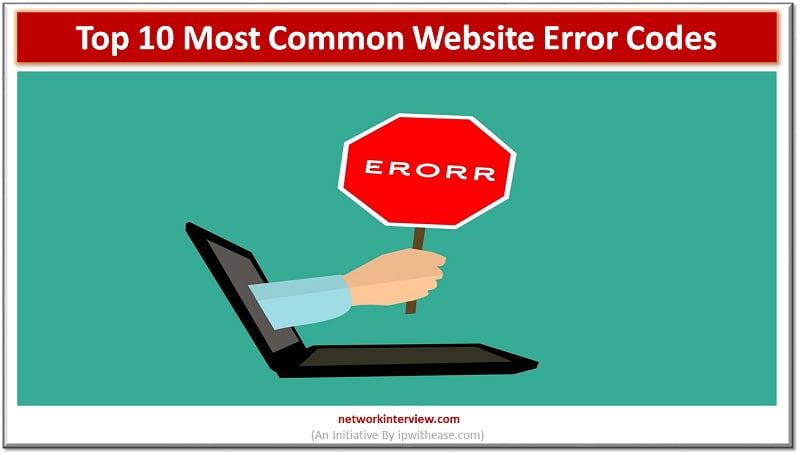 As a Website owner or website developer, you must be used to HTTP or any other types of errors. Infact, its basic nature that you will be startled on selling an error code for the first time. 
Are you the one? Do you want to know what the error codes mean and how to fix them? If so, you are in the right place. 
Website Error Codes
In this article, you will get to know about the top 10 Website Error codes, and reason for their occurrence, and solutions to them. Okay without further ado, let's get started. 
404 Not found: One of the most common website error codes
It is a common error all people will encounter once in their life. The 404 error indicates that the requested website is non-existent. This error usually occurs when the user closes the browser, clicks too quickly or when the file is too large to load and the server is slow. 
Solution:
Check whether the URL you entered is correct and try sometimes later. If your sites often experience 404 errors then opt for better hosting service or server. You can also use the redirection plugin to your site. 
500 Internal Server Error
When you face this type of error understand that there is something wrong with your server. It often happens when the server is overloaded, try reloading the page and clearing the cache on the browser. 
Solution:
If you encounter this error in your website contact your Web Hosting service provider, if you are using WordPress check all the third parties plugins you are using. 
401 Unauthorised 
This error message is shown when you attempt to load a site or page which is not accessible to you. It often takes place when you enter the wrong password or login credentials. 
Solution:
To resolve it, check whether the login URL is changed or delete the cache and try again. If you are a website owner you can password protect using your Cpanel account for extra production. 
403 Forbidden 
This error occurs when you try to access the file or site directory which is not allowed to you. This is mostly used by the website owner to secure the vulnerable data from getting hacked. 
Solution:
If you are a website owner you can log in to your Cpanel account and set how the various files in your server should be visible to the users. Try refreshing and reloading the page or check the URL entered. 
502 Bad Gateway 
It is a little different from all the above-mentioned errors. This error occurs when one internal server receives an invalid request from another one. It is usually shown when the server takes longer to complete a request. 
Solution:
Contact your Web Hosting provider to check the reason for it. Or try using other WordPress plugins and themes. 
302 Found 
It is a temporary error that occurs when the site is moved to a new URL. Most times it will redirect the users to the original site URL in a few seconds. If not, try refreshing the page. 
Solution:
The best way to get rid of this redirecting error is used to redirect WordPress plugins from the WordPress directory. 
410 Gone
This Code is mostly used by the Webmaster when they want to delete a website completely and use the content on a different site. It is more like a permanent 404 Error. 
Solution:
This tells Google that the requested site no longer exists and can be de-indexed from Google. 
301 Moved Permanently
To be clear, it is not an error in a general sense. It is just a message that communicates that the entered URL or site is moved permanently to a different URL. 
Solution:
You can use the WordPress Redirection tool to make the redirection flawless. You should keep the redirection active for a few months so that Google will know that the site has moved to a different URL. 
502 Temporarily Overloaded
This message is shown when the site experiences high web traffic, this will be resolved once the traffic is reduced. You can try deleting the caches and refreshing the page to fix this error. 
Solution:
If you are the Website owner, move to a large hosting plan or server if you experience this error regularly as it may increase the bounce rate for your site. 
400 Bad Request 
This message means there is something wrong with the browser. It is different from the 502 bad Gateway. If you are a Website owner you don't need to worry about it. This is caused by the defective browser. 
Solution:
It occurs when there is an unstable internet connection, security issue, etc… Users can try updating their browser to get rid of this error. 
If you have any further questions regarding the above-said errors or any other things please leave them in the comment section below. 
Continue Reading:
URL Filtering vs Content Filtering