Technical Hierarchy in Arista Networks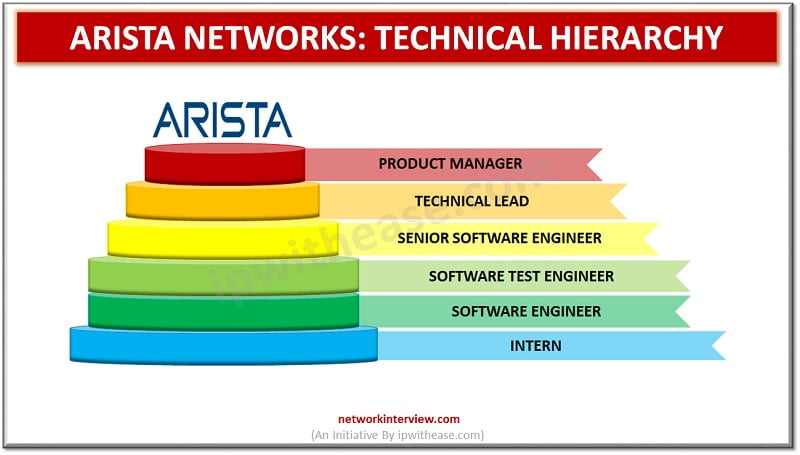 Hey there, have you completed your Engineering Degree and are looking for the best Information Technology company? Then Arista Networks is one of the best choices. 
But you can't join a company without knowing basic information about it. So in this article, you will get to know the basic information about the Arista Networks and the technical Hierarchy and Salaries of the respective roles. 
Okay without further ado, let's get into the article. 
A Short Introduction to Arista Networks: 
Arista Networks is an American Multinational Company headquartered in Santa Clarita, California. It is formerly called the Arastra, it sells self-designed multi-layer switches to deliver software-defined networking. Their products include 7124SX, Ethernet low-latency-cut-through switches, etc.. which remains the fastest switch using SFP+ optics. 
It also has a Linux-based Network Operating System, Extensible Operating System that runs on all Arista Products. As of 2020, it employs more than 2600 permanent employees. And it is considered a strong competitor to Extreme Networks, Juniper Networks, Cisco Systems, and Aruba Networks of HPE. 
Technical Hierarchy in Arista Networks: 
Though Arista Networks has a well-known name it is comparatively small to other big tech giants thus it doesn't follow any particular tier or Level system on their job Titles. 
They follow the flat Hierarchy method, which emphasizes team collaboration instead of superior and subordinate relationships. And there is only a little information available about the technical positions on Arista Networks. 
Here are the Technical Positions and their respected annual salary. For your information, the salary reported here is only an approximation and can vary from one country to another. 
i) Intern 
When you first join the Arista Networks as a fresh graduate, you will work as an Intern in the particular department you choose for the first 6 months. Here you will get used to the work culture and your talent will be valued. 
After 6 months you will be assigned to a team or promoted to Software Engineer. The average Annual Pay of Intern Arista Networks is $72,000 per year. 
ii) Software Engineer
This is the position where you will get into your real work. As the flat hierarchy is followed in Arista at this level itself you will collaborate with various Senior and other Executives. The majority of your work will be related to Network Engineering, System Software Development, etc… 
The Average Annual pay of a Software engineer in Arista Networks is $111,662 per year. 
iii) Senior Software Engineer 
After gaining enough experience as Software Engineer you will be promoted to a Senior Software Engineer. As a Senior Software Engineer, you should have deep knowledge of computer and network systems. 
The average salary of the Senior Software Engineer in Arista Networks is $129,117 per year. Sometimes senior software engineers are also engaged in new research work and called under the job title Network Research Engineers. 
iv) Software Test Engineer 
To become a Software test engineer you should have both technical knowledge and a good understanding of the customers or clients' needs. You are responsible to check the software or products and evaluate them. 
He/She should notify the defects and improvements to the DevOps team as a report. The Average Salary varies between $98,352 – 127,235 per year. 
v) Technical Lead
After you gain enough experience you would take additional responsibilities and will be promoted to a Technical lead position. As a technical lead with you leadership skills your will oversee a group of technical personnels or department of a particular branch. 
The average Annual Salary for a Technical Lead in Arista networks is 132,879 per year. 
vi) Product Manager
A product manager is more like a customer or client-based position than the technical one. He/She should have the basic technical knowledge to understand things, but most of their work involves communicating with the client and planning. 
The average Annual Salary of a Product Manager in Arista networks is $145,654 per year. 
That's it after the product manager, administrative and mechanical Engineering department starts. As this article is about technical positions let's end the article here. 
If you have any more questions on the Arista Networks technical Hierarchy Please share them in the comment section below. 
***The salary packages are only indicative and may vary as per the rise and low of the demand.***
Continue Reading:
Technical Hierarchy: HP Enterprise
Technical Hierarchy: L&T Technologies
Are you preparing for your next interview?
Please check our e-store for e-books on Interview Q&A on IT technologies. All the e-books are in easy to understand PDF Format, explained with relevant Diagrams (where required) for better ease of understanding.