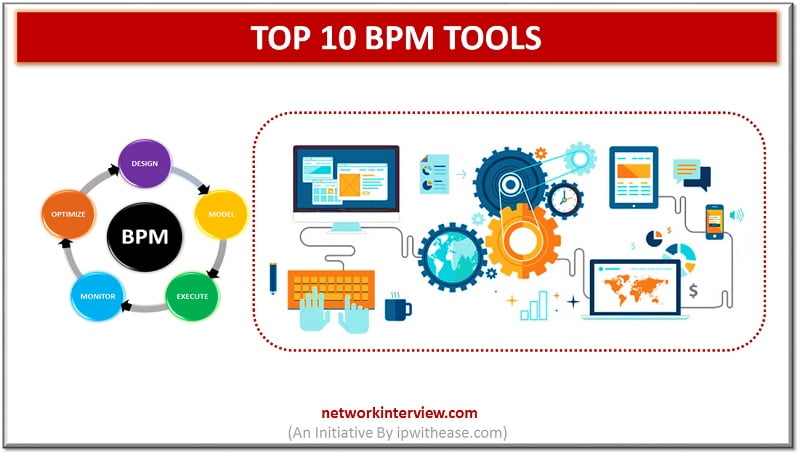 Introduction to BPM Tools
Are you tired of managing your business process? Are you looking for reliable and cost-effective Business Process Management software or applications? You are in the right place. Today in this article, you can see the some of the  market's best BPM (Business Process Management) tools available presently.
List of Top BPM Tools:
Monday.com
The customization capability makes it one of the best BPM out there.  It provides the following services – resource and project management, reporting features, time tracking, collaboration, task management, and planning. You can use this for any methodology that fits your team and members.
They offer various pricing plans basic ($17/mo), standard ($26/ mo), Pro ($39/mo). All these plans come with two user access. Other than these plans, they also offer an enterprise plan, where you can select the number of users, tools, and get a quote based on your requirements.
Kissflow
It is the best no-code  BPM software. Major market players like Pepsi, Dominos, and Hubspot use Kissflow.  Kissflow is the #1 rated BPM app in the Google market place. It seamlessly integrates with other platforms like Google Cloud, Google Drive, mail.
If you are from no technical background, then Kissflow is the best option for you. There are three pricing plans – Small Business ($149/mo), Growing Business ($390/mo), and Enterprise ($1000/mo).  There is also a free trial option.  One con of Kissflow is that you can't use it offline.
Nintex Platform
You can get two BPM tools from the Nintex platform. Original Nintex Process Platform aimed at workflow automation and management. In 2018, Nintex purchased Promap, which provides process mapping, time tracking services. Nintex platform secured the top place in the list of best business process management tools for a large business with various processes and databases.
Nintex pro map available at the following two prices Standard Edition ($950/mo) and Enterprise edition ($1300/mo). And the Process platform has three pricing plans – Nintex Workflow ($700/mo), Nintex Foxtrot RPA ($850/mo), and Nintex Sign ($1.75/mo with unlimited users)
Quixy
Quixy is another no-code business process managing app with many advanced features. The major attraction is its drag and drops of the user interface. Unlike other traditional BPM tools, it comes with many in-build templates and solutions like – CRM, Travel and Expense Management, Service request, and more.
It is a cloud-based application thus can be accessed by all the employees from any place and time. The pricing starts at $500/month, and they follow the $10/user rate. It will help you with the quality and quick process at lower costs.
Process Street
Process Street is considered the best choice for the organization or team that engages in a streamlined framework. It provides a free trial for 14 days. Its three pricing plan starts from $12.5 for each user per month (Business plan). Premium plan business Pro costs $25 / user / month. There is also a custom pricing option.
Process Street approaches the BPM in three different ways. Documentation includes creating, importing, and exporting, embedding procedures, and templates. Workflows operate or are maintained on the trigger basis, for example, onboarding. And the final approach is the scheduled way, where the tasks are scheduled and automated by the programming or coding.
Appian
It is the no-code BPM platform that has a long history. It is started in 1999 and considered the most mature platform in the BPM industry. Its simple three-step app creation helps the non-technical users who want to manage and share the schedule with the teams.
It is a cloud-hosted application that provides real-time visibility by dynamic reporting. Another advantage is its free trial option for unlimited users. The standard licensing costs $90 per user per month. You can also get a custom quote for the Application licensing.
Pro Workflow
The main attraction of the Pro Workflow is its process dashboards. The user or employee will be able to see a graphical dashboard showing his current task, past feedback, and upcoming works. This BPMS tool helps in the internal workflow and communication of an organization.
It can integrate with tools like Xero, QuickBooks, and Google Drive, etc… The pricing of the Pro Workflow starts from $10 / user/month. In the basic plan, you can manage a maximum of 10 active projects at a time.
Sudio Creatio
It is a cloud-based agile platform that helps business process automation and CRM. The process library features help in accelerating the designing process.  It uses various tools for modeling, analyzing, executing, and monitoring the process. This easy-to-learn platform provides a chance of collaborating with your team.
If you are an organization that works on a streamlined frame with a lot of internal communication then studio Creatio is the best choice for you. It has two plans – Studio free (free for unlimited users) and Studio enterprise ($25 per user per month). A free trial of 14 days is available for the premium plan.
Wrike
Wrike is popular among small and growing businesses. The Custom dashboard shows you the real-time reports and you can share the priorities or status of the works with your teams. It's easy to use friendly interface allow the user to switch from one methodology to another in a click.
It has a toggling option between the home screen and the datasheet. Wrike has more than 400 inbuilt integrations that are popular and essential for business processes.  It offers a free plan for 5 users. Its three paid plans are Professional ($9.8/month), Business ($24 / month), and custom quote Enterprise plan.
K2 Platform
As the last one in the list, has typical BPM tool features like time tracking, dashboard portfolio, documentation, etc… However, it is the best choice for security and governance. The rate in K2 Platform starts from $10 per user per month. You can apply for the 30 days of the free trial as a new user.
A con of the K2 platform is the time or waits time while activating it. Installation and deployment are delayed. Despite the demerits, it's a low cost-effective platform for small businesses. There is also a scalable option when your business grows.
If you are a user of these BPM tools, please share your thoughts in the comment section.
Continue Reading:
What is BPM (Business Process Management)?
Business Process Manager – Job Roles & Responsibilities