Quintessential Things to do After Buying a New iPhone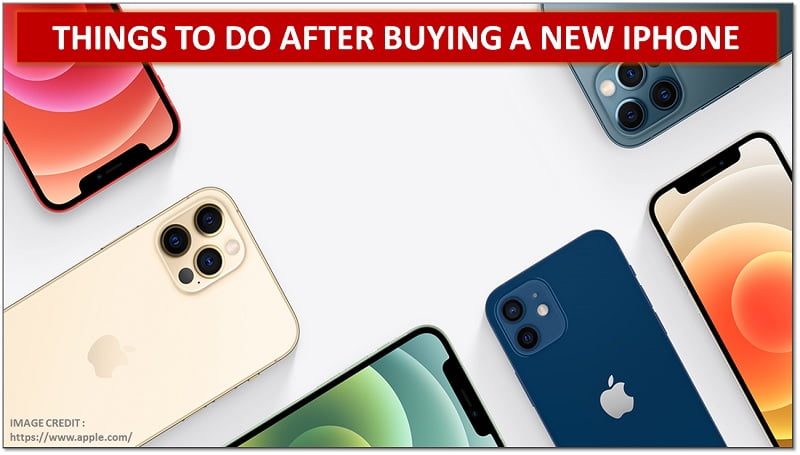 Are you buying a new iphone?
It's always exciting to get a new smartphone. Isn't it? But in all that thrill, we often forget to do the basics. So, if you are also looking for a seamless experience with your new iPhone, here's the checklist that you must always keep in mind when ditching the old one.
Checklist to follow after buying a new iphone:
Start With Backing up Everything
This is natural that you would want to bring everything that you had on your old system to the new system, such as contacts, photos, messages, and so on. Be aware of the fact that things might be a little complicated or tricky, especially if you are switching from one operating system to another or lower update to higher. For instance, if you are going from Android, or Windows to iOS or from iOS 8 to iOS 14.
In such a case, the best way to backup your files or stuff is by using cloud storage. For instance, if you want to transfer your contacts using iCloud, as per the information provided in this link, https://setapp.com/how-to/how-to-transfer-contacts-from-iphone-to-iphone, here is what you must do.
Steps to Back up your data
Go to the settings tab.
Select your Apple ID.
Go for the "iCloud" option.
Choose "iCloud Backup."
And lastly, go for the option "Back up now."
Transferring data to your new iPhone
Switch on the Wi-Fi.
Select the network you wish to join.
Choose the "Restore from iCloud Backup" option.
You'll be asked to join using an Apple ID.
Go for the option of the most recent backup.
Related – Cloud App vs Web App
That's how you'll find different steps to transfer your photos and other data from your old to a new system. However, if you are new to Apple products and don't have an iCloud, you'll be prompted by the iPhone's setup assistant. If you are not sure at the moment, you can click on the Settings app and select iCloud. Create an account and agree to the terms and conditions. And you're good to go from there.
Use a Password Manager to Handle Your Passwords
Once you start your new digital system, the next step is to download all your favorite apps. And with so many apps taking quite a significant amount of importance in our lives, I am sure it won't be easy to remember all the passwords. So, the best thing to do is to use apps that will store usernames and passwords of all your accounts in one place. And when you log in to your new system, the same app will help you automatically fill in all the information in one go.
Once you are done with that, don't miss updating your two-factor authentication on your accounts.
Set Your Touch of Face ID
If you care about your phone's security, and you don't want to type passcodes again and again, you need to set up a Face ID or a touch ID. You can do this when switching it on. If you skipped that step earlier, make sure to do that again.
To do that, you need to follow the instructions as given or recommended. You can also go for a second look if you use a contact lens or glasses and might be stuck signing in. In the same way, you can enter your fingerprint to save your Touch ID.
Tap "Yes" to Family Sharing
If you are an Apple family, you can share some "i-content," such as iTunes, App Store, and iBooks with up to 5 other family members. For that, you must switch on Family Sharing, and you can easily share your favorite media with your member instantly.
You can also share calendar entries or photos using the same setting. Just go to the Family sharing tab and follow the directions. You can use the same setup to monitor your kids' activity and their purchases from Game Centre.
Personalize Your Settings
The good thing about using an iPhone with iOS 11 and above is that you get the personalization option. For example, you can customize your control center. You can include the following apps using a single control system.
Flashlight
Low Power Mode
Alarm
Apple TV remote
Notes
Accessibility Shortcuts
Do Not Disturb When Driving
And there's a good thing about this particular product, especially for visually impaired users. Do you know what that is?
Let's find out now!
Visually Impaired iPhone Users
This product makes sure to cater to a diverse audience, precisely why it's growing in popularity. For instance, it gives some additional accessibility features for visually impaired users, such as Speak Screen or VoiceOver, along with Braille displays.
However, you must activate the feature first if you wish to take advantage of this. Just tap the Settings button, select the "General" tab, and click on the Accessibility option. It will also give you options like Assistive Touch or Custom gestures. You can also click on the Hearing Aid Mode to improve the quality of hearing aid users.
You can also enable Back Tap using the same accessibility option. So, you use features like a screenshot, Siri, and Volume using double, triple taps, respectively. Isn't that great?
Wrapping up
Buying a new phone is not rare, especially when we live in times where technology is changing so frequently. So, it's natural that you would want to taste the benefits of new and innovative technology. Right? But since we have become dependent on our digital systems so much, it contains most of our personal data.
Hence, the first thing must be to backup your data before you think of giving it away! I need not say that it can impact your personal space tremendously. Once you are done with that, set up your new system in a way that eases your day-to-day operations effortlessly. After all, you can't waste hours finding where's what, especially when you have important clients waiting for you.
Hopefully, you'll make sure to install all the necessary updates and activate all the crucial apps to have a peaceful screen time. Isn't that what we hope for all the time?