Technical Hierarchy: Oracle Job Roles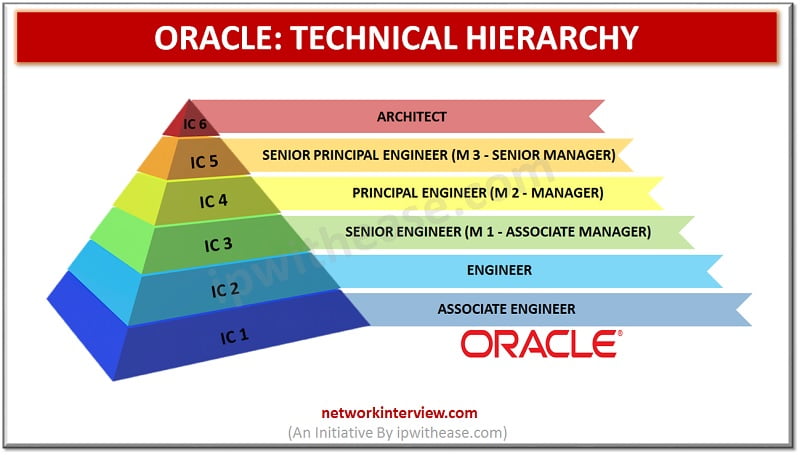 The training or starting period in large technical organizations is tough. The complex hierarchy structures and their inter-organization grading will be hard for you to understand. 
Are you planning to apply for a technical position at Oracle? Got confused about the different technical positions/designations and their respective roles and responsibilities?
Don't worry today in this post you can get to know about the Oracle Job Roles. Before discussing the designations here is a short introduction about the Oracle Corporation and its organizational Structures
About Oracle 
Oracle is a multinational computer technology corporation founded in 1977 by Larry Ellison who is the current CEO of the company. The major operation of the Oracle corporation relates to the database software and cloud engineered systems and other enterprise software. 
It is the second-largest software developer or seller in the world by revenue and market capitalization. The number of employees counted will be more than 135,000 in 2020. So, it is natural to have a complex and strong organizational structure. 
Oracle Job Roles/Designations
The hierarchy and the destinations/job roles may vary based on the country and department. But overall they are classified into two parallel paths – managerial and technical(or respective department). Which shortly pointed with the Alphabets IC and M. 
Here, only the technical positions and some managerial designations related to the software engineering and IT departments are discussed. Okay, let's get started. 
IC 1 – Associate Engineer 
A new graduate without any prior experience has more chances to get an Associate Engineer job in Oracle. You would work as an associate engineer for the first 1 year or 6 months which is usually considered as the training period in many companies. 
The associate engineer will be under the guidance of an Engineer/ Senior Engineer during the training period and learns the basic concepts relating to the services. The Average Annual Salary of an Associate Engineer in Oracle India is 8,58,298 rupees. 
IC 2 – Engineer
After the end of the training period, one will be promoted to an Engineer. As an engineer, you will participate in different projects which can be both solo and team projects. Mostly you will need to work as an Engineer for 2 to 3 years. 
If you are hired directly to an engineer position due to your past work experience and efficiency the promotion period might vary. The average annual salary of an Engineer in Oracle India amounts to 9,06,300 rupees. 
IC 3 – Senior Engineer (M 1 – Associate Manager)
After working on different types of projects and gaining experience the engineer will be promoted to a Senior Engineer. The Senior Engineers will either be fluent in different categories or will be specialized in a particular subject. 
If the senior Engineer is competent enough sometimes he is also appointed as the Associate manager. Which is considered as the starting position of the managerial line. The average annual salary of a Senior Engineer is about 14,46,419 rupees. 
IC 4 – Principal Engineer (M 2 – Manager)
The next position is principal Engineer, you can never get hired as Principal Engineer unless you worked more than 3 years in Oracle. The Principal Engineer has equal organizational power as a manager. 
He will be responsible to communicate with the clients a plan the development process accordingly. The average annual salary of a Principal Engineer in Oracle India is 23,61,021 rupees. 
IC 5 – Senior Principal Engineer (M 3 – Senior Manager)
Senior Principal Engineer plays the same role as the principal Software engineer. When you get more experienced you will be promoted to a senior principal Engineer. It is considered as the equal rank as the Senior Manager. The average salary of the senior principal engineer is 25,70,865 rupees per annum. 
IC 6 – Architect
Architects are the specialists in the particular field, they concentrate more on the cost efficiency of their software and customer satisfaction. In some cases, the IC 6 is appointed as the Associate Technical Director or Director denoted by M 4 or M 5. 
The annual salary of the Architect is very high and sometimes he may also enjoy a certain percentage commission on a particular project. 
The technical director is considered as the highest technical designation in Oracle, and there are many managerial positions above him, like Vice president, President, CEO, CTO, etc… but they are mostly management based so omitted in this article. 
If you have any further queries please leave them in the comment section below. 
Continue Reading:
Technical Hierarchy: L&T Technologies
Cloud Architect vs Cloud Engineer: Roles & Responsibilities
Are you preparing for your next interview?
Please check our e-store for e-books on Interview Q&A on IT technologies. All the e-books are in easy to understand PDF Format, explained with relevant Diagrams (where required) for better ease of understanding.