Technical Designation Hierarchy DXC Technology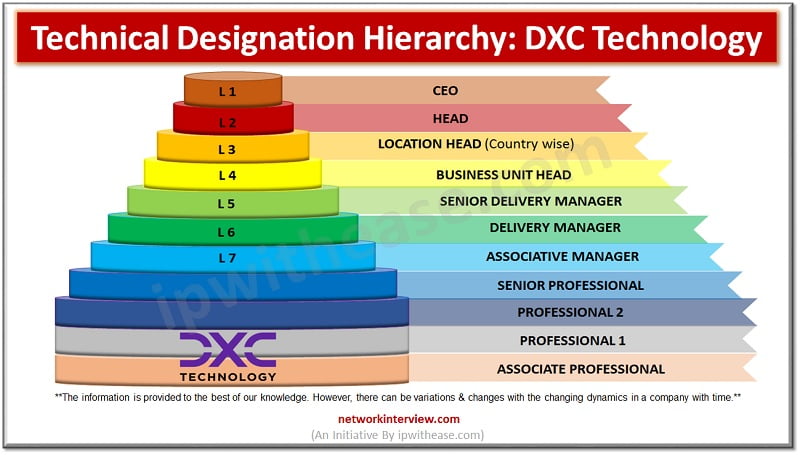 Are you in your final year of pursuing a Software Engineering Degree? Do you want to join a new company from your present? Then there are many things you should consider before making the decision. One of them is the technical designation Hierarchy and Compensation in a company. 
Today in this article you will get to know about the technical designation Hierarchy DXC Technology and their salaries and the other benefits provided by them to their technical personnel. So if your goal is to join the DXC then this article is for you. 
Okay without further ado let's start the article with the short introduction to DXC Technologies. 
About DXC Technologies 
DXC is an American multinational Information Technology Company that provides consulting and IT services around the globe. It was founded in 2017 when HPE spun off its Enterprise services. It is headquartered in Virginia, U.S. 
It has more than 130,000 employees as of March 2022 working over 70 countries such as US, India, Philippines, Central Europe, and Vietnam. As a new company, the salary and other benefits provided by DXC Technologies are at par with the leading technology companies. 
Here is the technical designation hierarchy of software engineers in DXC and their salary packages- 
You can also watch this video for better understanding:
(or continue reading)
The Technical Designation Hierarchy DXC Software Engineers
Like other multinational companies, DXC doesn't use any particular band or grading system, the software engineers are classified as follow – 
Associative Professional 
It is the entry-level position you will be hired for when you finish your graduation. You don't need any work experience to get this job. It's more like a trainee or Internship program. 
The average annual salary of an Associate Professional Software Engineer at DXC is ₹400,000.
Professional 1 
After 6 or 12 months you will be promoted to Professional 1. From this position, you become the permanent employee of the company and will start working on the major project. 
The average annual salary of a Professional Software Engineer 1 at DXC is ₹400,000 to ₹600,000.
Professional 2 
When it comes to job responsibility and duties Professional 2 is the same as the previous one. However, you will have more experience and there will be a difference in your salary. 
The average annual salary of a Professional Software Engineer 2 at DXC is ₹600,000 to ₹800,000.
Senior Professional 
It is the senior software engineer position, you will be promoted as Senior Professional after 3 -5 years of work experience in DXC. As a Senior Engineer, you will be responsible for a team or project. 
The average annual salary of a Senior Professional Software Engineer at DXC is ₹1,000,000.
Associative Manager (L7) 
From this point, the technical position gets mixed with the managerial responsibilities. An Associative manager is like a trainee manager. You will learn about the duties of the manager in this position. 
The average annual salary of an Associate Project Manager at DXC is ₹1,300,000 to ₹1,500,000.
Delivery manager (L6)
As a delivery manager, you will be responsible for the delivery of Software products or solutions to the customers and communicate with them regularly. 
The average annual salary of a Delivery Manager at DXC is ₹2,000,000 to ₹2,500,000.
Senior Delivery Manager (L5)
The senior Delivery manager is the highest position you will be awarded based on your seniority and experience. 
The average annual salary of a Senior Delivery Manager at DXC is ₹3,500,000 to ₹4,000,000.
And then the hierarchy continues like Business Unit Head L4, Location Head L3 (Country wise), Head  L2, CEO,… If you have any more questions regarding the technical hierarchy of the DXC Software Engineers or any other companies please let us know in the comment section. 
***The salary packages are only indicative and may vary as per the rise and low of the demand.***
Continue Reading:
Technical Hierarchy: Intel Corporation
Are you preparing for your next interview?
Please check our e-store for e-books on Interview Q&A on IT technologies. All the e-books are in easy to understand PDF Format, explained with relevant Diagrams (where required) for better ease of understanding.