Software Engineer vs Computer Engineer: Which is the best career path?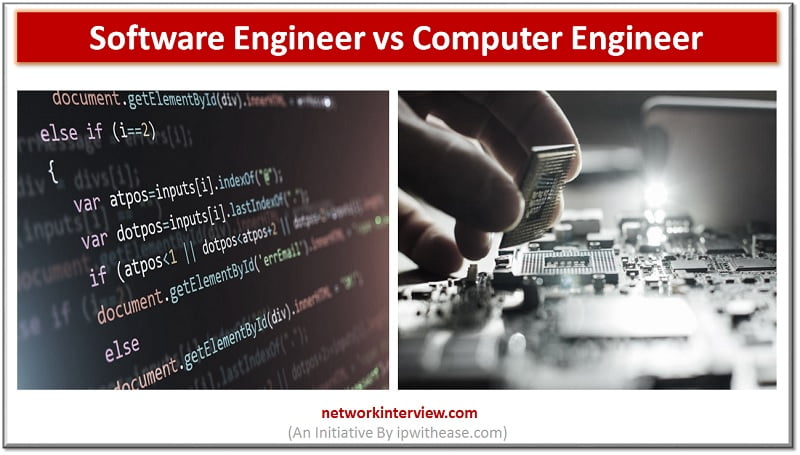 A common query which comes to mind of engineering students is:
"What is the difference between a Software Engineer & a Computer Engineer?"
Both of them relate to Computer and uses engineering ideas and concepts that is why it is confused with one another most times. They both are used simultaneously like one cannot survive without another. In this article you will get a clear idea of how they differ and their roles.
Who is a Software Engineer?
A software engineer is a person who uses engineering knowledge to create, discover, design practical and software solutions to the problem with a system. Most IT professionals are software Engineers. Software engineers will have deep programming knowledge and a clear understanding of the computer hardware functions. They hear from the clients or companies and create the software solutions accordingly.
He will command a team of programmers and responsible for the bug fixing and maintenance of software.  In short, a software engineer deals with the invisible resource of a computer, that is software.
Who is a Computer Engineer?
A Computer Engineer is a person who uses computer science engineering concepts to create, design the components of the computer. He makes innovations in computer hardware.
He uses computer science knowledge to know the needs of the Computer field and implements electrical engineering concepts to create super components. He observes the market and creates new hardware that can perform better than previous. The resource commands a group of technicians, electricians and responsible for repairing and optimization of the hardware.  A Computer engineer creates visible resources like hardware and other connections like cables, USB, etc…
Comparison Table: Software Engineer vs Computer Engineer
It is really hard to separate Software Engineering and Computer Engineering even though they both are two different degrees or qualifications. And one cannot work without the other. Below the table shows their different functions are interrelated into the whole picture.
PARAMETER

SOFTWARE ENGINEER

COMPUTER ENGINEER

Definition
Is a computer or coding expert who uses the knowledge of engineering to build software.
Is a computer science enthusiast who uses electrical engineering knowledge to build hardware.
Education
Graduates the software engineering and has a deep understanding of software and programming concepts.
Can be a graduate in computer science. He has a deep understanding of the electrical and hardware functions of computers.
Role
A software engineer plans to monitor and involve in the whole software development life cycle (SDLC)
The computer engineer designs the blueprint of the hardware and involves in the innovations of new technologies.
Working Nature
A software engineer mostly works with a team of engineers or programmers.
A computer engineer leads a multi-nature team that contains electrical, mechanical, and software experts to create well-performing hardware.
Responsibilities
Responsible to analyse and evaluate the client's needs and prepare the requirements. And ensure the proper functioning of the software.
Responsible to evaluate and find room for improvement in the existing hardware product.  And responsible for the reliability of the product.
Hierarchy
Is superior to programmers in a team.
Is superior to multiple personal involved in the creation of the hardware.
Nature
Software Engineer works are mostly service nature. Rarely involved in the manufacturing industry.
A computer engineer is mostly hired in a company that manufactures and sells hardware.
Estimated Salary
The Average estimated Annual Salary of a Software engineer is $93, 280.
The Average estimated Annual Salary of a Computer Engineer is $97,398
Product/Output
He creates software, OS, and applications like VLC, Windows, Facebook, etc…
He creates hardware like Processors, GPU, Motherboards, and Hard Disk, etc…
Download the comparison table here.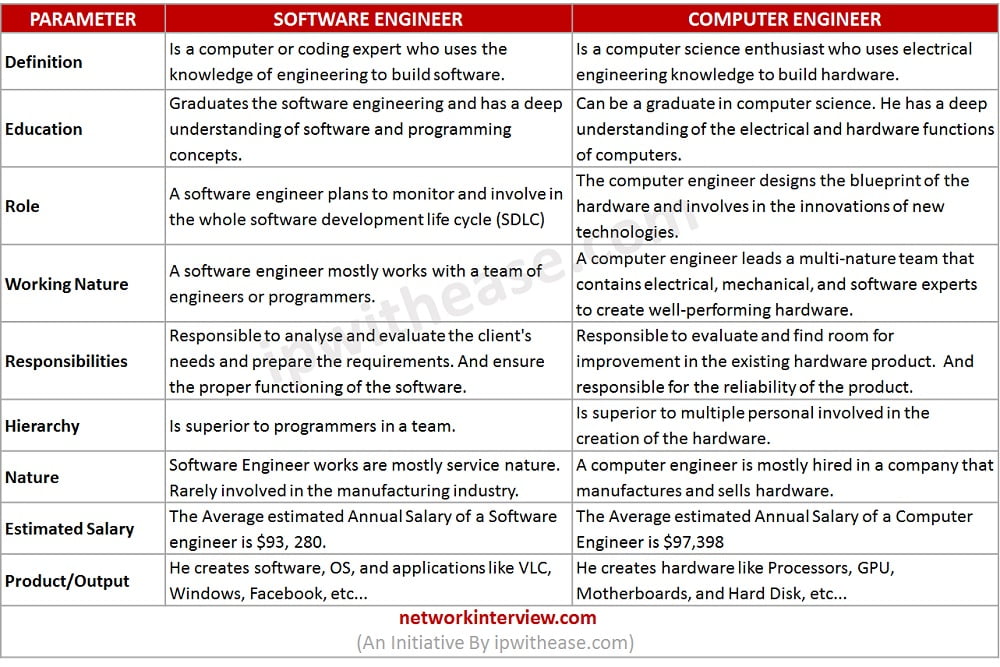 Which is the best career path for me?
Well, from the above discussion you can surely see that both fields are interrelated. They have good future opportunities and salaries. So the answer depends on your individual area interest. If you are a person who is most into programming and coding then software engineer/engineering may be the best choice for you. And if you are fascinated about the working of the processor, soldiering motherboards then computer Engineering/ Computer engineer is the best career path for you.
This article should have given you a clear idea about the computer engineer and software engineer and helped you get rid of the confusion. Do you still have questions? Please share them in the comment section below.
Continue Reading:
Software Development vs Web Development