Palo Alto vs Checkpoint Firewall: Detailed Comparison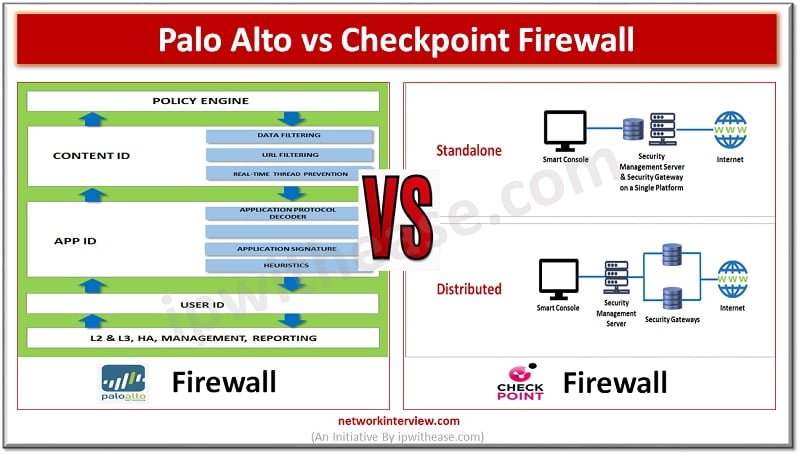 Attackers are constantly looking for vulnerabilities to penetrate your networks. Protection against direct, external threats require extensive network security functions deployed on the edge. Protections on the edge are provided by stateful and next generation firewalls (NGFWs) which offer features like URL and content filtering, intrusion prevention systems, protection against distributed denial of service attacks , malware detection and encryption. There are two leading platforms when it comes to cyber security Checkpoint and Palo Alto. Both offer NGFWs solutions. 
Today we look more in detail about two most popular company's firewalls, Palo Alto vs Checkpoint, their key differences, features etc.
About Palo Alto Firewall
Palo Alto is a cyber security firm based out of California founded in 2005. They offer a wide range of products with an advanced enterprise firewall product , a network security control center, advanced endpoint protection systems, a cloud-based threat analysis service, a range of analytics and cloud storage products.
They also operate a threat intelligence and security consulting team known as team 42 which comprises cyber threat researchers and security tech experts and analyse to discover and help to prevent new threats such as malicious software and new attacks of bad actors. The company had acquired Morta Security, Cyvera, CirroSecure, LightCyber, Evident.io, Secdo, RedLock, CloudGenix, Expanse, and many other cybersecurity firms.
Palo Alto firewalls are used by a number of organizations and data centres to keep networks safe and secure from advanced level of security threats. Palo Alto firewall is used to identify, control, and inspect SSL encrypted traffic and applications. It offers monitoring applications, threats and contents. It offers a real time content scanning system for protection from viruses, data leakage, online threats, spyware and application vulnerabilities.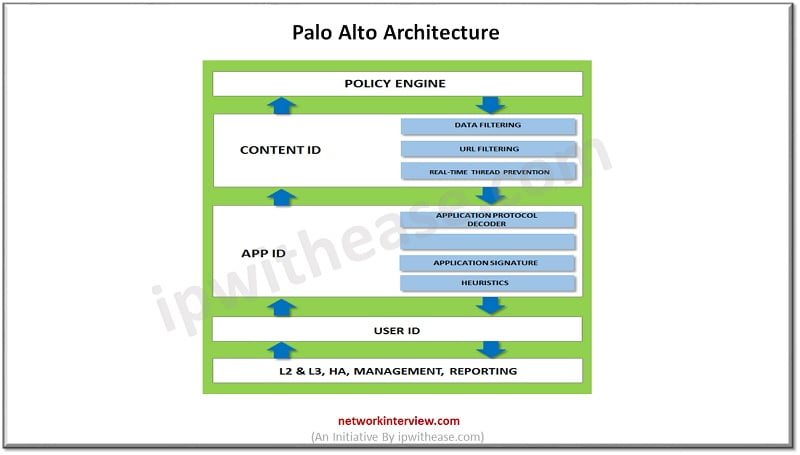 Features of Palo Alto firewall:
Inspects all traffic including all applications, threats and content and tie that traffic to user regardless of location or device type

Identify users in all locations irrespective of device type and OS

Offers policy-based decryption to allow to decrypt malicious traffic leaving aside sensitive traffic encrypted

URL filtering to provide protection against web-based threats 

DNS security to enable predictive analysis , machine learning and automation to block DNS attacks 
About Checkpoint Firewall
An American – Israeli company specialized in cyber security software for varied purposes including network, endpoint, cloud, mobile, and data security. Checkpoint in 1993 came with a firewall product called Firewall-1. Checkpoint firewalls are designed to control traffic between external and internal networks.
Checkpoint firewall is part of software blade architecture which gives features like data loss prevention, application control, intrusion detection and prevention, VPN and mobile device connectivity, internet access and filtering.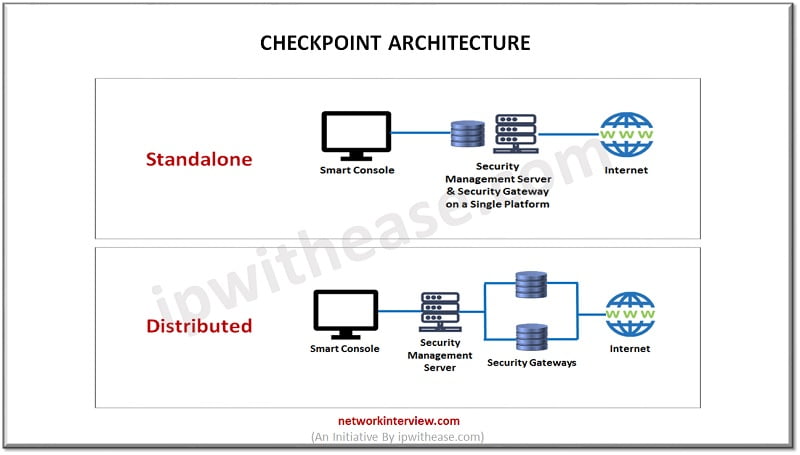 Features of Checkpoint firewall:
Checkpoint NGFW can be installed on specific appliances or in virtual mode

Checkpoint NGFW contains IPS software blade which provides geo protection as well as frequent , automated threat definition updates 

Offers centralized management and role-based administration

Combines perimeter, endpoints, cloud and mobile security with application control, advanced URL filtering and data loss prevention capabilities
Comparison Table: Palo alto vs Checkpoint Firewall
Below table summarizes the differences between the two types of firewalls:
Function

Palo Alto Firewall

Checkpoint Firewall

Software
Uses PAN OS
Checkpoint Software blade
Firewall throughput
2Gbps (App ID enabled)
4 Gbps (Ideal testing condition – Stateful, 2.1 Gbps in real testing condition)
IPSec VPN throughput
500 Mbps
2.25 Gbps
IPS Throughput
1000 Mbps
1.44 Gbps (460 Mbps IPS real testing condition)
Connections per Second supported
50 000
48 000
Total Connections
2 50000
3 200 000
Unicast IPv4 Routing Protocols and static routing
BGP, RIP, OSPF static routing
RIP, OSPF, BGP, static routing, PBR
Firewall Mode: Router or Bridge
L1, L2, L3
L2, L3
High availability
Active /Active , Active/Passive
Cluster XL
Real time threat prevention
Alerts are generated post infection few minutes later. Infection alert is sent so cyber security team can take action on it.
Checkpoint prevents Patient-0 and malware is blocked before entering into network.
Security priority
Inspects part of traffic for threats exposing customers to risk.
Inspects 100% traffic for threats.
Application awareness
Limited visibility comparing only 3500 applications
Wider visibility of high-risk applications and shadow IT about 8600 applications
Preventive protection
Do not have capability and can scan documents with its post infection scan engine.
Provide users sanitized version of documents for safe work environment.
Response to vulnerabilities
128 days on an average to fix
6 days on an average to fix
clear view of threats
Don't have capability for MITRE ATT&CK framework
MITRE ATT&CK framework to prevent cyber attacks
SSH and SSL usage
First firewall to decrypt, inspect and control SSL and SSH . Policy control over SSL allows personal use of applications securely (like twitter, Facebook)
No SSL decryption , inspection and control (inbound and outbound)
SSH controls ensure it is not being used to tunnel other applications
No way to identify intended use of SSH
Security score
Cyber security rating of 13/20
Highest score in NSS lab BPS 2019
Features
SSL decryption to examine SSL concealed threats
Patient zero prevention
Automatic failover support
100% traffic inspection
URL filtering
Robust intrusion prevention system
Change management function
Download the comparison table: Palo Alto vs Checkpoint Firewall
Quick Facts !
Palo alto has global share of 18.9% in Year 2021 whereas Checkpoint market share is 9.1%
Continue Reading:
Palo Alto vs Fortinet Firewall: Detailed Comparison
Types of Firewall: Network Security