What is a No-code Platform? Will it replace Experienced Developers?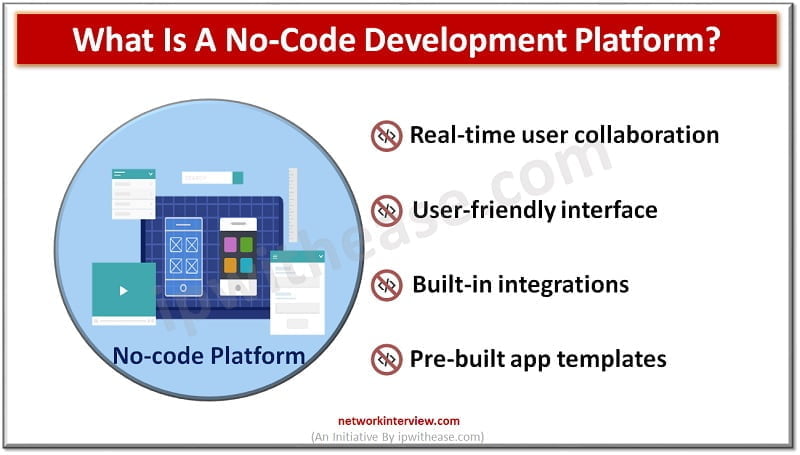 No-code is an emerging trend that allows non-technical users to build custom applications without writing code. In other words, no code means no programming skills are required. Instead, a no-code platform uses natural user interface (NUI) tools to create apps and business processes. This blog post covers what a no-code platform is, the benefits of using one, examples of such platforms and how they can be used in your organization.
What Is A No-Code Platform?
A no-code development platform is an application that allows users without programming skills to create and deploy software applications. Essentially, no-code applications are user interfaces that use drag and drop tools or visual programming languages to create apps and business processes without needing to write code.
To build an app, you can select from a pre-built library of components or create your own components using visual tools like widgets and graphs. No-code is not the same as no-code if you are talking about a full-blown software development lifecycle. No-code only refers to application creation, not the development and deployment of an application.
Features of No-code Platform
The best no-code platforms offer the following features: –
Real-time user collaboration – No-code platforms are designed to allow teams to work together in real-time. This collaboration feature means each member can see and edit the application, making it easy to work together in a centralized location. –
User-friendly interface – Successful no-code platforms have intuitive and user-friendly interfaces that don't require any programming skills.
Built-in integrations – To ensure your application is connected to other important systems, no-code applications have built-in integrations. You can also create custom integrations if the pre-built options are not sufficient.
Pre-built app templates – Most no-code platforms provide pre-built app templates that you can easily customize and deploy in the software. These templates give you a head start towards building your application.
Examples of No-code Platforms
No-code development platforms are designed for a wide range of users, including business analysts, project managers, business owners, etc. You don't need to be a developer to use a no-code platform. Some of the examples are:
Wix Business Apps – With Wix Business Apps, you can create, customize and publish apps without writing any code. You can also integrate your existing apps with Wix by using their app connectors.
icanmakeapps – icanmakeapps allows you to create customizable apps without writing a single line of code. You can create apps for iOS, Android and Web for free.
AppBox – AppBox is a cross-platform tool that allows you to create custom apps from scratch. The tool includes visual, drag-and-drop application builders and third-party integrations.
Pros
The barrier to entry is low – You don't need to have any coding experience or specialized skills to create an app. This makes the no-code approach suitable for business owners, project managers and other non-technical users.
Quickly create simple apps – You don't need to spend months learning a new software language and programming framework to build simple apps with a no-code solution. Instead, you only need to spend a few hours to create a basic app.
Collaboration is built-in – No-code platforms are designed to allow users to work together on a single app. You can also invite outside users to view and edit the application.
You can try before you buy – Since you don't need to write code to create an app, you can try out different no-code platforms to see which ones best fit your needs. You can also use a trial version of an app to make sure it's suitable for your organization.
No-code apps are easy to scale – You can easily add new users to your app, add new features, and integrate your app with other systems once it's deployed. This makes it easy to scale your app as your business grows.
Cons
Not suitable for all organizations – If your business is data-heavy or requires a strict level of security, a no-code solution may not be sufficient.
Less customizable – As you don't have direct access to the code behind an app, you cannot modify it as easily as a code-based app. You may also find it difficult to integrate your app with other systems.
Requires design and functionality expertise – If you don't have design or functionality expertise, you may not be able to create the right app for your business. It's important to choose a no-code platform that is suitable for your business.
Limited features – Some no-code platforms are basic and don't have all the features you need for your app. You will need to choose a platform that has the appropriate features for your business.
No-code apps are static – With a no-code solution, you cannot write code to respond to user actions. This means your app will be static in nature and may not be suitable for certain use cases.
Will no-code software replace experienced developers?
No. No-code development platforms do not fully replace experienced developers. While no-code platforms make it easy to create basic apps, complex apps may require more programming skills.
This is because no-code solutions are designed to be user-friendly, while programming languages require technical skills. Moreover, some apps may require a customized solution that cannot be created with a no-code platform.
Still, no-code platforms are useful for organizations that require a single custom app. They are also suitable for businesses that need to deploy multiple apps for different departments or use cases. As such, no-code solutions make it easy for businesses to create and deploy custom apps with limited resources and no technical know-how.
Key Takeaway
No-code development platforms allow users to create custom apps and business processes without writing code. If your business needs a single custom app, a no-code solution is suitable.
However, if your organization requires a more complex app, you may need to hire experienced developers to write code. No-code solutions are designed to be user-friendly, making them suitable for businesses with limited technical resources.
Continue Reading:
Software Engineer vs Programmer: Key Differences