Network Troubleshooting Using Traceroutes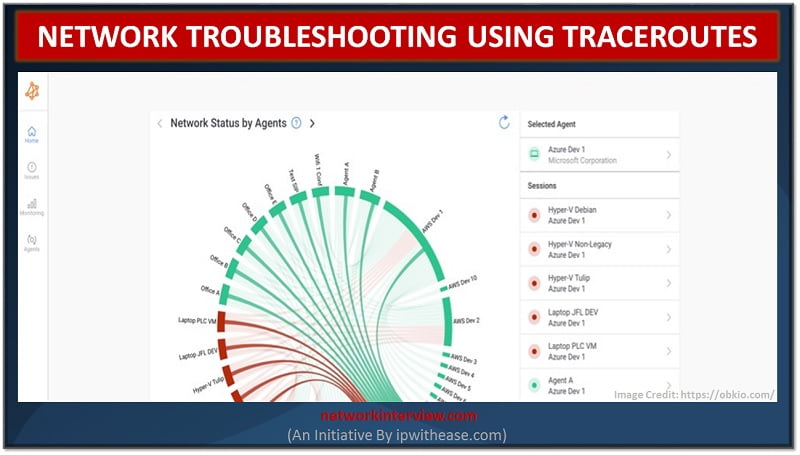 Any network engineer knows that when it comes to troubleshooting network problems and monitoring network performance, there are a variety of tools to help. Different tools play different parts in the troubleshooting process, so it's important to understand what they are and how to use them.
Traceroute is one of the most widely used tools that network engineers and IT geeks use to troubleshoot networks. First invented in 1987, Traceroutes are still frequently used by network engineers and IT pros today.
Keep reading to learn more about Traceroutes and the role they play in monitoring network performance and troubleshooting intermittent network problems.
What Are Traceroutes?
Traceroutes were first invented in 1987, but are still considered the most commonly used tool to troubleshoot network issues even today. As suggested by the name, a traceroute traces the IP route from a reference source to a destination inside of an IP network. It collects data with intent to show users the routers and round-trip latency from the source to each of the routers.
Traceroutes functions by using an 8-bit field in the IP Header, which is known as Time-to-live (TTL). The traceroute software uses TTL to discover the routers between a source and its destination.
Live Traceroutes
There are many different traceroute tools on the market, but when it comes to finding and fixing network problems with traceroutes, deploying an end-to-end network monitoring software with traceroute capabilities will give you a more comprehensive view of network performance to help you troubleshoot network problems faster.
Obkio's Network Performance Monitoring Software has a Live Traceroute feature, which is used in combination with the network monitoring sessions. Live Traceroutes help users in comouting the forward and the reverse traceroutes with latencies and packet loss in real-time. It's the perfect tool to Zero-in the location of network performance issues.
Share traceroute results with your team and 3rd parties like IT consultants or service providers etc. With access to the live feature of traceroute, everyone will be able to troubleshoot network issues as soon as possible.
Locate Network Issues Using Traceroutes
You can identify network issues with traceroutes by analyzing two metrics for each hop or router you're monitoring: latency and packet loss.
The latency denotes the time difference between the time when a packet was sent and when a response is received.
Packet loss refers to percentage of packets which were sent but never received a response out of the total number of sent packets.
Traceroutes monitor both of these important metrics to measure how long it takes for data to travel across a network, and if all the data has actually been transmitted. If the latency is poor, and there is a high percentage of packet loss, a network problem is surely to blame – and a traceroute will tell you where that problem is located.
Why do Routers Drop Packets or Have experience Latencies?
There are multiple reasons behind a single router dropping traceroute packets or having higher latencies, and it doesn't necessarily point to any network performance degradation.
As a general rule of thumb, while looking at packet loss with reference to Traceroute is: if the packet loss doesn't continue with the following hops, then it's not a network issue. With a software like Obkio, you can continuously run traceroutes in real-time to easily monitor if packet loss is recurrent, and if you have a real problem.
Hidden Information in Traceroute DNS
DNS, or The hostname of the traceroute hops can provide a lot of information about the actual path of data from the source to the destination within a network.
There are four key bits of information that you can decode from Traceroute DNS:
ISP operating the router
The city where the router is located
The router name, number, or unique id
The ingress interface or port by which the traceroute packet came on the router
With this information at hand, it helps IT pros and network administrators catch and troubleshoot network problems before they're felt by end-users.
How to Catch Reverse Path Issues
When looking at a traceroute, always remember that traffic on the Internet is asymmetrical most of the time. This phenomenon is called the Hot Potato Routing.
To help you troubleshoot network issues with more detail and accuracy, traceroutes give you data from sources and destinations that are in the same ISP,  which gives you a reverse traceroute to compare your data against and catch reverse path issues
Share Traceroutes With Your ISP
We've all had to play the back-and-forth blame game with our service provider at some point. No one wants to admit that a problem is on their end. But with traceroutes, you can easily see where a problem is located and who is responsible for fixing it.
Whether a network problem is located in your ISP's network or somewhere else on the Internet, reach out to your ISP's NOC (Network Operation Center) to help you troubleshoot faster.
A tool like Obkio's traceroute tool allows you to share a traceroute with your ISP so they get all the data they need to help you troubleshoot, including:
IP addresses of the Source and the Destination
A traceroute from Source to Destination
A traceroute from Destination to Source
Historical traceroutes where everything is running fine (if you have them)
A way to replicate the issue (more on that later!)
Load Balancing with Traceroutes
To increase capacity to transmit information between routers, many IT specialists choose to add more multiple connections between them, to transmit more data. If at any point of time a router does not support higher speed interfaces, in that case only pragmatic solution to support a higher capacity would be to aggregate two or more than two ports together.
There are commonly two possible configurations scenarios that allow you to set up multiple connections between routers: the Link Aggregation and the Equal Cost Multi Path (ECMP).
For the more accurate data, you need a traceroute software that allows you to choose which ports to use. Therefore, you can use ICMP to have an easy to read traceroute or use TCP (or UDP) with random ports to see the full paths between the source and the destination.
Traceroutes within MPLS Networks
Service providers (SPs) and large enterprises use MPLS (Multiprotocol Label Switching) networks to better segment and manage their networks. There are two aspects specific to MPLS networks that affect traditional IP traceroutes: ICMP Tunneling and TTL Propagation.
ICMP Tunneling causes the latency and packet loss to be different even if the network path is the same. So latency may take a big jump and then stay the same for hops that are far away from each other.
TTL propagation makes it so each time a traceroute reaches a router, it is decremented by one. When TTL propagation is disabled, some routers are not visible in the traceroute.
MPLS networks change the way we look at traceroutes without giving us the exact picture on what is going on, so it's important to understand how they can alter the data.
Conclusion
Traceroutes are an extremely useful tool to help you troubleshoot network problems – which is why they've been around for so long!
As an advanced tool, it's important to understand how to use traceroutes and when, to be able to fully leverage the information they provide. Paired with a complete end-to-end network monitoring software, traceroutes help you get complete visibility over your network health and any problems that may be affecting network performance.
They help you troubleshoot faster, so you can spend more time getting things done, and less time on damage control.