How do I recover my Google Account?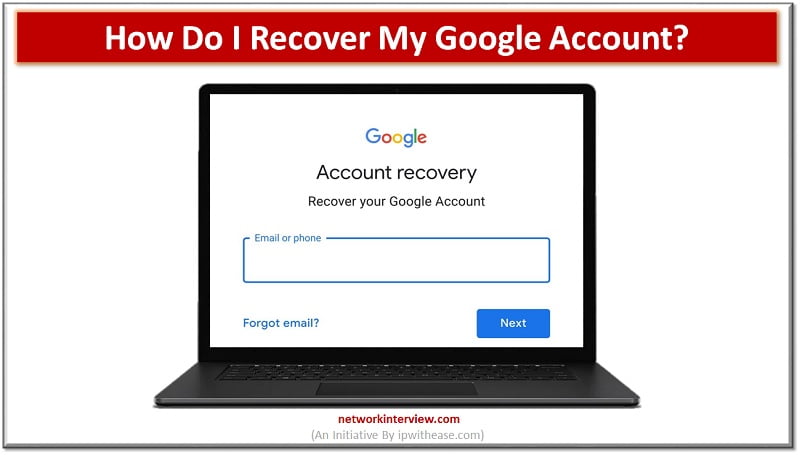 Google Account Recovery
Today nearly 1.5 billion people use Google Accounts and its services. Google has become a part of our life and most of us are depending on it for work and personal use. 
Whoever you are, you can be a Kid or Grandparent at 60's. Nothing can be scary or annoying than losing your Google Accounts Access. But if you are facing this problem now, don't worry. There are some simple steps to recover your account. 
Here in this article, you will learn about various Account Recovery options in Google and some additional tips to secure your account. Okay, enough talking let's see the way to recover the Google Accounts in each scenario. 
Lost your Password?
As most of the time, your Google Accounts are logged on our devices, it is normal to forget your passwords. And the accounts would be created way back and you won't be able to remember them. In this case – 
You can click the 'Forgot Password' option on the signature page. You will be given the following option in order. 
You will be asked to enter the last password you remember. If you don't remember then click try another way. 

Here a verification code will be sent to your secondary recovery email or phone number or Google Account if you are logged in on other devices. 

If that doesn't work click try another way. Now, Google will try to verify it is you within 6 hours. If not possible it will ask the questions like 'What is your mother's name' etc.. which you stored in your account. 
By this time you would have recovered your account. Now set a new password and note it down in your diary or notes. 
Forgot your Email Address?
Well, you usually won't forget your Gmail Address, unless you use multiple Gmail Accounts or if the Accounts are created by others or if you haven't used it for a long time. Whatever the reason, here are the steps to recover your Gmail –
Click the "Forgot Email" option on the login page. 

Your secondary or recovery email or phone number will be asked.

If you don't remember it you should enter your Username as per the Gmail Account. 
If your account was created in your work, school or office then try contacting your administrator for more information. 
If your Accounts was Hacked 
If you are unable to log in to your account, or if you find some changed your password or recovery phone number or deleted your account you can use Google's Recovery page. 
All you need to do is to answer the questions you're asked. If you have a two-step verification you can try it. But if you don't get the codes in your phone or if your phone is lost then try contacting Google Support where you can recover your Account Directly. 
If Account was Deleted
If you accidentally or willingly deleted your Google Account and now you need to recover it you can do it. The Process is the same as in the previous scenario. However, if it's been a while since you deleted your account, you may not be able to recover the data in your account.
But still, you can use it to access your Google play services and other accounts you logged in with it. 
Some tips to follow during the Google Account Recovery process:
Try not to skip the question during your recovery process. If you don't know the answer, try your best guess. 

If possible, use a computer, phone, or tablet where you frequently sign in

If possible, use the same browser (like Chrome or Safari) that you usually do

If possible, be in a location where you usually sign in, like at home or work

If you don't remember your last password, use a previous one that you do remember. The more recent it was, the better. If you can't recall any previous passwords, take your best guess.

Consider a different variation of the answer. For example, try "NY" instead of "New York" or "Phil" instead of "Philip.
If you face any other problems while recovering your lost Google Accounts, please share them in the Comment section below. 
Continue Reading:
Google Account Security – Gmail Security
What is Google Duplex? and How does it work?