Frequency Division multiplexing (FDM) vs Time Division Multiplexing (TDM)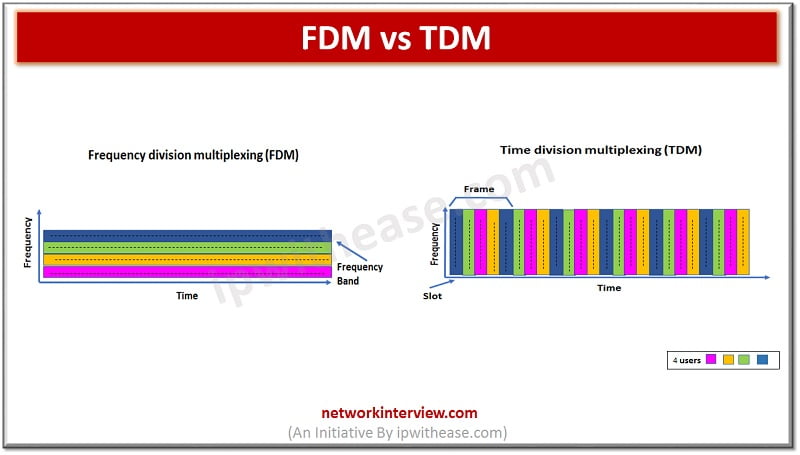 Introduction to Frequency division multiplexing (FDM) & Time division multiplexing (TDM)
Transmission of signals over channels can be performed in different ways. There are different multiplexing techniques such as Frequency division multiplexing (FDM) and Time division multiplexing (TDM) which allows transmission of signals in frequency and time slots. The end objective is effective utilization of expensive bandwidth hence sharing bandwidth among multiple users using multiplexing techniques.
In this article we will learn more about both multiplexing technologies and understand their advantages and limitations, purpose, and usage etc.
About FDM
Multiplexing was originated in telegraphy in 1870s and it is widely used in communications.  Telephone carrier multiplexing was developed by George Owen Squier in 1910. In Frequency division multiplexing technique, the available bandwidth of a single transmission medium is divided into multiple channels.
Each frequency channel is allocated to a device and by using modulation techniques the input signals are transmitted into frequency bands and combined to form a composite signal. Modulation carrying signals are referred as sub carriers. FDM is majorly used by TV networks and radio broadcasts.
FM and AM broadcasting are FDM based where each FM station has allocated frequency which is multiplexed to form a composite signal for transmission in air.
Frequency division multiplexing: Pros and Cons
PROS:
It uses analogue signals
It is simple and easy modulation technique
Multiple signals can be transmitted simultaneously
Demodulation is easier
It does not require synchronization between sender and receiver
CONS:
Low speed channels supported
Problem of crosstalk
Large number of modulators required
High bandwidth channel requirement to operate
Limited by frequency ranges
Applications of FDM (Frequency division multiplexing)
FM and AM radio broadcasting
First generation cellular phones
Television broadcasting
How FDM works?
Each transmitter sends signal of different frequency. For example, the transmitter 1 sends signal of 30 KHz, transmitter 2 sends signal of 40 KHz and transmitter sends signal of 50 KHz. These signals of different frequencies are multiplexed or combined using a multiplexer. Multiplexer transmits multiplexed signal over a communication channel. At the receiver end the multiplexed signals are separated using a de-multiplexer and the separated signals are sent to intended receivers.
 About TDM
Time division multiplexing (TDM) is a digital multiplexing technique. All signals are operating at same frequency but within different time slots. The total time available in channel is allocated between different users referred as 'Time Slot' and each user can transmit in their allocated time slot. Thus, user gets control of channel for a fixed amount of time and data is transmitted one by one. The signals are transmitted in the form of frames and frames contain a cycle of time slots and each frame contains a dedicated slot for a user.
Types of TDM
TDM is of two types – Synchronous TDM and Asynchronous TDM.
Synchronous TDM – in this technique time slots are pre-assigned to each device. Each device is given a time slot irrespective whether device had data or not to transmit. Data moves in frames and if there is no data, then empty frame is transmitted. Some of the popular synchronous TDM are T-1 multiplexing, ISDN multiplexing and SONET multiplexing. Some of the limitations of Synchronous TDM is partial utilization of time slots as empty slots are also transmitted having no data, speed of transmission medium required to be greater than the total speed of the input lines.
Asynchronous TDM – is also called statistical TDM, time slots are not fixed and only allocated to devices which have data to be sent and there is a dynamic allocation of time slots to active devices only. In asynchronous frame – the address part of frame is used to identify data source.
Time division multiplexing: Pros and Cons
PROS:
Full bandwidth utilized by user
More flexible in usage
Problem of crosstalk is negligible
Demodulation is easier
Better protection from tapping
CONS:
Require synchronization
Wastage of bandwidth in case of uneven distribution of traffic or reservation of slot for a station it may not have any data to transmit
Complex to implement
Applications of TDM
ISDN telephone lines
Used in PSTN networks
Comaprison Table: FDM vs TDM
We can summarize the difference between FDM and TDM as given below:
| | | |
| --- | --- | --- |
| Function | FDM | TDM |
| Definition | Multiple data signals are combined for simultaneous transmission over a common shared communication medium. | Multiple users can send signals over a common channel by allocation of separate time slots for each device. User gets entire bandwidth within that time slot. |
| Technology | Analogue transmission supported | Digital transmission supported |
| Synchronization | Synchronization pulse is not required | Synchronization pulse is required as time slot is pre-assigned |
| Circuit orientation  | Complex circuitry required at sender and receive end | Not so complex |
| Cross talk  | Possibility of cross talks during signal transmission | Cross talk is negligible |
| Propagation delay | No propagation delays | Propagation delays as signals are getting transmitted in multiple time slots |
| Efficiency | Low efficiency due to signal interference | More efficient as compared FDM |
| Cost  | Expensive multiplexing technique | Moderately less cost |
Download the comparison table: FDM vs TDM
Continue Reading: