A Powerful Cloud Service is Essential for Every Business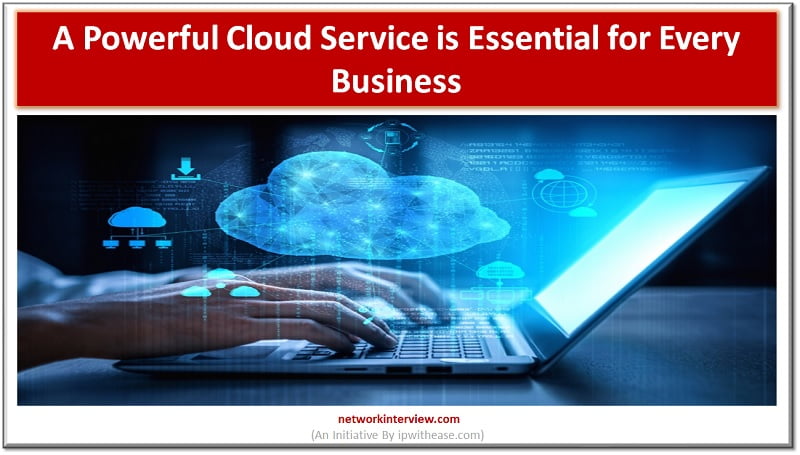 Every business is more than just a person or a team working on a task. If you're a business owner or manager, you know how many aspects and issues a company has to deal with throughout the day. It's incredibly hard to make sense of everything and keep everything under control.
When you add competition and hackers, both trying to take over your place in the business world, you realize that things are tougher than you imagined, and help is essential. This is why all successful businesses focus on finding the right people to work with them. A capable team and valuable employees you can rely on are highly important.
Among the many other things you must focus on, there's the need for reliable software and hardware, too. In today's digital world, your machines are at least half of the work. Every company works with computers, and IT experts are essential, so finding the best experts is a must.
One of the things to have in mind is data security. The pieces of information you create within the workspace must be protected. You can't let accidental deletion from employees or hacker intrusion affect them.
A great solution for this issue is cloud computing or cloud services. This technology allows you to upload information to the cloud and ensure it is safe. But, what is cloud computing, and why is it so valuable for you? Keep reading and find out more about this.
What is Cloud Computing?
Cloud services refer to the delivery of computing resources, including servers, storage, databases, software, and analytics – all of this over the Internet. Instead of hosting these resources locally, businesses can access them through remote servers maintained by cloud service providers.
The three primary models of cloud services are Infrastructure as a Service (IaaS), Platform as a Service (PaaS), and Software as a Service (SaaS). Through them, you design the best office model and make sure all data is safe.
Why is Cloud Storage important?
When you hire a cloud computing agency and upload all information to the cloud, you're getting top-notch security for your data and insurance that will never be lost. Additionally, hackers intrude and steal information from the cloud rarely, as these agencies have the highest possible protection against hacking.
Hackers cause tremendous damage to companies that are not taking care of this problem. Estimates say that by 2025, hackers will be responsible for over $10 trillion across all industries. No company is safe, so taking precautions is much smarter than it seems.
Another reason to upload everything on the cloud is protection against accidents. Aside from your own employees often deleting stuff by accident, there's the higher power issue you can't control. Storing everything in office servers may be risky as floods, fire, or other hazards may cause total destruction and losing everything you had.
If you store data on the cloud, you'll never worry about this problem. Physical items may burn down or be permanently damaged, but digital data can stay on the cloud and be useful immediately. Your company can continue working using it, although your entire office is inaccessible.
How to find the best cloud service provider?
You need an agency with experience, capacity, and an excellent reputation to provide this for you. The best solution is to hire one that is in the area since eventual issues will be covered by them on the spot. For example, if you're in Australia, hire an offsite backup provider in Sydney, and be sure they can come over for a meeting any time you want.
Even though cloud services mean uploading information on the internet and then scattering data worldwide on servers that are not necessarily nearby, it is still valuable to have the managers and data controllers nearby.
Look for an agency with an excellent reputation, great experience, and capacity to get the job done. The best ones have been active on the market for at least five years, and have great reviews from their previous clients. If you find a company like this, you'll surely be happy with the results.
Conclusion
When we say a powerful cloud service, we mean a company that knows how to handle your needs. Every company is different and has unique needs. You should be looking for an IT-managed service company and a cloud service provider that knows how to deal with your needs exclusively. You need an agency that will provide a bespoke solution just for you.
If you find this kind of company, you will never again worry about data destruction, hackers, or accidental deletion. Among other things that we talked about, this company will provide enhanced scalability, improved accessibility to your information, and disaster recovery strategy, and gives you an advantage when it comes to the competition. Choose the right cloud service agency and see your business uplift.
Continue Reading:
Network Security vs Cloud Security: Know the difference