Understanding Checkpoint 3-Tier Architecture: Components & Deployment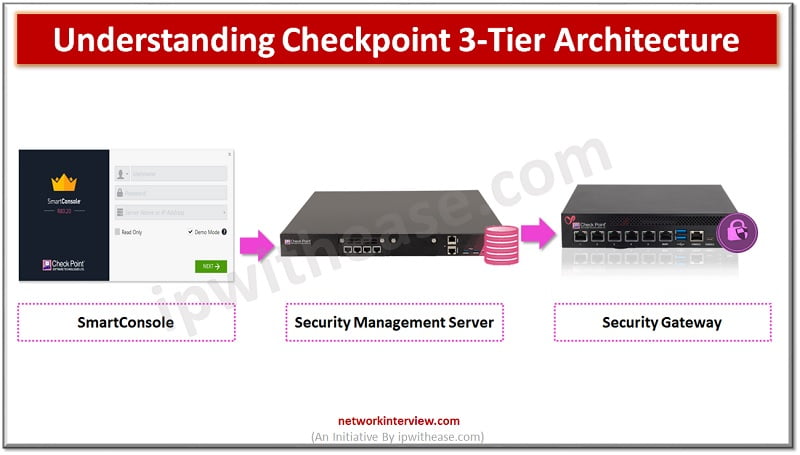 Before starting to explore Checkpoint NGX Firewall technologies, it is critical to comprehend Checkpoint 3-Tier architecture. This architecture describes the relationships between the components of Checkpoint, as well as how they work together as a harmonious unit. Each element has its own specific responsibilities.
Checkpoint 3-Tier Architecture
Checkpoint is a Next Generation Firewall which has three basic pillars 
Security Management Server
Security Gateway (Enforcement Module)
SmartConsole 
Let's understand, how these components work together as a harmonious unit:
Security Admin access SmartConsole and initiate communication with Security Management Gateway.

Security Admin makes the changes in firewall policy and install policy.

Security Management Server validate and verify the changes and confirms if change is error free and forward change policy package to Security Gateway

Security Gateway fetch the changes and apply it to firewall packet flow which is passing through the gateway.
Security Management Server  (SMS)
As its name implies, Security Management Server is a server component. As being a server component its work is to store firewall policies, repository of policies, rules, NAT policies, VPN configuration, user-database, user-groups, user permissions, authentications, storage of certificates.
SMS distributes policies and rules to multiple or single gateway. Single Smart Center Server can manage multiple gateways.
SMS can act like a log server which means it can store logs, those are generated by firewall.
Installation Platform -> SMS can be deployed on below platforms.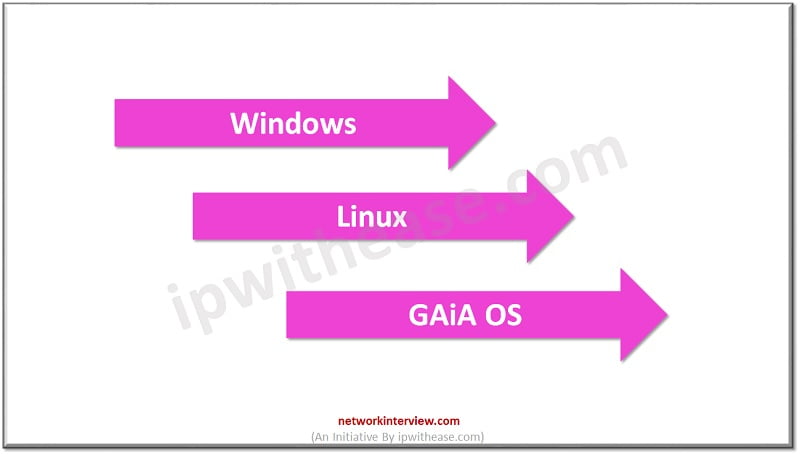 Key job performs by Security Management Gateway
Store policies, act as a database

Store log and log files

Maintain and store Firewall database

Deployed on Linux, Windows, and Gaia OS

Single Security Management Gateway can manage multiple Gateways.
Management Gateway has below featured blades
Network Policy Management

 — Security Gateway policies are created and managed by Network Policy Management

Endpoint Policy Management

 — Endpoint Policies are created and managed by it

Logging & Status

 – Logs are managed by Logging and Status

Workflow

 — Audit and approval of management policy

User Directory

 — Authentication and user database manages by it

Provisioning

 — Maintenance tool

Compliance

 — Audit and apply compliance as per rules and regulations

SmartEvent

 — Logs and Events management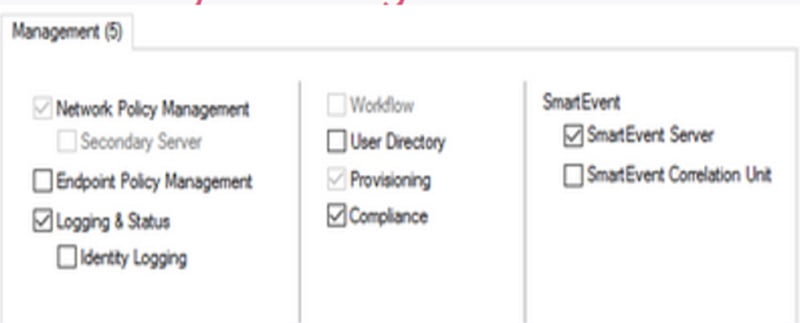 Security Gateway
Security Gateway is also known as Enforcement Module. You will see it very commonly when people call it an Enforcement Module.
Its work is to regulate the policy, Security Gateway receives policies from Smart Center Server and applies policies in order of top-to-bottom against every packet that the firewall receives in inbound/outbound direction.
Once a rule is defined in the firewall, the gateway acts as a decision maker which can protect the traffic as per defined rule.
Key Jobs perform by Security Gateway
All inbound and outbound traffic of Next Generation firewalls are inspected on Gateway.

Gateway verifies the packet and compares it with security policy and then applies security policy accordingly.

Network defence is done by Security Gateway.

Gateway protects the traffic by applying 3-way handshake OR stateful inspection.

Installation can be done ->

 Linux, Windows, and Gaia OS
Below is the list of Security Blades which are available in Security Gateway. Security Blades are the feature of the firewall. For example, URL filtering, IPS, Anti-virus etc.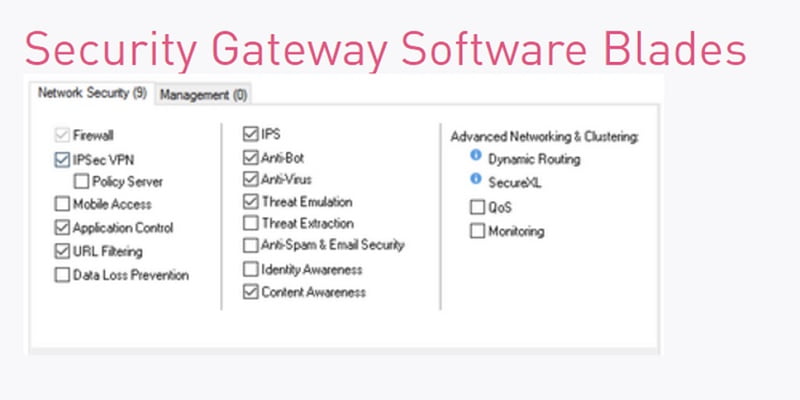 Smart Console
To manage Smart Center Server, the admin needs GUI to access the application or features. Smart Console is the platform which is used to access the features of Next Generation Firewall.
Smart Console can only be accessible from Windows, it does not support Gaia OS.
First policies are configured by using SmartDashboard and further saved in the Smart Management Server.
Below packages are downloaded as a SmartConsole package:
Smart Dashboard

Smart View Tracker

Smart View Monitor

Smart Update

Smart Log

Smart Event

Smart Provisioning 

Smart Reporter 

Smart Endpoint 

Smart Domain Manager

Smart Event Intro

Secure Client Packaging Tool
Deployment Option
Based on Checkpoint product we can choose deployment options 
Check Point Security Appliance

. Hardware and software options are required to run Check Point Network Security System.

Open Server

. Gaia OS can be installed on any of the compatible server 

A Virtual Machine. Gaia can be configured on virtual machines, cloud-based platforms like VMware, cloud platforms: AWS, Azure, Google Cloud, Alibaba, and Oracle.
Another method to deploy the device in network
Standalone ->

 Single device in which Security Gateway and SMS are installed on same machine.

Distributed ->

 Console and Security Gateway are using different machines or server.
Distributed Deployment is the commonly used approach in the network.
You may further need to explore SmartConsole deployment, Smart Management Server features and deployment and Security Gateway components. These topics will help you to understand the Checkpoint 3-Tier architecture.
Continue Reading:
How to Configure Checkpoint Firewall? Step-by-Step Guide
How to Reset Checkpoint Firewall with the Default Factory Settings?
Are you preparing for your next interview?
Please check our e-store for e-book on Interview Q&A on Checkpoint Firewall. All the e-books are in easy to understand PDF Format, explained with relevant Diagrams (where required) for better ease of understanding.