Business Intelligence vs Data Warehouse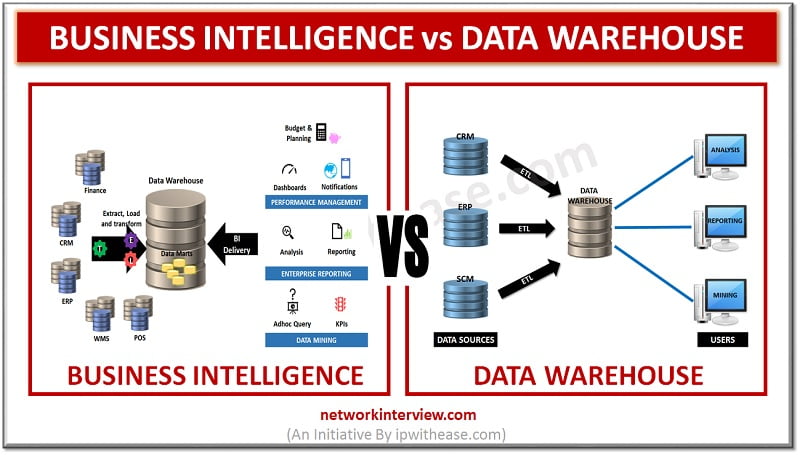 Applying intelligence to businesses is one of key factors for success to take a leap over others, be agile, more informed and reach customers faster in today's scenario. Agility of businesses depends on how quickly organizations respond to changing demands of its customers. This helps businesses to make better informed decisions which improves performance and creates new strategic opportunities for growth. 
Today we look more in detail about two important terminologies Business Intelligence and Data warehouses which are helping businesses to take more informed and better decisions to shape up the right direction for their businesses and place themselves ahead over their competitors in the market. This article will give insight into the major differences between the two, its purpose for which they are deployed and use cases. 
About Business Intelligence
Business intelligence is a set of tools and methods which are used by organizations for exploration and accessing data from multiple varied sources to better understand how their businesses are performing and let them make better and more informed strategic decisions for the betterment of the organization as a whole and also bring in new business opportunities.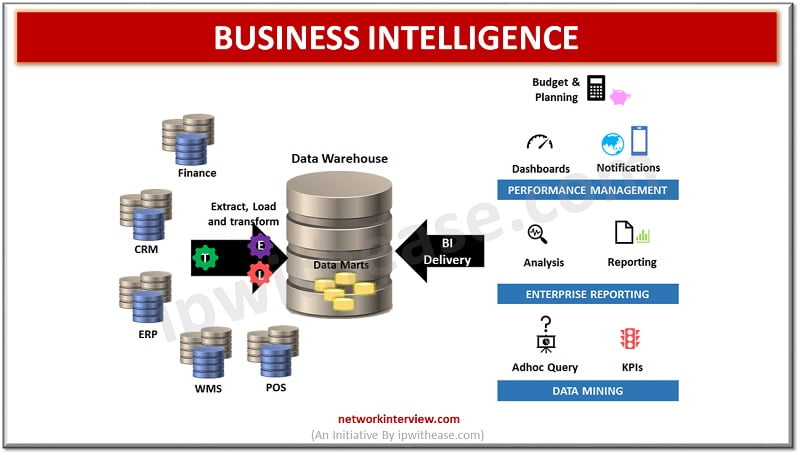 Business intelligence gives insight into what is happening or happened in business and gives actual description of the situation currently more like a real time scenario. Data is stored in Data Warehouse (DDs, cubes) and Business intelligence systems make use of Data Warehouse data and you can apply metrics of your choice to huge unstructured data sets and query or perform mining , online analytical processing and generate reports as well as business performance monitoring, predictive and prescriptive analytics.  
Applications of Business Intelligence 
Sales intelligence

Visualization

Reporting

Performance management
About Data Warehouse
Data Warehouse is consolidation of data from multiple sources which actually gives foundation to derive business intelligence from it. It helps organizations in making better strategic and tactical decisions. We can say in other words Data Warehouse is the backbone for business intelligence. Databases store data of different sources , types in a common format and Warehouse is like a Godown for data where many things can be stored but with intelligent algorithms like indexing, pattern matching it makes it easier to locate and retrieve data faster.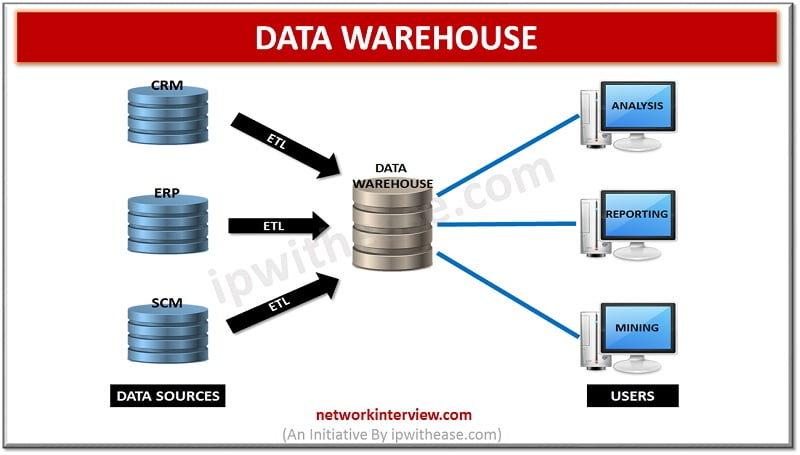 Data Warehouse is like a relational database which is aimed at querying and analysing the data instead of transaction processing. It contains historical data derived from transactional data but might have data from various data sources. Data Warehouses hold data in Fact tables and dimensions. 
Applications of Data Warehouse 
Used by varied industries such as Banking, finance, education, Healthcare, manufacturing and distribution , retail , insurance etc.

High performance queries on large data volumes 

In depth data exploration

Historical data collection across organizations 

Easy interface for business analysts and ready data for them  
Comparison Table: Business Intelligence vs Data Warehouse
Below table summarizes the differences between the two terms:
FUNCTION

BUSINESS INTELLIGENCE

DATA WAREHOUSE

Definition
Strategy and technology used by businesses for analysis of data to get insights into businesses.
Historical data and current data repository collected by an enterprise from various operational systems.
Source
Business intelligence uses data from Data Warehouse  or data marts as a source to perform analytics.
Data Warehouse may obtain data from multiple sources.
Outcome
Business reports, charts graphs, data visualization , dashboards etc.
Fact and dimension tables storing data which is ingested into business applications and tools.
Used by
C-level executives , managers and data analysts
Data engineers, data analysts, business analysts, Backend developers.
Tools used
MSBI, QlikView, Cognos , Clear Analytics, SAP Business intelligence Oracle Hyperion system Pentaho BI etc.
Ab Initio Software, Amazon Redshift, Informatica etc.
Characteristics
Helps to identify , develop and create new business strategies and opportunities.
Helps to store data in a centralized repository for analysis.
Download the Comparison table: BI vs Data Warehouse
Conclusion
Business intelligence and Data Warehouse are two important columns of support for any enterprise business.  Data is critical in today's business scenario and working with data can be tough as data sets are huge and scattered all around. Big data sets and managing them is a tedious task and its meaningful analytics can give business new heights and help businesses to grow in diverse areas and be ahead of their competitors in the market. 
Continue Reading:
Business Intelligence vs Data Science
Data Science vs Artificial Intelligence