Artificial Intelligence: AI Solutions in Financial Services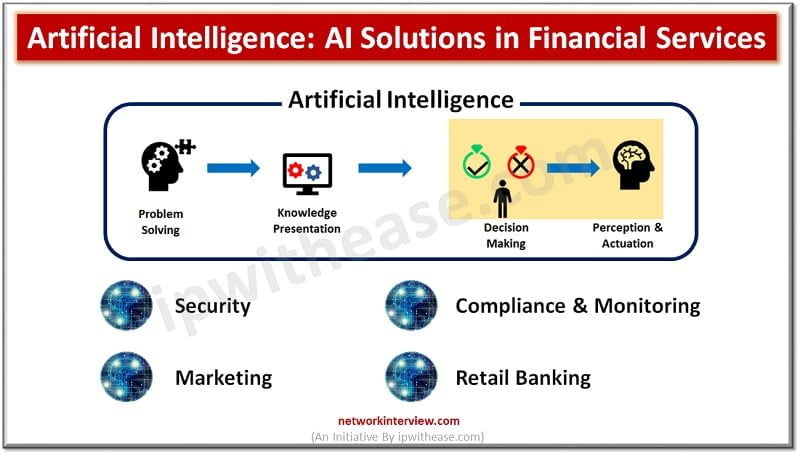 Financial institutions have faced significant challenges in terms of fraud detection, wealth management, investment advice, customer analytics, and so on. These challenges are difficult for human experts to deal with and require an overhauled approach that utilizes artificial intelligence.
Artificial intelligence  or AI solutions in financial services are rapidly transforming the way banks operate. At a time when most organizations struggle to find ways to increase efficiency and reduce costs, it is no surprise that financial institutions are exploring AI solutions as a way to finesse their business processes while improving customer service.
Artificial Intelligence in Banking & Finance
AI financial services is the new hot topic in the financial sector, with banks investing heavily to develop and implement AI solutions.
AI solutions for banking can help automate routine tasks such as compliance, fraud detection, customer experience management, and more. It can also be used to develop new products and services that respond to customer needs in real time.
Banks are starting to use AI as a way of improving customer experience through automation of tasks such as account opening, customer support, and loan underwriting. Banks are looking for solutions that can help them automate these processes more effectively than manual processes currently perform them.
Benefits of AI in Finance
The advantages of AI in banking and finance are many. The most obvious is that it can reduce the amount of human labor and time spent on complex tasks. But AI also helps to improve the quality of financial services, particularly when it comes to customer service or fraud detection.
AI can automate many routine tasks, allowing companies to focus on more strategic priorities. This allows them to provide better customer service and offer better-quality products at a lower cost.
For example, AI crafted by finance software development company can help banks detect potential fraud by analyzing transactions from thousands of accounts every day. If a pattern is discovered that looks suspicious, an alert can be sent directly to the appropriate team member.
Drawbacks of Artificial Intelligence
AI is a new type of technology that can be used for many purposes, including the management of human resources. AI has already been used in the field of external communication, but its application in financial services is still controversial.
In banking and other financial services, there are many challenges to be solved by AI. For example, in an environment with data privacy concerns, how can AI handle this problem? How can we ensure that our customer's data will not be leaked? What should be done if there is a breach of trust between customers and banks? In addition to these challenges, there are still some drawbacks to AI technology in the finance industry.
The first drawback is that we need more time to develop trust between humans and artificial intelligence finance.

The second drawback is that we cannot always trust our machines because they may make mistakes or cause harm due to their lack of understanding of human emotions or emotionless thinking.

Finally, since AI relies on data collection and analysis, it requires more time for training.
Applications of AI in Financial Services
Artificial intelligence (AI) is the use of machines to perform tasks that require human intelligence, such as visual perception and speech recognition. In finance, AI can help automate many processes that would otherwise be performed manually. Below are applications of machine learning banking.
Security
Security is one of the most important applications of technology in the finance industry. It can be used to detect fraud, prevent cyber-attacks, and detect suspicious activity.
In order to do this, AI tools need to be able to analyze a large amount of data in real-time. This means that they need to be trained on historical data sets, but also that they need to be able to predict future events based on past events.
The way these systems work is by using machine learning algorithms to identify patterns in the data and then predict what will happen next. Once you have a system that can predict what someone is likely to do in the future, you can then use it as an effective security measure.
Compliance and Monitoring
Compliance and monitoring are two of the most common use cases for AI in financial services. Compliance and monitoring can be used to identify potential fraud or other illegal activity, as well as to ensure that employees are complying with regulations. Using AI to automatically detect when an employee is logging into their personal account from the office may be one way to ensure that they are not using a coworker's login information.
Compliance can also be used to monitor how customers use their accounts and make changes based on those results. For example, if it seems like a customer is making excessive purchases on credit, they could have their credit limit decreased or perhaps even suspended temporarily.
AI can also help with compliance by automating tasks that previously required human labor. For example, it may be possible to automate certain aspects of document processing by using machine learning to identify patterns in documents and decide which ones should be flagged for further review or action by a human manager.
Marketing
Marketing is an important aspect of financial services. AI can be used to improve the efficiency and effectiveness of marketing campaigns, allowing companies to spend their marketing budget more effectively. For example, AI can be used to analyze data from social media and identify which customers are likely to purchase a product or service in the future.
Retail Banking
AI solutions can also be used in retail banking to help automate processes and make banking easier for customers. For example, AI can analyze customer behavior and determine what products they might want based on their past purchases and other factors. This information can then be used by an agent or automated system to recommend additional products for them or schedule automatic payments for them. By using AI technology, banks are able to make banking more efficient while still providing high-quality service for their customers.
Conclusion
The banking and financial services industry is one of the biggest, most influential sectors in all of the world. It controls assets worth more than US$100 Trillion, which makes this industry an ecosystem for AI solutions. With these tools, customers' experiences and perceptions don't have to be the same anymore. They can transform those outdated services into something modern and profitable.
Continue Reading:
Impact of Automation on the IT Sector
Data Science vs Artificial Intelligence