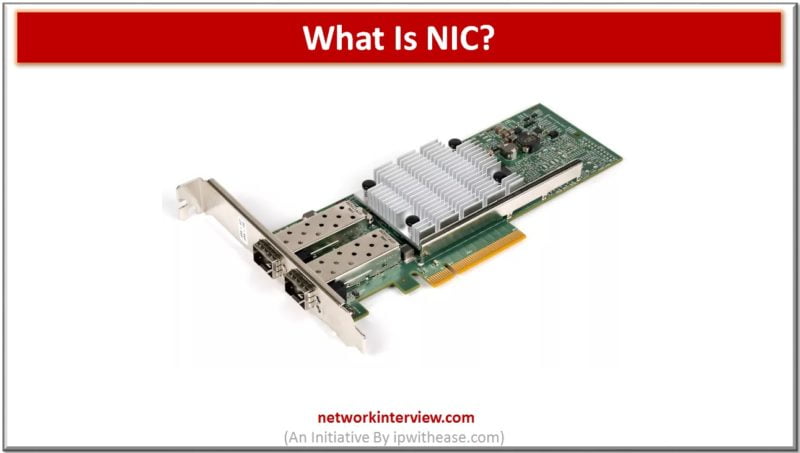 NIC or Network Interface Card is a circuit board or expansion card or a chip, that enables a computer to connect to a network, be it a home network, or the Internet using an Ethernet cable. Initially, network controllers were implemented as expansion cards that could be plugged into a computer port, router or USB device. However, due to the popularity and low cost , nearly all modern computers have a built-in network interface in the motherboard. In case additional independent network connections are needed, expansion card NICs can be purchased and used.
A NIC implements a physical layer circuit, that is necessary to communicate with a data link layer standard (like Ethernet or Wi-Fi) . Thus it provides  a computer with a dedicated, full time connection to a network.
Modern NICs expand the functionality of the system by providing – support for I/O Interrupt, Direct Memory Access  interfaces, data transmission, network traffic engineering etc.
Types of Network Interface Cards (NICs)
Though NIC is a hardware which provides an interface between a computer and a network , there are multiple ways this connection can occur:
Wireless – NICs that use an antennato provide wireless reception through radio frequencywaves. Wireless NICs are designed for Wi-Fi connection.
Wired – NICs that have input jacks made for cables. Wired NICs are used for Ethernet Networks (wired LAN technology).
USB – NICs that provide network connections through a device plugged into the USB port. These are not actually cards but instead regular USB devices that enable network connections through the USB port. These are called Network Adapters.
Fiber Optic – These are modern, more complex and expensive NICs that are used as a high-speed support system for network traffic handling on server computers.