6 Essential Steps to Succeed With Your DDI Solution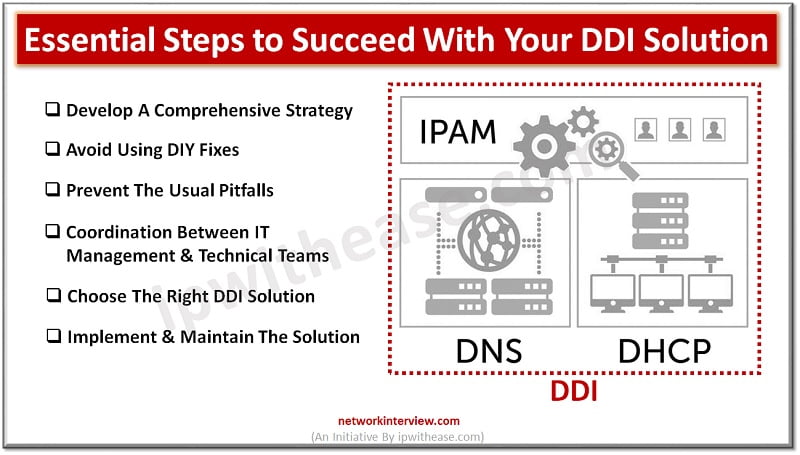 The acronym DDI stands for DNS, DHCP, and IP address management (IPAM). The combination of these three crucial networking elements into a single management solution is referred to by this widely used acronym. A DDI solution offers a centralised platform for administering DNS and DHCP services and contains an IPAM component.
Many of the top DDI providers give a business the resources required to quickly and efficiently manage IP address management (IPAM), DNS, and DHCP services across the network. In this article we will discuss the steps to succeed with your DDI solution and these are recommended by the EfficientIP experts too. 
1. Develop a comprehensive strategy
In order to succeed with your DDI (DNS, DHCP and IPAM) solution, it's important to develop a comprehensive strategy that takes into account your organization's specific needs and goals. This should include identifying key stakeholders, understanding the current state of your network infrastructure, and identifying any pain points or areas for improvement.
2. Avoid using DIY fixes
Adopting commercial solutions is the first step towards a successful DDI strategy. In today's complicated networking environments, a do-it-yourself strategy that depends on spreadsheets or open-source software for IPAM and free or open-source software for DNS and DHCP services simply won't cut it.
IT companies should aim to use the most advanced solution possible.
The optimal method is a DDI management platform that manages DNS, DHCP, and IP address space across all networks. However, if a company is unable to combine various DNS providers, they may discover that an IPAM overlay is the best option. BlueCat offers some specific questions you should put to a potential DDI solution vendor if you're not sure which solution is ideal for your business.
3. Prevent the usual pitfalls
The adoption of a DDI solution within an organisation can also encounter a few frequent problems.
More than 52% of organisations, according to EMA data, struggle with budget. The significance of DDI solutions is frequently underappreciated by those outside of networking. Therefore, getting higher management's support for the budget can be difficult. Network engineers must explain why proper DDI is essential from an operational and security standpoint.
According to EMA study, more than 52% of firms deal with network complexity. The Internet of Things, software-defined data centres, multi-cloud, and software-defined WAN are just a few of the diverse platforms that modern networks span. All of this leads to increased complexity. A DDI solution should interface with the several systems that control these settings to lessen it.

4. IT management should coordinate with technical teams
EMA discovered numerous instances of executive IT management and technical experts having radically divergent viewpoints on the state of DDI at their respective firms during the course of its inquiry.
People who work on networking engineering teams, for example, were more likely to describe being at a mid-stage of maturity. This could involve a for-profit IPAM system that incorporates outside DNS providers into an overlay. While this was going on, respondents who worked in the IT executive suite were more likely to say that their company used a fully developed DDI management solution.
The real specialists in DDI are usually network engineering teams. The CIO's office may not be fully aware of the extent to which external DNS services are used in their organisations.
5. Choose the right DDI solution
Once you have a clear understanding of your organization's needs, you can begin evaluating different DDI solutions to find the one that best fits your requirements. Consider factors such as scalability, security, and ease of use. It's also important to ensure that the solution is compatible with your existing network infrastructure.
6. Implement and maintain the solution
Once you've chosen a DDI solution, it's important to implement it in a way that minimizes disruption to your network. This may include testing the solution in a sandbox environment before rolling it out to the entire organization. Once the solution is in place, it's important to maintain it by monitoring performance and addressing any issues that arise. Regularly review the solution and make adjustments or improvements as needed to ensure it is meeting your organization's needs.
It's important to keep in mind that DDI is a critical part of your network infrastructure and should be treated as such. It's essential that your solution is robust, secure, and scalable. A good DDI solution can help you to automate and streamline your network management, and can be a key factor in ensuring that your organization is able to meet its goals.
Continue Reading:
What is Split Domain Name System (Split DNS)? Working, Configuration & Benefits