How to Secure Your Network and Internet Connection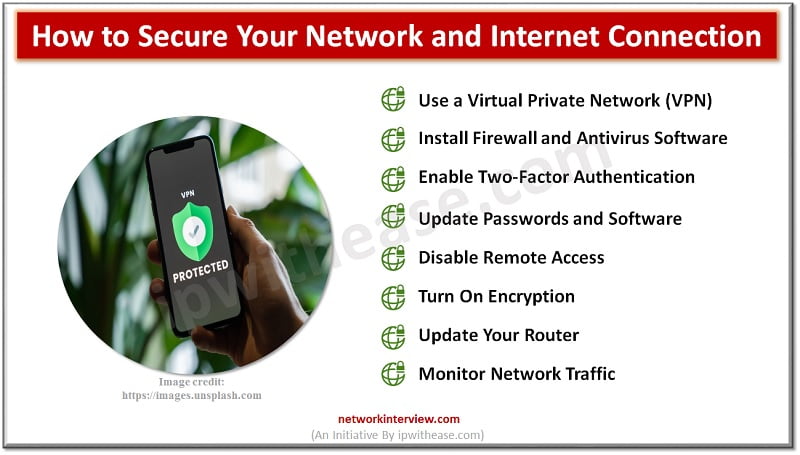 Maintaining the security of your personal or business network and Internet connection is essential in today's digital world. With the rise of sophisticated cyber threats, identity theft, and data breaches, protecting yourself from potential risks is becoming more critical than ever.
Measures to Secure your Network
Fortunately, there are several measures you can take to secure your network and ensure that you remain safe online. Discover some helpful tips to secure your network and internet connection.
Use a Virtual Private Network (VPN)
A VPN will encrypt all data sent, offering an extra layer of security. Furthermore, when using public Wi-Fi networks, remember that they are often unencrypted, making them vulnerable to hackers. By using a VPN on these networks, you can be sure that all your data remains safe and encrypted.
If you are unsure of how to use VPN to secure your network, go to iPhone VPN settings to configure your device.
Go to Settings
Then click on General
Go to VPN, and choose Add VPN Configuration
Select Type
After choosing the type of VPN you wish to use, you will be prompted to fill in the account details supplied by your VPN provider.
Install Firewall and Antivirus Software
Installing firewalls and antivirus software on home computers or workstations can provide another level of protection against hackers. Firewalls detect suspicious traffic attempting to access your network, while antivirus programs detect malicious software before they can do any damage.
Antivirus such as Clario will also help keep your device and data secure from ransomware, Trojans, worms, and other viruses.
Enable Two-Factor Authentication
Two-factor authentication (2FA) adds an extra layer of security by requiring two forms of authentication to access any account or service. This can be done through a combination of something you know (password), something you have (smartphone), or something you are (biometric). This step makes it much harder for potential hackers to access your accounts as they require more than just the user's password.
Update Passwords and Software
Each account you create should have a unique, strong password. Additionally, passwords should be regularly updated to ensure that they remain secure. You can also use a password manager such as LastPass or 1Password to help generate and store the passwords securely.
Software updates are also important. Operating system updates provide vital security patches and bug fixes that protect your computer from malware and cyber-attacks. Therefore, it is essential to set up automatic updates to keep your device updated with all the latest security patches and software updates.
Disable Remote Access
Don't let anyone in the organization or outside gain access to your network without permission. Remote access should also be disabled on computers and other devices that are not used for extended periods.
If you use multiple users, ensure each user has an individual account with associated privileges. This will help ensure that each user only has access to their role's required data and prevent any unintended data leakage.
Turn On Encryption
Encryption scrambles data so that the intended recipient can only read it. Turning on encryption protects your confidential data from being stolen or modified in a cyber-attack.
For example, WPA2 encryption is a secure form of Wi-Fi protection. You can enable it by selecting the router's settings and WPA2 as the security protocol.
Finally, it's essential to be aware of the risks associated with public Wi-Fi networks and how to protect yourself from attacks. Make sure to follow these tips so you can stay safe online.
Update Your Router
The router is the gateway to your home or business network, and it is important to keep it up-to-date with the latest firmware. This will help ensure that any security vulnerabilities are patched and reduce the chances of someone gaining access to your network. Additionally, you may need to change your default router password, as hackers can easily guess this.
Monitor Network Traffic
You should monitor all incoming and outgoing traffic to identify any suspicious behavior. Various tools can help with this, such as a network intrusion detection system. These systems detect unusual or malicious packets entering or leaving your networks which could indicate an attack is underway.
Final Thoughts
Securing your network and Internet connection is essential to keeping your data safe. Leaving room for minor vulnerabilities will expose your data and put you at risk of serious cyber-attacks. Following the tips outlined above, you can stay safe online and protect your personal information from prying eyes.
Continue Reading:
WEP vs TKIP vs CCMP: Understanding what each encryption technique offers
What is Multi-Factor Authentication (MFA) & How Does it Work?