Residential IP vs Data Center Proxies: Complete Guide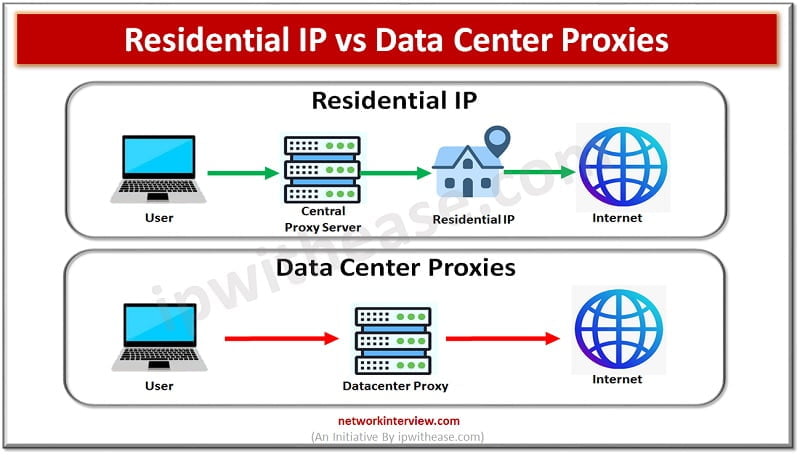 Today, a lot of people use proxy servers to access their accounts, so they may alter their IP addresses and stay out of trouble. The same cannot be said for all IP addresses. There are two types of IP proxies that you can use when connecting through a proxy server: a datacenter IP proxy or a residential IP proxy.
In addition to using a proxy server, there are numerous other methods you can use to conceal or mask your IP address, such as a VPN or a different internet connection. With some of these other connections, you can select between a residential IP and a data center IP. This article will discuss residential IP and data center IP.
What are Proxies?
 A proxy is a central server that obtains information on behalf of a user from an online source, such as a webpage.
Proxies can be helpful in various circumstances, including preventing eavesdropping, managing traffic, and getting around local and regional constraints. Additionally, they help with SEO analysis, competition information, and social media account promotion.
An additional layer is placed between your gadget and a site when you use a proxy. First, establish a connection with the proxy server. Your actual IP address is hidden by the proxy server, which presents the website with a fake one (the proxy IP address). Next, the website communicates with the proxy server, which relays the response back to you.
What Is a Residential IP?
Residential IPs are IP addresses associated with a specific place. The internet connections that homeowners install in their homes are provided by an Internet Service Provider. Residential IP was named as a result. Smartphones, routers, and other devices connect to the internet using this IP address. Numerous personally identifiable details about you are stored in your residential IP, which is connected to your devices.
Residential Proxies
Residential proxies are IP addresses given to homes or homeowners by an ISP. They are considered to be more trustworthy because they are actual IP addresses linked to specific locations.
Types of Residential Proxies
●      Rotating Residential Proxies
These proxies, sometimes called dynamic or P2P, are assembled in sizable pools so they can switch between one another. These residential IPs typically originate from end-user gadgets and rely on Wi-Fi connections. The connection and the proxy's accessibility are lost if switched off. But the numerous proxies and quick rotation eliminate that issue.
●      Static Residential Proxies
Because they originate from ISPs and the IPs are stored on ISP servers rather than end-user devices, some also refer to them as static ISP proxies. Therefore, static proxies can sustain availability and provide lengthy sessions compared to revolving proxies. As a result of direct ISP access, ISP proxies are more reliable, enabling frequent use.
Paid vs Free Residential Proxies
Residential proxy access can be obtained for free or for a fee. Anyone with access may use the free residential proxies however they see proper. In contrast, subscribers must pay a fee to access paid residential proxies.
Residential proxies that are paid are favored over those that are not. Residential proxies must be verified in order for users to access them because of their nature. Free residential proxies do not have this type of authentication, so it is challenging to confirm their legitimacy. However, for minimal daily use, using a free proxy can be significant.
What Is a Data Center IP?
The actual users or an actual physical location are not the owners of data center IP proxies, in contrast to residential proxies. Instead, they are made available to you by the data centers; therefore, "data center" proxies. These data centers can manage several proxy IPs simultaneously due to their quick system speeds and large bandwidth.
Types of Data Center Proxies
●      Shared Proxies
 Multiple users simultaneously use shared proxies. For simple activities, they outperform public proxies and are compensated. Because they are shared, you will probably discover that some websites have blocked them as a result of another user's behavior.
●      Public Proxies
Public data center proxies are also referred to as free proxies because their IPs are easy to find and utilize. They should not be used for significant purposes; they are simply suitable for changing locations. Because they offer no protection and leave you open to hacking, it is not recommended to utilize HTTP datacenter proxies while submitting sensitive information online.
Which Proxies are Right For You?
The assessment of datacenter IP proxies vs. residential IP proxies is now complete. The critical question is which of the two makes the best proxy. Given that each proxy has benefits and drawbacks, this is a difficult question. What matters is your needs and the purpose for which you wish to use the proxy.
Choose residential proxies if you want excellent security, authenticity, and dependability. However, data center proxies are the ideal option if the tasks you wish to do demand high speeds. Budget users should use data center proxies instead of residential proxies because they are more affordable and widely available. Residential IP proxies are expensive when it comes to affordability.
Continue Reading:
CASB vs Proxy: Understand the difference
URL Filtering vs Proxy : Know the difference