How to recover data using RAID Data Recovery Tool by Stellar?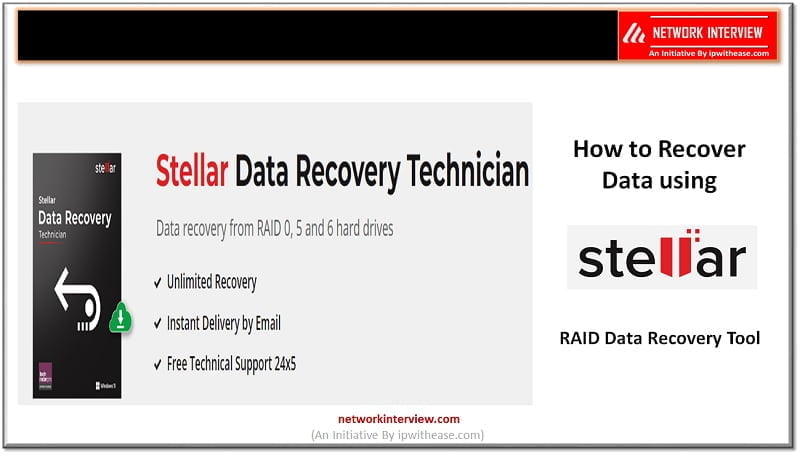 Data is the key for any Business and its unavailability will be a big disaster. The recovery of data that has been lost, accidentally deleted, corrupted, or inaccessible is referred to as data recovery. In enterprise IT, data recovery refers to restoring data to a desktop, laptop, server, or external storage system from a backup.
The Stellar Data Recovery application is one of the most efficient data recovery tools on the internet, providing extensive file format support, custom queries, and built-in advanced search functions.
Stellar Data Recovery 
Stellar data recovery software is one of the best RAID drive data recovery software available on the market, and it provides a wide range of services to enhance the user experience. It recovers data from RAID Drives (0, 5 & 6). This tool helps to recover deleted documents including photos, emails & more. Crashed PC data can also be recovered via bootable USB media. The supported formats are NTFS & FAT, exFAT, and file system. It is compatible with Windows 11, 10, 8 & 7.
Recover Data from Logically Damaged RAID 0,5&6 Array
There are various RAID controllers and setups. You can examine the discs and swap out the damaged one for a fresh one. With the aid of a RAID data recovery programme like Stellar Data Recovery Technician, you may recover data from the damaged RAID 5 array in the event of a virus attack, corruption, formatting, or file loss.
This simple DIY software may recover lost or destroyed emails, photographs, movies, audio files, documents, and other types of files from RAID drives and NAS recovery . It effectively recovers RAID logical volumes that have been lost or formatted. To recover data from corrupt, damaged, or unsuccessful RAID 0, RAID 5, and RAID 6 arrays, it can identify crucial RAID characteristics and reconstitute virtual RAID.
Feature and Support 
Stellar Data Recovery Technician is available in two Versions enlisted as below –
Technician – Recovers data from HDDs, SSDs, and RAID 0, 5 & 6 & other external drives.
Toolkit

– All features of Technician + Virtual Drive Recovery and Recovers Data from Linux and Mac Drives (HFS, HFS+, ext2, ext3, ext4)
Features included in Technician Version –
Subscription Type = 1 Year

Max Installation allowed = 3 Systems

Installation for = Technician / Corporate / AMC Service Provider Companies
Windows Data Recovery – Technician Features 
Recover RAID 0, 5 & 6

RAID DATA RECOVERY 

RAID Reconstruction

Recover RAID Volumes

CD DVD and Photos Recovery

Email Recovery

Server Data Recovery

RAW Recovery

Supports Numerous File Types

Recover Original Filenames

Deleted Partition Recovery

Encrypted Disk Recovery

Recovers from crashed Windows Systems

Video Repair

Photo Repair

Drive Monitor
Stellar Toolkit for Data Recovery
Mac Data Recovery

Linux Data Recovery

Recovery from Virtual Drive
Steps to Use "Stellar Data Recovery Technician" Works
Before installation, do check the prerequisites of the System:
Processor: x86 or x64 (Intel compatible)
Memory: Minimum = 4 GB (Recommended = 8 GB)
Hard Disk: 250 MB (installation files)
Operating System: Windows 11, 10, 8.1, 8 & 7
Step 1: When "Opening <filename>.exe"appears, Click on "Save File" as shown in bottom of picture.

Step 2: Next, Downloads Windows Appears and now Double-Click the File

Step 3: When Security Warning Dialog Box Appears, Click Run

How to recover data using Stellar Data Recovery Technician?
Step 1: Options will be presented on the "Type of Data" that needs to be recovered. The 3 key options are (a) All Data (b) Documents, Folders and Email (c) Multimedia Files. Select desired data type from "Select what to recover" list and click on the 'Next' button.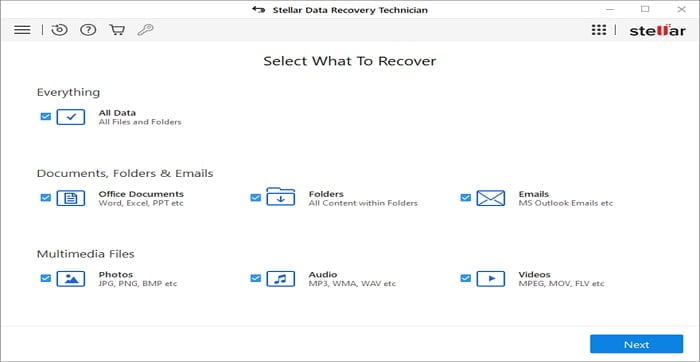 Step 2: Next, select the 'Raid Recovery'.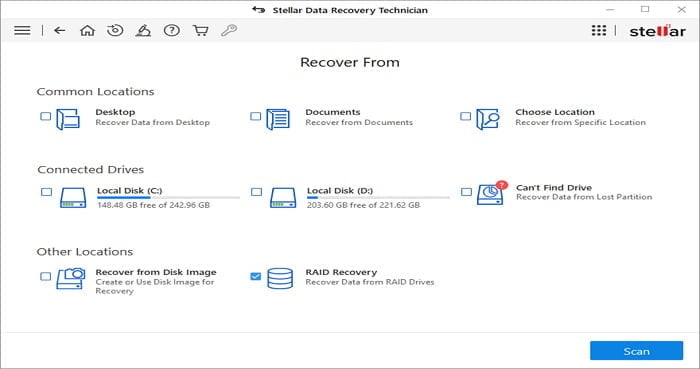 Step 3: With the help of arrows, construct the probable RAID by selecting the configured Hard Drives in the RAID array.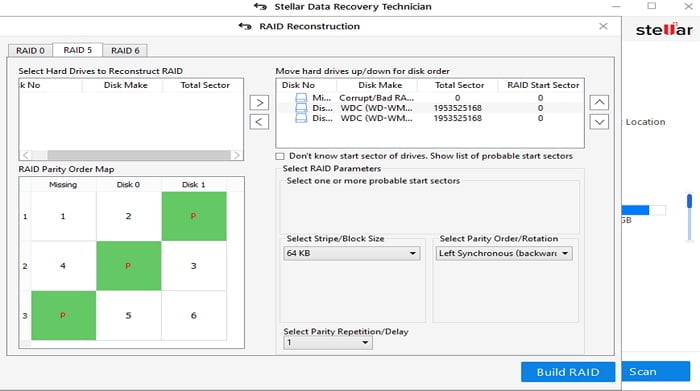 Step 4: Option is there to select either an entire folder for recovery or a single file from the recoverable files.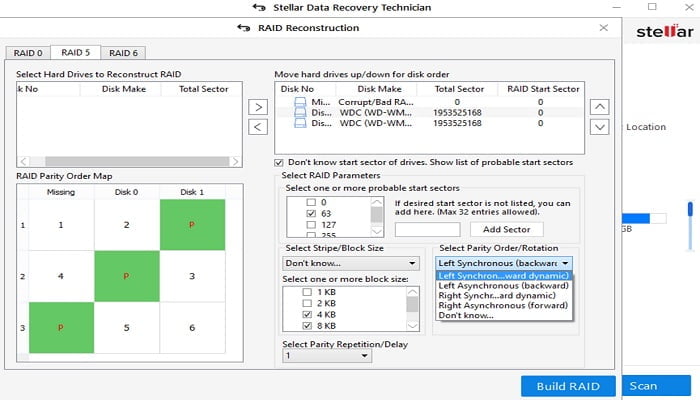 Step 5: Next, the user is asked about the location where you want to save your data. Once path information is input, your data will be saved to the preferred location.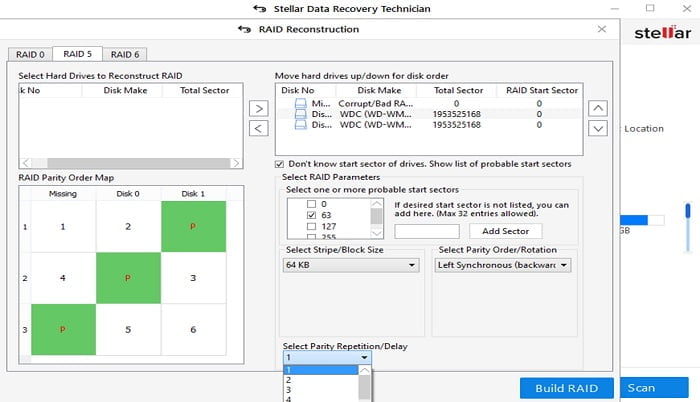 Stellar Data Recovery Technician: Use Cases
RAID data lost or inadvertently deleted – In scenarios like accidental deletion of RAID volumes, file corruption, malware attack, logical errors or even glitches due to power outage, Stellar RAID recovery tool provides seamless service of recovering lost data with best qualitative output.

Inaccurately built RAID array – At times, RAID server rebuild failures like misconfiguration, logical corruption, wrong disk order or missing disk erases the data on disks. "Stellar Data recovery Technician" can effectively retrieve lost data in such scenarios.

Common RAID error messages – Some of common Res/Write errors that may be encountered while accessing data are

'Can't read data from RAID disk' or 'Unrecoverable Read Error'.

 

Stellar Data Recovery Technician Tool is tailor-made to efficiently restore data.
Conclusion
Stellar RAID Data Recovery Technician is by far the best data recovery tools for customers ranging from home users to Business users. With extraordinarily customizable searches, a huge file-type library, and deep scan abilities, the post-sales support is also exceptional.