Palo Alto – Administration & Management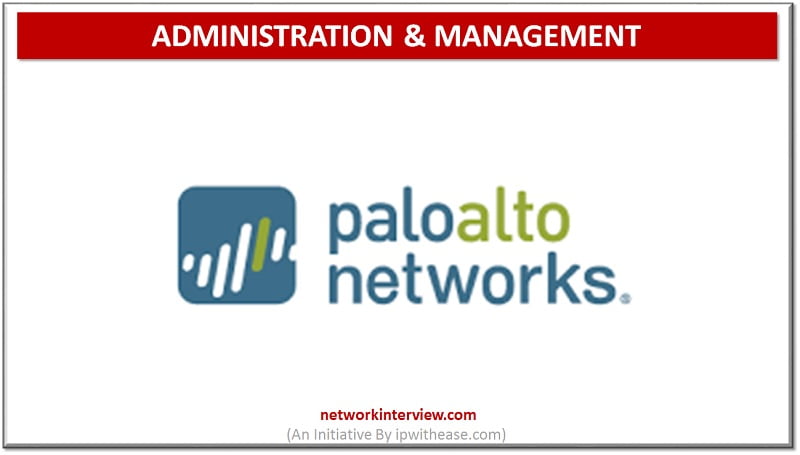 Introduction to Palo Alto
Firewall is a network security device that permit or denies network access to traffic flows between an untrusted zone and a trusted zone. Palo Alto Firewall is one of the globally coveted and widely preferred Security Firewall in enterprise cyber security space. Infact, due to its efficacy and security features, Palo Alto earned itself place in Leaders Quadrant of Gartner Magic Quadrant.
In this article we will understand the Administration & Management of Palo Alto –
Features and Benefits of Palo Alto
Application-based policy enforcement (App-ID)
User identification (User-ID)
Threat prevention
URL filtering
Traffic visibility
Networking versatility and speed
Global Protect
Fail-safe operation
Malware analysis and reporting
VM-Series firewall
Management and Panorama
Firewall Administration:
Configuration, Management and Monitoring of Palo Alto firewalls can be performed via web interface, CLI and API management interface. Administrator can customize role-based access to the management interfaces for specific tasks or permissions.
Roles and authentication method are defined by administrator. Authentication method relies on a local firewall database or an external service. If you have already configured the authentication profile or you will use Local Authentication without a firewall database. Below are steps to configure profile on firewall.
Select Device > Add an account.
1.Enter a user Name
Account will be added in local database of firewall. Enter the name that you specified for the account in the database (see Add the user group to the local database.)
2.Select an Authentication Profile or sequence if you configured either for the administrator.
Select None (default) and enter a Password.
3.Select the Administrator Type.
If a custom role is configured for the user, select Role Based and select the Admin Role Profile.
4.(Optional) Select a Password Profile for administrators that the firewall authenticates locally without a local user database.
5.Click OK and Commit.
Keywords and Options:
Administration and Maintenance for the firewall can be done by defining Management Settings. Below are the keywords and options wrt each keyword/feature –
General
Select the Device > Setup > Management > General Settings
Hostname
Domain
Login Banner
Time Zone
Locale
Time
Serial Number
Geo Location
Automatically acquire commit lock
Certificate Expiration Check
Multi Virtual System Capability
Authentication
Select the Device > Setup > Management > Authentication Settings
Authentication Profile
Certificate Profile
Idle Timeout
Failed Attempts
Lockout Time
Panorama
Select the Device > Setup > Management > Panorama Settings
Panorama Servers
Receive Timeout for connection to device/Panorama
Send Timeout for connection to device/Panorama
Retry Count for SSL send to device/Panorama
Share Unused Address and Service Objects with Devices (Panorama only)
Shared Objects Take Precedence (Panorama only)
Management Interface
Select the Device > Setup > Management > Management Interface Settings
MGT Interface Speed
MGT Interface IP Address
Netmask
Default Gateway
MGT Interface IPv6 Address
Default IPv6 Gateway
MGT Interface Services
Permitted IPs
Logging and Reporting
Select the Device > Setup > Management > Logging and Reporting Settings
Log Storage
Max Rows in User Activity Report
Max Rows in CSV Export
Number of Versions for Config Audit
Number of Versions for Config Backups
Average Browse Time (sec)
Page Load Threshold (sec)
Send Hostname in Syslog
Stop Traffic when LogDb full
Enable Log on High DP Load
Buffered log forwarding from device
Get Only New Logs on Convert to Primary
Only Active Primary Logs to Local Disk
Password Complexity
Select the Device > Setup > Management > Minimum Password Complexity
Enabled
Minimum Length
Block Repeated Characters
Expiration Warning Period (days)
Post Expiration Grace Period (days)
Allowed expired admin login (count)
Operations
Defining Operations Settings
Select the Device > Setup > Operations
Validate candidate Config
Revert to last saved Config
Revert to running config
Save named configuration snapshot
Save candidate config.
Load named configuration snapshot
Load configuration version
Export named configuration snapshot
Export configuration version
Export device state
Import named config snapshot
Import device state
Device Operations
Select the Device > Setup > Device Operations
Reboot Device
Shutdown Device
Restart Data Plane
Services
Defining Services Settings
Select the Device > Setup > Services
DNS
Primary DNS Server
Secondary DNS Server
Primary NTP Server
Secondary NTP Server
Update Server
Proxy
Select the Device > Setup > Proxy Server
Server
Port
User
Password/Confirm Password
Service Route Configuration
Content
Defining Content ID Settings
Select the Device > Setup > Content-ID
URL Filtering
Dynamic URL Cache Timeout
URL Continue Timeout
URL Admin Override Timeout
URL Admin Lockout Timeout
x-forwarded-for
Strip-x-forwarded-for
Allow Forwarding of Decrypted Content
URL Admin Override
Select the Device > Setup > Content-ID > URL Admin Override
Settings for URL Admin Override
Manage Data Protection
Container Pages
Session
Defining Session Settings
Select the Device > Setup > Session
Rematch Sessions
ICMPv6 Token Bucket Size
ICMPv6 Error Packet Rate
Jumbo Frame/Jumbo Frame MTU
Enable IPv6 Firewalling
NAT64 IPv6 Minimum Network MTU
Accelerated Aging
Session Features
Select the Device > Setup > Session > Session Features
Decryption Certificate Revocation Settings
Enable
Receive Timeout
Enable OCSP
Receive Timeout
Block Session with Unknown Certificate Status
Block Session On Certificate Status
Check Timeout Certificate Status
Timeout
SNMP
Select the Device > Setup > Operations
SNMP Setup
Physical Location
Contact
Version
Statistics Service
Select the Device > Setup > Operations
Application and Threat Reports
Unknown Application Reports
URL Reports
Device traces for crashes
Management options:  
Note – Do not enable management access from the internet or from other untrusted zones
Use the Command Line Interface (CLI) to perform a series of tasks by entering commands in rapid succession over SSH (recommended), Telnet, or the console port.
Use the Web Interface to perform configuration and monitoring tasks with relative ease. GUI allows you to access the firewall using HTTPS (recommended) or HTTP and it is the best way to perform administrative tasks.
Use the XML API to streamline your operations and integrate with existing, internally developed applications and repositories. XML API can be implemented using HTTP/HTTPS requests and responses.
Use Panorama to perform web-based management, reporting, and log collection for multiple firewalls. Panorama web interface is somewhere same as the firewall web interface but with additional functions for centralized management.
Physical Interface Types:
Palo Alto has five types of interfaces enlisted as below:
Tap mode – This interface simply listens to a span/mirror port of a switch
Virtual wire – This type is used to logically bind two Ethernet interfaces together, hence allowing all traffic to pass between the interfaces.
L2 – In this mode, multiple interfaces can be configured into a "virtual-switch" or VLAN.
L3 – In this mode, IP address is required. This interface includes all layer-3 operations.
HA – On all devices except the 4000 and 5000 series, you must configure two traffic ports as the HA ports.
Logical Interface Types:
Below are the types of logical interfaces supported on Paloalto Firewall:
Sub interfaces (802.1q)

Up to 4094 VLAN supported per port
Max of 4094 VLANs per system

Aggregate interfaces (802.3ad)

Only on PA-4000 and PA-5000 series
Up to 8 physicals 1 Gig interfaces can be placed into an aggregate group
Up to 8 aggregate groups are supported per device
Each interface in a group must be the same physical media (all copper, or all fiber)

Tunnel interfaces– Used for IPsec or SSL VPNs
Loopback interfaces
Available Features in Different Interface Modes
Vwire

No VPN
No "auto" setting for HA passive link

L2

No VPN
No NAT (FYI in PAN-OS 4.1 you can do NAT in Vwire mode)
No "auto" setting for HA passive link
If IPv6 is passing, security policies can be written for this traffic
No Multicast support

L3
If IPv6 is passing, security policies can be written for this traffic
Interface Management
An interface management profile specifies which protocols can be used to manage the firewall.
Management profile can be assigned to:

L3 interfaces
Loopback interfaces
VLAN interfaces
Device Management
Managing the firewall (via GUI, SSH, etc.) is performed via the MGT interface on the PAN by default.
You can specify different physical interfaces to use for specific management services via Device tab -> Setup -> Service Route Configuration.
Related – Palo Alto CLI Cheatsheet