How MDM Tools Improve the Reliability of Human Generated Data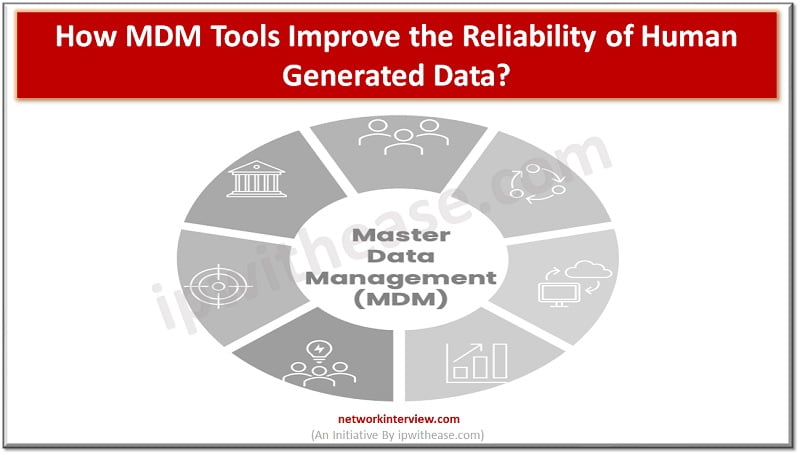 As we move into an increasingly digital world, businesses must collect and manage up-to-date data easily. Manual storage processes are often inadequate and unreliable, especially with large customer datasets, putting organizations at a disadvantage. Fortunately, Master Data Management (MDM) tools provide a powerful solution by streamlining complicated procedures, providing access to comprehensive datasets, and use fuzzy matching to fix data quality issues. In this blog post, we'll discuss how MDM tools can improve the reliability of human-generated data for businesses striving for success in today's competitive marketplace.
Master Data Management (MDM) and its Benefits 
In today's digital age, businesses produce and collect overwhelming data. Without proper management, this data can quickly become disorganized and ineffective at informing important decisions. That's where Master Data Management (MDM) comes in. MDM is creating and maintaining a central, reliable source of data across all departments and systems within a company. By implementing MDM, businesses can improve their data quality, reduce errors, increase efficiency, and create a single version of the truth. In short, MDM delivers greater data accuracy, consistency, and reliability, which can significantly impact a company's bottom line.
Overview of the Various Types of Master Data Management Tools
Master Data Management tools come in various types, each designed to serve specific business needs. Data Integration Tools consolidate data from different sources, ensuring consistency and reducing redundancy. Data Quality Tools identify and correct errors in data, improving its accuracy and reliability. Data Governance Tools establish a framework of policies and procedures for data handling, ensuring compliance with regulations and best practices. Data Synchronization Tools keep data up-to-date across different systems and platforms, ensuring real-time accuracy. Data Profiling Tools provide a snapshot of your data's health, identifying potential issues and areas for improvement. Choosing the right MDM tool depends on your business's unique needs and objectives, demonstrating the importance of a strategic approach to data management.
How Master Data Management Tools Help to Improve Reliability of Human-Generated Data 
Human-generated data can be messy and error-prone, which presents a challenge in data management. Fortunately, master data management (MDM) tools are now available to help us solve this problem. Using fuzzy matching algorithms, these tools can match and merge similar but not exact data sets, resulting in more accurate, reliable data. With MDM tools, we can have greater confidence in the integrity of our data, making it a valuable asset for decision-making and business operations. So next time you encounter unreliable data, consider investing in MDM tools to ensure accuracy and consistency.
Exploring the Benefits of an Automated Master Data Management Tool 
Accuracy and efficiency are components of achieving success. One way to accomplish this is by utilizing an automated Master Data Management (MDM) tool. These tools can save time and minimize errors by centralizing data and automating repetitive processes. Automation can also help reduce manual data entry and duplicate data costs.
In addition, MDM tools provide a single source of truth for all data, giving stakeholders better access and insight into their information. This can lead to better decision-making, improved compliance, and increased productivity. An automated MDM tool can help your organization streamline data management and operations, leading to increased success and growth.
Techniques for Ensuring Quality and Accuracy of Human-Generated Data 
As the amount of human-generated data continues to grow, ensuring its quality and accuracy has become increasingly important. Various techniques, such as data profiling and normalization, are available. However, one specific technique that has gained significance recently is fuzzy matching. Fuzzy matching enables comparison between similar but not identical values, which is particularly useful when dealing with data from multiple sources or human input. By using fuzzy matching, organizations can ensure that their data is of high quality and accuracy, ultimately saving time and resources for data analysis and decision-making. 
Examples of Organizations that have Leveraged Master Data Management
Organizations understand the importance of reliable and consistent data. Master Data Management (MDM) is a proven strategy many companies use to ensure their data is accurate and up-to-date. There are numerous examples of organizations that have successfully implemented MDM to improve their data reliability. For instance, GE Healthcare adopted MDM to consolidate 60-70% of their customer data, improving customer insights and sales performance.
Similarly, PepsiCo implemented MDM to integrate product data from over 200 countries, enabling better coordination between teams and reducing errors. These examples demonstrate how MDM can drastically enhance an organization's data management capabilities and help drive better business outcomes.
Final Thoughts
Master Data Management (MDM) is a data strategy that promotes the reliability and accuracy of data by providing a single source of truth. MDM tools help ensure data consistency and quality across all systems within an organization. An automated MDM tool can remove inconsistencies and redundancies in human-generated data. Organizations can use data governance protocols and improved data capture processes to ensure their enterprise data's accuracy and quality.
As the examples demonstrate, organizations in various industries have benefited from implementing effective MDM solutions across their databases. Once an organization has adopted an MDM framework, it will benefit greatly from enhanced decision-making capabilities due to better-informed decisions based on reliable and accurate enterprise data. Ultimately, companies of any size or focus should carefully consider adopting an effective Master Data Management solution for achieving intelligent business transformation.
Continue Reading:
What is a Data Management Platform (DMP)? CDP vs DMP?
Difference between DBMS and RDBMS