Google Slides vs PowerPoint: Which is better?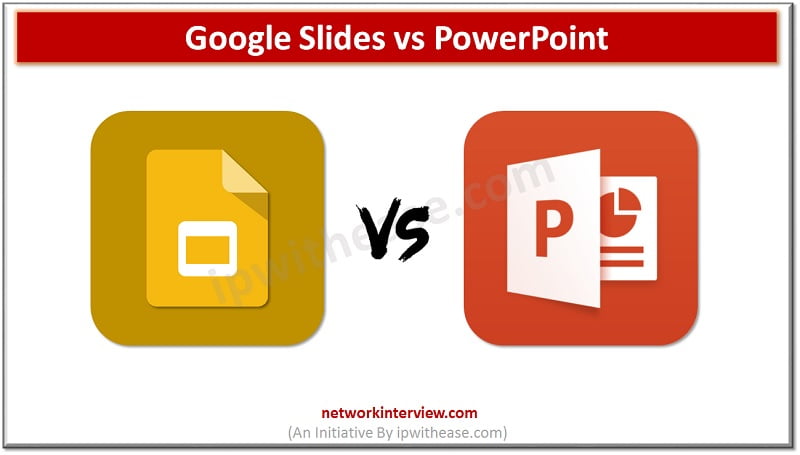 Introduction to Presentation Software
With a huge shift and transformation in business communications virtual presentations are more popular and more in demand. While selecting which virtual presentation software to select pose a challenge for presenters – which platform to select for delivering a presentation in an engaging manner?
With many presentation software available in the market the two most popular presentation software are Microsoft PowerPoint and Google Slides. Choosing one out of these two could be an individual choice. 
Today we look more in depth about Microsoft PowerPoint and GoogleSlides, their features, advantages etc.
About Google Slides
Google Slides was developed and released by Google LLC in 2006 within its Google Drive Service. It is available as a desktop application on Google's Chrome Operating System, mobile app for iOS, Android, Windows, BlackBerry, and as a web application. It comes as part of the G Suite package and free for individuals. 27 templates are available with GoogleSlides. GoogleSlides is a cloud-based software which supports online mode and can also be accessible in offline mode.
GoogleSlides gives a seamless collaboration and can easily edit and do comments in presentations which can be viewed in real time. GoogleSlides have limited transition and animation effects and have restricted scope to make slideshows. All Google fonts are supported by Google slides. All slides are saved in Google Drive so it is not required to save it every time. Google Slides can be converted into different file formats (.odp, .pptx, .pdf, .txt, .svg, .jpg, png). It allows linking text and images to other slides or URLs in the presentation. 
Features of GoogleSlides
Presentation stored in the cloud allows you to access it anytime

Multiple people can see and/or edit the document simultaneously

Compatible with other Google applications

It has instant auto saving feature

Creating an account is free in GMAIL 
About PowerPoint
Microsoft PowerPoint has been ruling the presentation market since its launch in 1987 and has changed the way presentations are made and delivered. PowerPoint was developed by Robert Gaskins and was released by a software company named Forethought, Inc. Realizing its potential Microsoft purchased the PowerPoint for $14 million within three months of its launch.
PowerPoint is part of the MS-Office package and requires a license to use it. The price of a license is based on one time subscription or annual subscription. Microsoft PowerPoint has plenty of creative and customizable templates; it has more than 150,000 pre-designed customizable slides in its store. 
PowerPoint can be accessed via online web-based application or office 365. Offline access is also supported. PowerPoint doesn't provide collaboration however collaboration is possible in PowerPoint 2010 where you can collaborate with a team using PowerPoint online. PowerPoint offers many special effects such as fanciful transitions, 3D reflections etc. Locally installed fonts are used by PowerPoint.
Latest version of PowerPoint required or subscription of office 365 to save presentations automatically. PowerPoint presentation formats supported are .ppt, .pptx, .odp, .potx, .pdf, .ppsx, .pot, .pps, .potm, .ppsm, .pptm. PowerPoint allows you to link some parts of a presentation so that you can quickly move to the web, other presentations etc.
Features of PowerPoint 
Quite intuitive and ease of use

It has multiple customization options such as trim pictures, add filters and effects to them, adjust their brightness, contrast, saturation and transparency etc.

PowerPoint allows you to import and export different file formats and compatible with multiple formats

Compatible with other Microsoft Office programs
Comparison Table: Google Slides vs PowerPoint 
Below table summarizes the difference between the two software:
PARAMETER

POWERPOINT

GOOGLE SLIDES

Access
Microsoft office application is required to be installed on system. One time fee or monthly/annual subscription
Gmail account is required (Free for usage) for individuals and for business entities it comes as part of G Suite package
File format supported for import
.pdf, .mp4, .wmv, .odp, .jpg, .png, .gif, .bmp, .tif,.emf,. rft
.pptx, .pdf, .txt, .jpg, .png, .svg
Collaboration
Multiple users allowed via OneDrive
Multiple users were allowed provided they have Gmail accounts
Animations supported
Yes, about 50 effects
Yes, 30 animations and 40 effects
Audio insertion supported
Yes
Yes
Video insertion supported
Yes
Yes
Offline access supported
Yes
Yes (the application must be installed)
Available on system
Yes
Yes
Available for MAC
Yes
Yes
Download the comparison table: Google Slides Vs PowerPoint
Continue Reading:
Web Server for Chrome: Google Chrome
Google Account Security – Gmail Security