Understanding Domain Name System (DNS)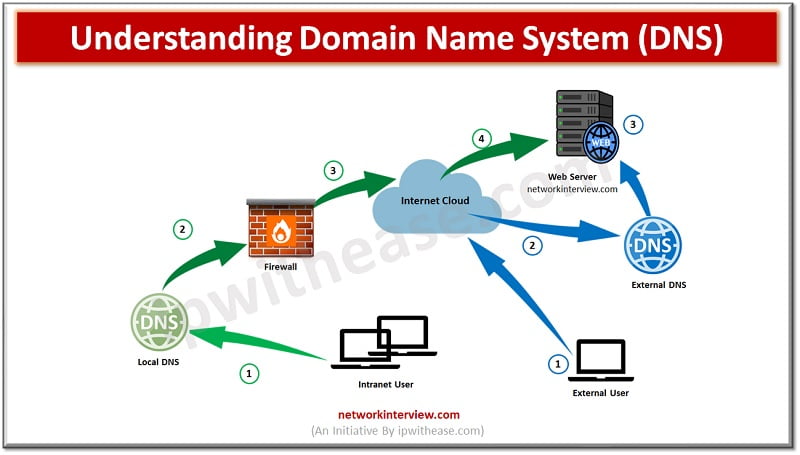 You might not know, but every domain name (website) has a unique IP address which makes it accessible to the network and users. 
If you are thinking about why a website has an IP address, then take into account that the internet identifies and loads a website using its domain IP. The numeric IP address is machine-readable and easy for the computer servers to understand as opposed to the alphabetic domain name, which is human-readable and easy for users to understand and remember. 
Do you know how each domain gets its own IP address?
It is the domain name system (DNS) that assigns a unique internet protocol address to each site present on the network. DNS performs a quick IP address lookup to track a web resource and enable the browser to access it.
In case you are looking for a quick way to understand how DNS lookup works then read this article. Here you will find everything you need to know about the domain name system that's the most important part of the network. 
What is Domain Name System (DNS)?
The domain name system (DNS) is responsible for assigning a unique IP address to each domain name. The DNS is basically a database that stores the numeric IP addresses of alphabetic domain names.
Whenever a user searches for a website, he enters an alphabetic domain name, right? The DNS server matches the alphabetic domain name with its numeric IP address so that the computer server can identify the respective website and load it on the user's screen. 
In simple words, DNS converts a domain name into its IP address, enabling a browser to locate and load the required web resource. 
This works just like a phonebook which stores and associates a person's name with his phone number. The DNS maps a domain name with its IP address. There's an extensive list of DNS records that holds all the significant information about a domain IP and can be helpful for network troubleshooting and website analysis. 
How Does DNS Work?
The DNS resolution is carried out in order to track a web resource on the internet. It is basically a naming process used to translate a human-readable domain name into a machine-friendly IP address. 
For instance, you enter a web address in the search bar of your browser. The browser will send a "search query" to the DNS which will map the respective domain name with its IP address. Once the browser finds the IP address of the requested domain name, it will load it on your screen. 
Let us explain in detail how DNS lookup works to track an IP address.
There are 4 DNS servers that work together to make it possible for browsers to load web resources when requested. The DNS servers involved in this action are:
DNS Recursor
It receives a query from the browser to "find a website" and then forwards the request to the next server 
Domain Nameserver
It is the next server in line which is responsible for directing the recursor where the domain name's information is stored
TLD Nameserver
It has all the information of every domain and thus, it passes on the request to finally map a domain name with its IP address
Authoritative Nameserver 
It receives the translation request from the previous server and, accordingly, converts the domain name into its IP address
This is the basic idea of how the domain name system works. In case you would like to check a domain's DNS records, then you can use an online DNS lookup tool. This will help you to track all the significant information about a domain IP including whether its DNS records are successfully propagated or not.
How to Find Domain IP Address?
Now, if you are curious about checking your domain IP address, then stay put. Let us provide you with quick ways to track any domain's IP address. 
Just like you carry out your device's IP address lookup, you can also look for your domain's IP address. 
You can either check your website's WHOIS details to find your domain IP address or simply leverage a tool like that one https://iplocation.io/  to directly track your domain IP. Other than this, you can use a domain-to-IP converter that takes no time to translate your website URL into its numeric IP address. 
There are many online tools available that quickly translate a domain name into an IP address. But it won't be wise to trust any other tool. Make sure that you use a highly-functional tool, or else you will get an incorrect IP address for your domain name. 
Keep in mind that finding the IP address of a domain name comes in handy when you perform a competitive analysis. You can track your competitor's domain IP address to discover potential information about how they operate and from where they operate. Moreover, it also helps in backlink building. If you know the IP addresses of the domains from which you receive backlinks, you can easily track the sites that link to you repeatedly.
Bottom Line
The DNS stores all the information about the domain name including its IP address. For instance, whenever a user requests to view a website, the DNS lookup is carried out to find its IP address. In simple words, the domain name system helps to match the domain name with its IP address so that the browser can load it and the user can access it. 
Continue Reading:
What is Split Domain Name System (Split DNS)?