Difference between LDAP and AD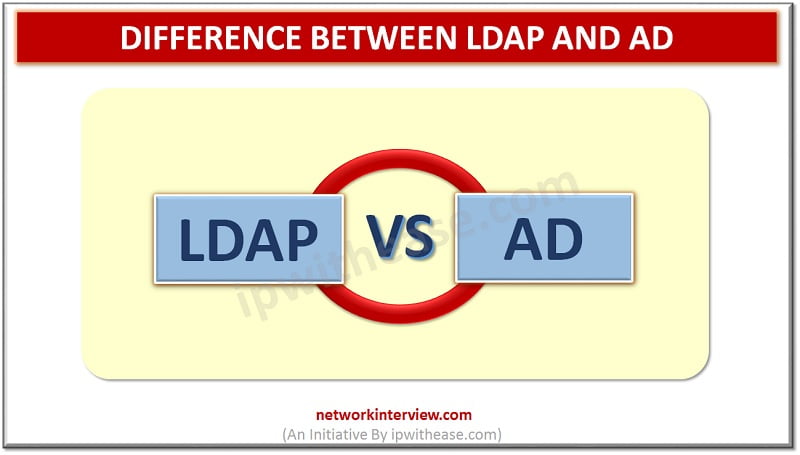 Difference between LDAP and AD
The framework of IT infrastructure of most of the organizations has Active Directory as a significant part. This significance is the reason why attackers have the Active Directory at the top of their target. In a case when any of the user account of a person is accessed by an attacker, it just takes few minutes for a disastrous data breach. For making improvements in Active Directory, a significant part is understanding about LDAP since it helps in preventing the unauthorized access and data breaches.
LDAP:
LDAP or lightweight directory access protocol is effectively a cross platform and open protocol that serves useful for authentication of directory services. Applications are able to establish communication with the servers of different directory services since they are enabled by LDAP. This holds high significance since the sensitive information is shared and stored by directory services with the passwords, users and computer accounts.
Active directory:
AD or Active Directory is the implementation of directory services that offers user and group management, functionality of authentication, policy administration etc. It is imperative to share that the most commonly used Active directory by far is of Microsoft. It is also not in any small part since it is secure, simple to use, offers single sign on  and functions well over VPN or in business environments.
Difference between LDAP and AD:
Active Directory stands as the directory service implementation of Microsoft while LDAP stands as the protocol using which the directory services could be accessed for data retrieval. This is the reason why it is important to be conventional with LDAP so that the request could be understood as well as responded by Active Directory.
The product LDAP comes from cooperation between the companies of telecommunications for developing a protocol that could be used for fetching data across TCP/IP from server. Active Directory is a Microsoft product and its development is largely based on LDAP so as to make sure that it works flawlessly conforming to LDAP. In the initial phase, it was just meant for offering desired data through LDAP but it then expanded and included other services as well.
LDAP is practical in almost all the available operating systems since it is not attached with single company. Directory service having running ability in the particular operating system is all its needs for this purpose. On the other hand, Active directory is owned by Microsoft and is therefore commonly found in Microsoft owned Windows operating system.
Active directory serves as a single product that can offer services in which LDAP is used. On the other hand, LDAP stands as the protocol that is more extensive in comparison to Active Directory.
Directory, authentication, policy and other such services are offered by Active Directory while directory service items are modified and queried by LDAP.
The existence of LDAP servers is in the form of organizational servers, public servers for corporations/universities and smaller servers of workgroup. Use of AD is in wide range of networks from large to small having thousands or few machines.
Conforming to LDAP is necessary so that the request could be understood and responded by Active directory
Key Differences: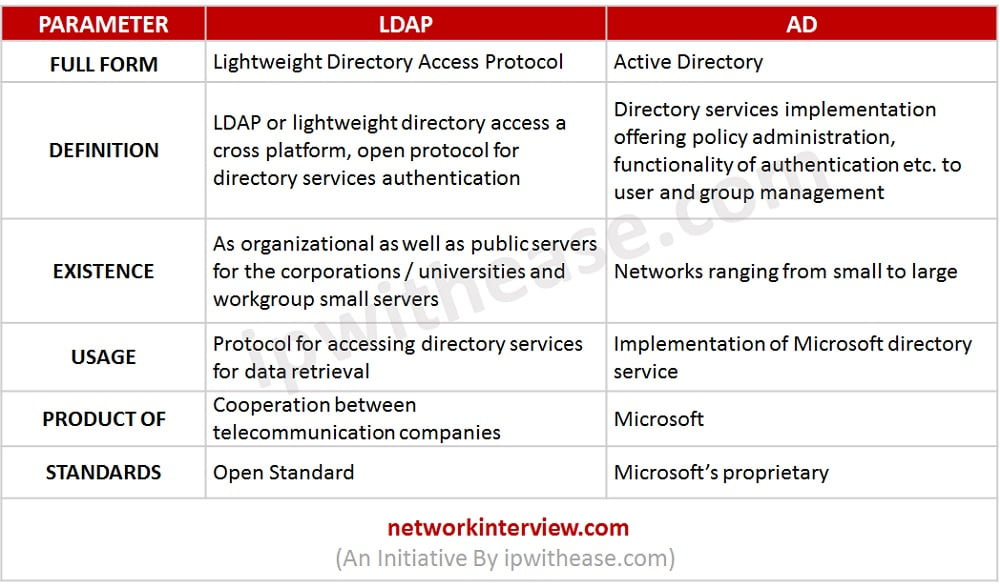 So it is evident now that LDAP and AD are different from each other but can perform together for your organization or company benefit. AD is Microsoft directory service that offers significant information regarding individuals while LDAP works as the protocol allowing the users to offer query to the AD and validates its access. The combination of these two offers significant functions for organization and company empowerment with desired knowledge that is accessible internally and externally via a secured channel.
Related – Active Directory Interview Q&A